Mind in Motion: How Action Shapes Thought (Hardcover)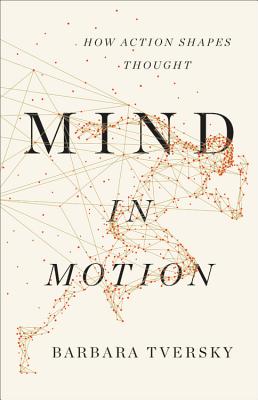 Description
---
An eminent psychologist offers a major new theory of human cognition: movement, not language, is the foundation of thought
When we try to think about how we think, we can't help but think of words. Indeed, some have called language the stuff of thought. But pictures are remembered far better than words, and describing faces, scenes, and events defies words. Anytime you take a shortcut or play chess or basketball or rearrange your furniture in your mind, you've done something remarkable: abstract thinking without words.
In Mind in Motion, psychologist Barbara Tversky shows that spatial cognition isn't just a peripheral aspect of thought, but its very foundation, enabling us to draw meaning from our bodies and their actions in the world. Our actions in real space get turned into mental actions on thought, often spouting spontaneously from our bodies as gestures. Spatial thinking underlies creating and using maps, assembling furniture, devising football strategies, designing airports, understanding the flow of people, traffic, water, and ideas. Spatial thinking even underlies the structure and meaning of language: why we say we push ideas forward or tear them apart, why we're feeling up or have grown far apart.
Like Thinking, Fast and Slow before it, Mind in Motion gives us a new way to think about how--and where--thinking takes place.
About the Author
---
Barbara Tversky is an emerita professor of psychology at Stanford University and a professor of psychology at Teachers College at Columbia University. She is also the President of the Association for Psychological Science. Tversky has published over 200 scholarly articles about memory, spatial thinking, design, and creativity, and regularly speaks about embodied cognition at interdisciplinary conferences and workshops around the world. She lives in New York.
Praise For…
---
"An earnest effort to describe how our physical movements and the movements of those around us shape our consciousness...A well-informed book that will appeal to psychology buffs willing to pay close attention."—Kirkus

"This beautifully written book engages you in a one-on-one conversation with a rich and fascinating mind. It will guide you on a tour of your own experience and show you a new way to think about thinking."—Daniel Kahneman, author of Thinking, Fast and Slow

"An intriguing exploration of the spatial thinking that is embedded in our reasoning, our language, and our culture, from one of the world's leading researchers on these topics."—Steven Pinker, Johnstone Professor of Psychology at Harvard University and author of How the Mind Works

"In this engrossing new book, Tversky shows how motion, actions, and bodies are fundamental to the way we think. The mind extends from the brain and body to the world and environment, building upon how we perceive and manipulate our bodies and the objects around us. Truly engaging. Truly important."—Don Norman, director of The Design Lab at University of California, San Diego and author of The Design of Everyday Things

"Nimbly maneuvering between data, scientific theory, and extraordinary personal insight, Tversky elegantly establishes spatial thinking as core to our very existence as humans. Ranging from physics to linguistics to design, this sophisticated new book distills the author's expertise into a compelling geometry of facts: a delight for experts and accidental readers alike."—Paola Antonelli, Senior Curator of Architecture & Design at the Museum of Modern Art
Free Media Mail shipping on U.S. orders over $75