A Different Sun: A Novel of Africa (Paperback)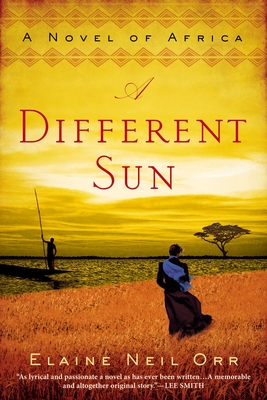 Staff Reviews
---
In pre-Civil War days, a 21-year-old daughter of a wealthy Georgia plantation owner marries a man twice her age and leaves with him to take up his life as a missionary in Africa.  A Different Sun describes the social and spiritual awakening of this young woman as well as the lonely and hard life she leads.  I was mesmerized by her story as well as the portrait of the beauty of the continent and its native people.
— Sandra
Description
---
A "lush, evocative, breathtaking"* debut novel from Elaine Neil Orr, "reminiscent of Barbara Kingsolver's magnum opus, The Poisonwood Bible, with elements of Joseph Conrad and Louise Erdrich."*

Also I heard the voice of the Lord, saying, Whom shall I send, and who will go for us? Then said I, Here am I; send me.

When Emma Davis reads the words of Isaiah 6:8 in her room at a Georgia women's college, she understands her true calling: to become a missionary. It is a leap of faith that sweeps her away to Africa in an odyssey of personal discovery, tremendous hardship, and profound transformation.

For the earnest, headstrong daughter of a prosperous slave owner, living among the Yoruba people is utterly unlike Emma's sheltered childhood—as is her new husband, Henry Bowman. Twenty years her senior, the mercurial Henry is the object of Emma's mad first love, intensifying the sensations of all they see and share together. Each day brings new tragedy and heartbreak, and each day, Emma somehow finds the hope, passion, and strength of will to press onward. Through it all, Henry's first gift to Emma, a simple writing box—with its red leather-bound diary and space for a few cherished keepsakes—becomes her closest confidant, Emma's last connection to a life that seems, in this strange new world, like a passing memory.

A tale of social and spiritual awakening; a dispatch from a difficult era at home and abroad; and a meditation on faith, freedom, and desire, A Different Sun is a captivating fiction debut.  

*Library Journal (starred review)
About the Author
---
Elaine Neil Orr is professor of English at North Carolina State University in Raleigh where she teaches world literature and creative writing. She also serves on the faculty of the brief-residency MFA in Writing Program at Spalding University in Louisville. Author of two scholarly books and the memoir, Gods of Noonday: A White Girl's African Life, she has been a featured speaker and writer-in-residence at numerous universities and conferences and is a frequent fellow at the Virginia Center for the Creative Arts. She grew up in Nigeria.
Praise For…
---
Praise for A Different Sun

"As lyrical and passionate a novel as has ever been written, A Different Sun shines in the mind like a rare gem...A memorable and altogether original story."—Lee Smith, New York Times bestselling author of Fair and Tender Ladies and The Last Girls

"A magnificent novel that explores the charged juncture between nineteenth-century Africa and the slaveholding South. This is the spellbinding, richly imagined story of missionaries Emma and Henry Bowman—inspired by historical figures—and the remarkable people they encounter on their transformative journey. Although A Different Sun might be seen as an Out of Africa for the twenty-first century, Orr's is an original and important new voice in American fiction."—Angela Davis-Gardner, author of Plum Wine and Butterfly's Child

"For anyone who has been waiting for a writer to imagine the white traveler to Africa from an altogether different angle, here is Elaine Neil Orr's brilliant novel. It goes to the heart. It goes to the bone. You won't be able to put it down."—Peggy Payne, author of Sister India and Revelation

"An important book, one which unflinchingly explores tensions between Christianity and African religions, slavery and freedom, madness and love."—Wayne Caldwell, author of Cataloochee and Requiem by Fire

"A powerful exploration of 'correctness of principle'...a sharp statement about morality...an exploration of love and true goodness...A beautiful novel, exquisitely written, perfectly complex, true to the past, relevant today, unforgettable."—Philip F. Deaver, author of Silent Retreats, winner of the Flannery O'Connor Award for Short Fiction

"Extraordinary...grips the imagination and doesn't let go. Here is rendered as fierce a spirituality as anything you can read in Dostoevsky. This is a book of high adventure with life and death stakes both for the body and the soul. It has a penetrating authenticity that will make your hair stand on end."—Sena Jeter Naslund, New York Times bestselling author of Ahab's Wife and Four Spirits

"Lush, evocative, breathtaking in its descriptions, and deeply spiritual in its themes of love, forgiveness, and transformation, this extraordinary novel shines with light and depth. Reminiscent of Barbara Kingsolver's magnum opus, The Poisonwood Bible, with elements of Joseph Conrad and Louise Erdrich, Orr's stunning debut is starkly beautiful and true to life."—Library Journal (starred review)