We are offering FREE media mail shipping on books. We are open from 10am-7pm Monday through Saturday and 10am-6pm Sunday. Phones may not be answered due to a high volume of calls.
The Wisdom of Hair (Paperback)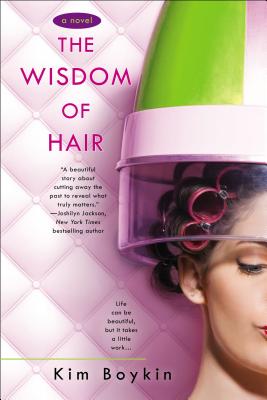 Email or call for price
Hard to find: allow 24 hours for information
Description
---
Life can be beautiful, but it takes a little work...

"The problem with cutting your own hair is that once you start, you just keep cutting, trying to fix it, and the truth is, some things can never be fixed. The day of my daddy's funeral, I cut my bangs until they were the length of those little paintbrushes that come with dime-store watercolor sets. I was nine years old. People asked me why I did it, but I was too young then to know I was changing my hair because I wanted to change my life."

In 1983, on her nineteenth birthday, Zora Adams finally says goodbye to her alcoholic mother and their tiny town in the mountains of South Carolina. Living with a woman who dresses like Judy Garland and brings home a different man each night is not a pretty existence, and Zora is ready for life to be beautiful.

With the help of a beloved teacher, she moves to a coastal town and enrolls in the Davenport School of Beauty. Under the tutelage of Mrs. Cathcart, she learns the art of fixing hair, and becomes fast friends with the lively Sara Jane Farquhar, a natural hair stylist. She also falls hard for handsome young widower Winston Sawyer, who is drowning his grief in bourbon. She couldn't save Mama, but maybe she can save him.

As Zora practices finger waves, updos, and spit curls, she also comes to learn that few things are permanent in this life—except real love, lasting friendship, and, ultimately… forgiveness.
About the Author
---
Kim Boykin learned about women and their hair in her mother's beauty shop in a tiny South Carolina town. She loves to write stories about strong Southern women, because that's what she knows. Kim is an accomplished public speaker, serves on the board of the South Carolina Writer's Workshop, and edits the organization's monthly newsletter. She lives with her husband, three dogs, and 126 rose bushes. Visit her website to learn more about her second passion after writing, food.
Praise For…
---
"As we've long suspected our hair can define us. It can also teach us things about ourselves that will surprise and change us. The Wisdom of Hair is a lovely, engaging novel! Zora Adams is a heroine to root for!"—Wendy Wax
"The Wisdom of Hair has a big beating heart, and I couldn't put it down. What I loved best about the book was the pervasive kindness; page after page, good people try their best, sometimes succeeding, and sometimes failing. It's hard to write an engaging novel about (mostly) nice people, but Kim Boykin has pulled it off."—Ann Napolitano