FREE Media Mail shipping on eligible items! We are open for browsing by appointment from 10am-7pm M-S and 10am-6pm Sundays. Email books@quailridgebooks.com for a reservation. Phones may not be answered due to high volume of calls.
Under Occupation: A Novel (Hardcover)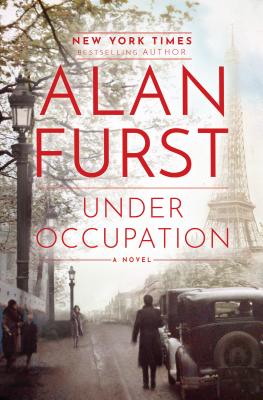 Description
---
From "America's preeminent spy novelist" (The New York Times) comes a fast-paced, mesmerizing thriller of the French resistance fighters working secretly and bravely to defeat Hitler.
  
Occupied Paris, 1942. Just before he dies, a man being chased by the Gestapo hands off a strange-looking document to the unsuspecting novelist Paul Ricard. It looks like a blueprint of a part for a military weapon, one that might have important information for the Allied forces. Ricard realizes he must try to get the diagram into the hands of members of the resistance network. 
 
As Ricard finds himself drawn deeper and deeper into anti-Nazi efforts and increasingly dangerous espionage assignments, he travels to Germany and along the escape routes of underground resistance safe houses to spy on Nazi maneuvers. When he meets the mysterious and beautiful Leila, a professional spy, they begin to work together to get crucial information out of France and into the hands of the Allied forces in London.
About the Author
---
Alan Furst, widely recognized as the master of the historical spy novel, is the author of A Hero of France, Midnight in Europe, Mission to Paris, and many other bestsellers. Born in New York, he lived for many years in Paris, and now lives on Long Island.
Praise For…
---
Praise for Alan Furst
 
"One of the best contemporary writers."—David McCullough
 
"Furst never stops astounding me."—Tom Hanks
 
"Though set in a specific place and time, Furst's books are like Chopin's nocturnes: timeless, transcendent, universal. One does not so much read them as fall under their spell."—Los Angeles Times
 
"Furst is the best in the business."—Vince Flynn
 
"Suspenseful and sophisticated . . . No espionage author, it seems, is better at summoning the shifting moods and emotional atmosphere of Europe before the start of World War II than Alan Furst."—The Wall Street Journal