The Water Dancer: A Novel (Hardcover)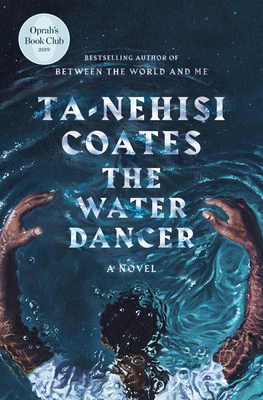 $28.00
Coming soon - PRE-ORDER NOW!
Staff Reviews
---
I'm always a little apprehensive when a writer I admire takes on a new genre. As soon as I started Ta-Nehisi Coates' debut novel, The Water Dancer, all my fears were laid to rest. While Coates has made a name for himself as an award-winning writer of memoir, essays and journalism, his gifts in fiction seem to me, remarkably, even stronger. Hiram Walker, born a slave on a decaying Virginia tobacco plantation in the mid-1800s, is the hero and The Water Dancer is an adrenaline charged adventure story, a lyrical saga of family love, and a heartbreaking morality tale with a healthy dose of magic realism. Hiram is a complex young man with special gifts. He's also a sympathetic narrator accompanied by a rich cast of unforgettable characters who are good or evil but never pure. The Water Dancer is a complete pleasure to read, even at it's darkest, from the first page to the last.
— Sarah
Description
---
From the National Book Award–winning author of Between the World and Me, a boldly conjured debut novel about a magical gift, a devastating loss, and an underground war for freedom.

Young Hiram Walker was born into bondage. When his mother was sold away, Hiram was robbed of all memory of her—but was gifted with a mysterious power. Years later, when Hiram almost drowns in a river, that same power saves his life. This brush with death births an urgency in Hiram and a daring scheme: to escape from the only home he's ever known.

So begins an unexpected journey that takes Hiram from the corrupt grandeur of Virginia's proud plantations to desperate guerrilla cells in the wilderness, from the coffin of the Deep South to dangerously idealistic movements in the North. Even as he's enlisted in the underground war between slavers and the enslaved, Hiram's resolve to rescue the family he left behind endures.

This is the dramatic story of an atrocity inflicted on generations of women, men, and children—the violent and capricious separation of families—and the war they waged to simply make lives with the people they loved. Written by one of today's most exciting thinkers and writers, The Water Dancer is a propulsive, transcendent work that restores the humanity of those from whom everything was stolen.

Advance praise for The Water Dancer

"In prose that sings and imagination that soars, Coates further cements himself as one of this generation's most important writers, tackling one of America's oldest and darkest periods with grace and inventiveness. This is bold, dazzling, and not to be missed."—Publishers Weekly (starred review)

"Coates brings his considerable talent for racial and social analysis to his debut novel, which captures the brutality of slavery and explores the underlying truth that slaveholders could not dehumanize the enslaved without also dehumanizing themselves. Beautifully written, this is a deeply and soulfully imagined look at slavery and human aspirations."—Booklist (starred review)
About the Author
---
Ta-Nehisi Coates is the author of The Beautiful Struggle, We Were Eight Years in Power, and Between the World and Me, which won the National Book Award in 2015. He is the recipient of a MacArthur Fellowship. Coates lives in New York City with his wife and son.