The Line That Held Us (Hardcover)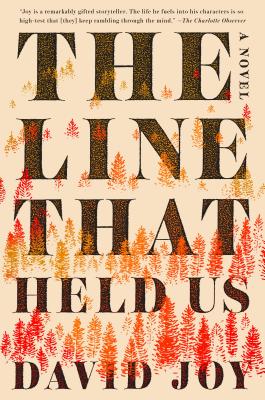 Description
---
From critically acclaimed author David Joy comes a remarkable novel about the cover-up of an accidental death, and the dark consequences that reverberate through the lives of four people who will never be the same again.

When Darl Moody went hunting after a monster buck he's chased for years, he never expected he'd accidentally shoot a man digging ginseng. Worse yet, he's killed a Brewer, a family notorious for vengeance and violence. With nowhere to turn, Darl calls on the help of the only man he knows will answer, his best friend, Calvin Hooper. But when Dwayne Brewer comes looking for his missing brother and stumbles onto a blood trail leading straight back to Darl and Calvin, a nightmare of revenge rips apart their world. The Line That Held Us is a story of friendship and family, a tale balanced between destruction and redemption, where the only hope is to hold on tight, clenching to those you love. What will you do for the people who mean the most, and what will you grasp to when all that you have is gone? The only certainty in a place so shredded is that no one will get away unscathed.
About the Author
---
David Joy is the author of The Weight of This World and Where All Light Tends to Go, an Edgar finalist for Best First Novel. His stories and creative nonfiction have appeared in a number of publications, and he is the author of the memoir Growing Gills: A Fly Fisherman's Journey. Joy lives in Sylva, North Carolina.
Praise For…
---
"Unflinching . . . Joy writes about rough-hewn men and women eking out a living in an economically depressed area, trying to avoid—but often affected by—violence and drugs that permeate the region. Their lives are tied to the land, its history and their families who established lives there decades ago."—Associated Press

More Praise for The Line That Held Us
 
"A suspenseful page-turner, complete with one of the absolutely killer endings that have become one of Joy's signatures."—Los Angeles Times

"Exquisitely written, heart-wrenching . . . Joy's descriptions are lyrical and lingering."—Milwaukee Journal-Sentinel

"David Joy's novel brought me to my knees. Exquisitely written and heart-wrenching, it reminded me of Faulkner in its dark depiction of family loyalty — that "old fierce pull of blood." . . . Joy's descriptions are lyrical and lingering. . . . In the end, the line that holds Joy's characters may be fraught and frayed, but its pull is fierce."—Minneapolis Star Tribune

"Joy has proved adept with southern noir in his first two novels, and he nails it again here, in the actions of characters who act as they must, for the sake of family and friendship, given their nature. This is fiction as beautiful and compelling as it is searing."—Booklist (starred review)
 
"Poverty, class, violence, addiction, isolation: No one writes about the issues facing rural America as clearly, as fairly, or as well as David Joy. The Line That Held Us plumbs the depths of friendship and family, uncovering truths that are stamped on the page with blistering realism."—Wiley Cash, author of The Last Ballad

Praise for The Weight of This World 

"Bleakly beautiful. . . [a] gorgeously written but pitiless novel about a region blessed by nature but reduced to desolation and despair."—Marilyn Stasio, The New York Times Book Review
 
"Darkly stunning Appalachian noir."—Huffington Post
 
"Scenes unfold at a furious pace, yet contain such rich description that readers will do well to read slowly, savoring Joy's prose. . . .  Joy's work perfectly aligns with the author's self-described 'Appalachian noir' genre, as a sticky film of desperation and tragedy cloaks everything his characters touch. April, Aiden and Thad are hopelessly conflicted, dripping with history and heartache, yet they cling to unique dreams about what life could look like if they carried a bit less weight of the world upon their shoulders."—Associated Press
Coverage from NPR
Free Media Mail shipping on U.S. orders over $75
"Ships from warehouse" books to be shipped: order by Wednesday, 12/6
"Ships from warehouse" books for pickup: order by Tuesday, 12/12