Max Explains Everything: Puppy Expert (Hardcover)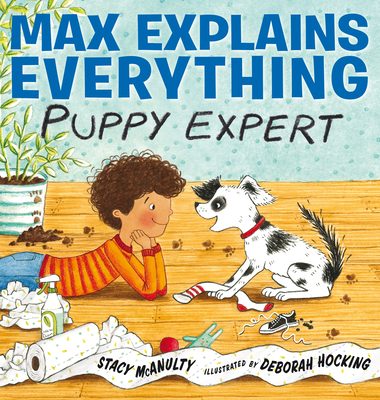 $16.99
Email or call for price.
Description
---
In this hilarious, tongue-in-cheek guide, kid-expert Max reveals everything you need to know about getting a new puppy.

Max knows a lot about puppies. After all, he's wanted one his whole life! So he's pretty much an expert. Grown-ups will warn you: Puppies are a lot of work. And they're right! Your puppy will need the perfect bed (which she'll never sleep in), the perfect toys (though she prefers playing with shoes and socks), and the perfect treats (she likes those, but she'll also have whatever you're eating). Dogs aren't good listeners like kids are, and they have a lot to learn. So you might have to take her to doggy school. (Her favorite part will probably be recess.) Yup, a puppy is a big responsiblity--but also a lot of fun, a lot of cute, a lot of cuddle, and a lot of love. Full of humor, energy, and warmth, Max Explains Everything: Puppy Expert is the perfect read aloud for animal lovers everywhere.
About the Author
---
Stacy McAnulty is the author of more than twenty books for children, including the middle grade novels The Miscalculations of Lightning Girl--which was an NPR Best Book of the Year, a Kirkus Reviews Best Book of the Year, and received three starred reviews--and The World Ends in April. She is also the author of the picture books Earth! My First 4.54 Billion Years, Beautiful, Excellent Ed (an Ezra Jack Keats New Author Honor Book), and 101 Reasons Why I'm Not Taking a Bath, just to name a few. She lives in North Carolina with three kids, three dogs, and one husband.

Deborah Hocking has collaborated with Stacy McAnulty on two previous books in the Max Explains Everything series. She is also the illustrator of The Great Henry Hopendower and the nonfiction picture book Build, Beaver, Build! Life at the Longest Beaver Dam. She lives in Portland, Oregon, in a hundred-year-old cottage that she fixed up with her husband, Jay. Learn more at deborahhockingillustration.com.
Praise For…
---
"A kid's entitled to more than one enthusiasm, and, as his bedroom decor attests, Max (of Max Explains Everything: Soccer Expert) still loves soccer but is now building a relationship with his longed-for new puppy. Getting the dog was surprisingly easy: Mom took the bait upon seeing a pet event in the paper, and Max brought home his choice from the Pet Adoption Fair. Getting this pup acclimated and disciplined—or even named—is no cinch; in fact, as alert listeners will probably discern, it's pretty similar to bringing a child to heel. As Max describes necessary benchmarks, illustrator Hocking again supplies with visuals what Max leaves out. Take, for instance, Step Three, "Your puppy will need the perfect bed." True, as far as it goes, but a peek at Max at night shows him sprawled on the mattress, the puppy sprawled in his pillow, and the dog bed lying empty on the floor. Or Step Five, which we'll never know, because the puppy has torn it to shreds. By book's end, though, Max has himself a real pet to love, and after observing that dogs are "a lot of fun," "a lot of cute," "a lot of cuddle," and "a lot of love," he also has a name for his puppy—"Alotta." And who could ask for a better ending than that?" —The Bulletin of the Center for Children's Books