Nemesis (Project Nemesis #1) (Hardcover)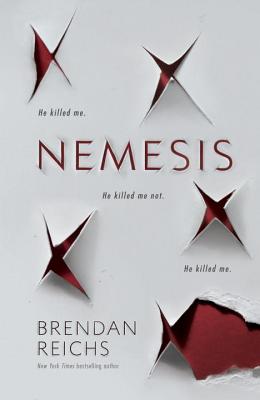 Other Books in Series
This is book number 1 in the Project Nemesis series.
Description
---
Orphan Black meets Lord of the Flies in this riveting new thriller from the co-author of the Virals series. 
 
It's been happening since Min was eight. Every two years, on her birthday, a strange man finds her and murders her in cold blood. But hours later, she wakes up in a clearing just outside her tiny Idaho hometown—alone, unhurt, and with all evidence of the horrifying crime erased.
 
Across the valley, Noah just wants to be like everyone else. But he's not. Nightmares of murder and death plague him, though he does his best to hide the signs. But when the world around him begins to spiral toward panic and destruction, Noah discovers that people have been lying to him his whole life. Everything changes in an eye blink.
 
For the planet has a bigger problem. The Anvil, an enormous asteroid threatening all life on Earth, leaves little room for two troubled teens. Yet on her sixteenth birthday, as she cowers in her bedroom, hoping not to die for the fifth time, Min has had enough. She vows to discover what is happening in Fire Lake and uncovers a lifetime of lies: a vast conspiracy involving the sixty-four students of her sophomore class, one that may be even more sinister than the murders.
About the Author
---
Brendan Reichs was born and raised in Charlotte, North Carolina. He graduated from Wake Forest University in 2000 and The George Washington University School of Law in 2006. After three long years working as a litigation attorney, he abandoned the trade to write full time. He lives in Charlotte with his wife, son, daughter, and a herd of animals that tear up everything.
Praise For…
---
★ "Min is not your average 16-year-old. Every two years on her birthday, she's murdered. And every two years she comes back, completely unharmed. She's tried to escape the inevitable but knows it's only a matter of time before the man in black returns for her. Now things are getting worse, with an asteroid headed toward Earth. . . [j]ust when she's found that classmate Noah is having the same strange experiences she's tried to keep hidden. . . . Hooked readers will be tapping their fingers waiting for the sequel."—Kirkus Reviews, starred review

★ "There are many overworked adjectives for action books: page-turner, fast-paced, intense. For this book, multiply all of them. Reichs truly keeps readers guessing throughout, with twists on early every page."—Booklist, starred review

"Min is a self-assured female protagonist, and Noah is a refreshingly complex young man . . . [t]his fast-paced exploration of the teen condition is recommended for lovers of science fiction, video games, and New Age dystopia."—School Library Journal

"[I]t's [Min's] story that will . . . draw readers back to see where the cliffhanger ending leads."—The Bulletin of the Center for Children's Books

"Nemesis will appeal to teens who enjoy a fast-paces, action-filled plot with references to current events."—VOYA

"Reichs pulls everything together at the book's end, and a plot twist few will see coming should leave readers eagerly awaiting the second book in this duology."—Publishers Weekly

"[E]ven though the thrilling story is lengthy, it's hard to put down . . . . [i]t's mysterious and dark, with plot twists galore. So strap yourself in and be prepared for a bumpy ride."—Romantic Times

"Addictive as a puzzle, moving with breakneck speed, Nemesis had me guessing until the very end. Try to predict what Nemesis is. I dare you."—Victoria Aveyard, #1 New York Times bestselling author of Red Queen
 
"Reichs builds plots like the Swiss build watches. Nemesis is a fascinating, twisty page-turner that will keep surprising you until its final page. I loved it."—Ransom Riggs, #1 New York Times bestselling author of Miss Peregrine's Home for Peculiar Children
 
"Reichs keeps you at the edge of your seat without compromising depth and heart. Prepare to think about these characters long after you've closed the book."—Ally Condie, #1 New York Times bestselling author of Matched
 
"My favorite thriller since The Maze Runner—dark, fast paced and intense."—Melissa de la Cruz, #1 New York Times bestselling author of The Isle of the Lost
 
"Born from the imagination of an apocalyptic mastermind, Nemesis is an addictive read filled with mystery, conspiracy, and terrifying possibilities. I can't wait for the sequel!"—Kami Garcia, #1 New York Times bestselling author of The Lovely Reckless
 
"My favorite kind of thriller: smart and action-packed, with twists and turns galore. You won't be able to put this book down."—Renée Ahdieh, #1 New York Times bestselling author of The Wrath and the Dawn
 
"Nemesis disarms every expectation and lures you down a dark, gripping road. You think you know what's coming . . . You don't."—Alexandra Bracken, #1 New York Times bestselling author of The Darkest Minds
 
"An utterly thrilling read with a deviously clever twist I never saw coming!"—Carrie Ryan, New York Times bestselling author of The Forest of Hands and Teeth
 
"So scary it's heart-stopping—and so good it's scary."—Margaret Stohl, #1 New York Times bestselling author of Black Widow: Forever Red
 
"A twisted web of conspiracy and apocalyptic mayhem that kept me reading all night."—Jay Kristoff, New York Times bestselling author of Illuminae

Free Media Mail shipping on U.S. orders over $75
"Ships from warehouse" books to be shipped: order by Wednesday, 12/6
"Ships from warehouse" books for pickup: order by Tuesday, 12/12