We are offering FREE media mail shipping on books. We are open from 10am-7pm Monday through Saturday and 10am-6pm Sunday. Phones may not be answered due to a high volume of calls.
Spinning Silver: A Novel (Paperback)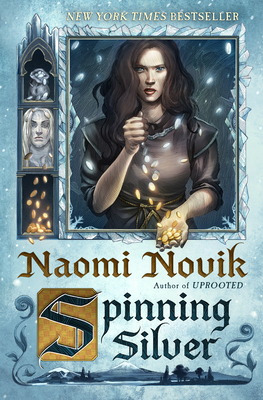 $17.00
Available from warehouse in 1-5 business days
Staff Reviews
---
Loosely based on the tale of Rumpelstiltskin, Spinning Silver joins Miryem, the daughter of a Jewish moneylender, and her allies: Wanda, the poor eldest daughter of an abusive farmer, and Irina, the plain child of an ambitious duke. Mythical creatures of both fire and ice battle for supremacy, unconcerned with the suffering they inflict upon human society along the way.
This story is so rich that it could easily have spanned a trilogy. It's amazing how, all in one novel, Novik can build a whole world, really build it convincingly, flesh out so many characters, and pack in so much story with no filler at all.
— Kaley
Description
---
NEW YORK TIMES BESTSELLER • "One of the year's strongest fantasy novels" (NPR), an imaginative retelling of the Rumpelstiltskin fairy tale from the bestselling author of Uprooted.

NEBULA AND HUGO AWARD FINALIST • NAMED ONE OF PASTE'S BEST FANTASY BOOKS OF THE DECADE • NAMED ONE OF THE TEN BEST BOOKS OF THE YEAR BY THE NEW YORK PUBLIC LIBRARY AND ONE OF THE BEST BOOKS OF THE YEAR BY The New York Times Book Review • NPR • Time • Tordotcom • Popsugar • Vox • Vulture • Paste • Bustle • Library Journal

With the Nebula Award–winning Uprooted, Naomi Novik opened a brilliant new chapter in an already acclaimed career, delving into the magic of fairy tales to craft a love story that was both timeless and utterly of the now. Spinning Silver draws readers deeper into this glittering realm of fantasy, where the boundary between wonder and terror is thinner than a breath, and safety can be stolen as quickly as a kiss.

Miryem is the daughter and granddaughter of moneylenders, but her father's inability to collect his debts has left his family on the edge of poverty—until Miryem takes matters into her own hands. Hardening her heart, the young woman sets out to claim what is owed and soon gains a reputation for being able to turn silver into gold. When an ill-advised boast draws the attention of the king of the Staryk—grim fey creatures who seem more ice than flesh—Miryem's fate, and that of two kingdoms, will be forever altered. She will face an impossible challenge and, along with two unlikely allies, uncover a secret that threatens to consume the lands of humans and Staryk alike.

Praise for Spinning Silver

"A perfect tale . . . A big and meaty novel, rich in both ideas and people, with the vastness of Tolkien and the empathy and joy in daily life of Le Guin."—The New York Times Book Review

"Gorgeous, complex, and magical . . . This is the kind of book that one might wish to inhabit forever."—Publishers Weekly (starred review)

"Cool and clever and . . . dire and wonderful."—Laini Taylor, author of Strange the Dreamer

"The Rumpelstiltskin fairy tale has never been as captivating. . . . Spinning Silver further cements [Novik's] place as one of the genre greats."—Paste
About the Author
---
Naomi Novik received the 2007 John W. Campbell Award for Best New Writer at the World Science Fiction Convention. In 2016 she won the Nebula Award for Best Novel for Uprooted. She is also the author of the nine volumes of the Temeraire series and the graphic novel Will Supervillains Be on the Final? An avid reader of fantasy literature, Novik is also a history buff with a particular interest in the Napoleonic era and a fondness for the work of Patrick O'Brian and Jane Austen. She lives in New York City with her family and six computers.
Praise For…
---
"A perfect tale . . . This book is about the determination and quiet competence of women doing remarkable things without knowing first that they can do them. . . . A big and meaty novel, rich in both ideas and people, with the vastness of Tolkien and the empathy and joy in daily life of Le Guin."—The New York Times Book Review

"Gorgeous, complex, and magical . . . This is the kind of book that one might wish to inhabit forever."—Publishers Weekly (starred review)

"Cool and clever and . . . dire and wonderful."—Laini Taylor, author of Strange the Dreamer

"A book as cool and mysterious as a winter's night, with two marvelous heroines at its heart, Spinning Silver pits the cold of endless winter against the fires of duty, love, and sacrifice. I couldn't put it down."—Katherine Arden, New York Times bestselling author of The Bear and the Nightingale

"Masterly . . . Novik addresses weighty questions of power, choice, prejudice, beauty, and identity with aplomb."—Library Journal (starred review)

"Naomi Novik knows how to weave words into magic, and Spinning Silver enchants the reader from the first page. This magnificent tale of three courageous young women who find the power to change their fates will catch you in its spell and linger long after the last chapter is read."—Christina Henry, bestselling author of The Mermaid

"A brilliant reclamation of 'Rumpelstiltskin,' digging deep into that story's anti-Semitism and pulling up something nourishing from the roots . . . One of the year's strongest fantasy novels . . . I'm in awe of how Novik spins moldy, hateful straw into warm and glimmering gold."—Amal El-Mohtar, NPR

"A thoughtful, emotionally complex, absorbing drama."—Kirkus Reviews

"Novik has a knack for creating richly layered fantasy worlds with complex social dynamics, ruthless rulers and epic plot twists; her poetic narratives often recast magical motifs in unexpected ways. . . . This one, a stand-alone retelling of the Brothers Grimm's 'Rumpelstiltskin,' includes a feminist exploration of the politics of money."—Newsweek

"The Rumpelstiltskin fairy tale has never been as captivating. . . . Spinning Silver further cements [Novik's] place as one of the genre greats."—Paste

"Deftly woven and highly immersive."—Tordotcom

"An inventive retelling."—Bustle

"A stroke of genius . . . Novik's characters are compelling, and the moral choices they are faced with are genuinely difficult. . . . Her tone can move from gently humorous, to sweepingly epic, to piercingly sad easily, and back again. . . . Even better than Uprooted."—Locus

"Spinning Silver follows in the tradition set by Robin McKinley of fairy-tale worlds populated by fairy-tale characters who feel like real people, and of princesses with strength and agency. But it moves the tradition forward."—Vox