We are offering FREE media mail shipping on books. We are open from 10am-7pm Monday through Saturday and 10am-6pm Sunday. Phones may not be answered due to a high volume of calls.
All That You Leave Behind: A Memoir (Paperback)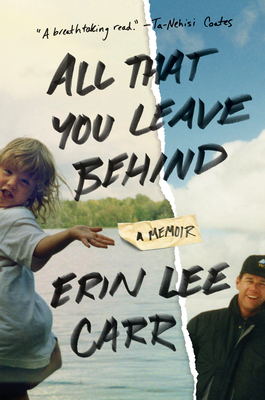 Staff Reviews
---
Erin Lee Carr is a successful young documentary filmmaker raised by her celebrated New York Times journalist father.  Her book is a brutally honest father-daughter love story brimming with addiction, loyalty, grit and professional triumphs. Heavily a tribute to her dad, Carr's memoir quotes personal emails that display a fierce family bond. Carr brings her unglamorous personal addiction under the microscope to the point you physically feel her desperation for that next drink. Having been a serious addict himself, her father's advice is often fascinating and unexpected. Carr's writing on her dad's sudden death is a heartbreak that anyone with similar experience will relate to and appreciate. 
All That You Leave Behind is original and fascinating, and the language is often so clever it leaves you wishing you had such a gift. There's lots of David Carr advice for living in here, along with Erin's desperate attempts to please and live up to her bigger-than-life father. I was completely on board for the Carr family journey from start to end.
— Peggy
Description
---
"A documentary filmmaker and daughter of the late, great New York Times columnist David Carr celebrates and wrestles with her father's legacy in a raw, redemptive memoir."—O: The Oprah Magazine

"A breathtaking read . . . a testimony equal parts love and candor. David would have had it no other way."—Ta-Nehisi Coates, bestselling author of Between the World and Me 

NAMED ONE OF THE BEST BOOKS OF THE YEAR BY GLAMOUR AND MARIE CLAIRE

Dad: What will set you apart is not talent but will and a certain kind of humility. A willingness to let the world show you things that you play back as you grow as an artist. Talent is cheap. 
Me: OK I will ponder these things. I am a Carr.
Dad: That should matter quite a bit, actually not the name but the guts of what that name means.

A celebrated journalist, bestselling author (The Night of the Gun), and recovering addict, David Carr was in the prime of his career when he suffered a fatal collapse in the newsroom of The New York Times in 2015. Shattered by his death, his daughter Erin Lee Carr, at age twenty-seven an up-and-coming documentary filmmaker, began combing through the entirety of their shared correspondence—1,936 items in total—in search of comfort and support.

What started as an exercise in grief quickly grew into an active investigation: Did her father's writings contain the answers to the question of how to move forward in life and work without her biggest champion by her side? How could she fill the space left behind by a man who had come to embody journalistic integrity, rigor, and hard reporting, whose mentorship meant everything not just to her but to the many who served alongside him?

All That You Leave Behind is a poignant coming-of-age story that offers a raw and honest glimpse into the multilayered relationship between a daughter and a father. Through this lens, Erin comes to understand her own workplace missteps, existential crises, and relationship fails. While daughter and father bond over their mutual addictions and challenges with sobriety, it is their powerful sense of work and family that comes to ultimately define them.

This unique combination of Erin Lee Carr's earnest prose and her father's meaningful words offers a compelling read that shows us what it means to be vulnerable and lost, supported and found. It is a window into love, with all of its fierceness and frustrations.

"Thank you, Erin, for this beautiful book.  Now I am going to steal all of your father's remarkable advice and tell my kids I thought of it."—Judd Apatow
About the Author
---
Erin Lee Carr is a director, producer, and writer based in New York City. Named one of the "30 Under 30" most influential people in media by Forbes, Carr most recently directed At the Heart of Gold, about the USA Gymnastics scandal, and I Love You: Now Die, about the Michelle Carter murder-by-texting trial, both for HBO. She also directed "Drug Short," an episode of Netflix's critically acclaimed series Dirty Money. She lives in New York City, where she enjoys petting dogs on the street.