Prince and Pirate (Hardcover)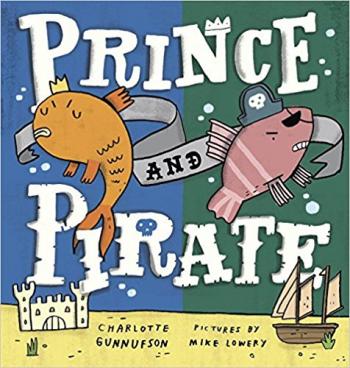 Description
---
When two little fish with big personalities have to share the same tank, there are rough seas ahead!

Prince and Pirate are proud masters of their very own fishbowls, and life goes along swimmingly—until they're scooped up and plopped into shared waters.

Prince is horrified to find this cheeky cod trespassing in his kingdom.
 
Pirate is sure this scurvy sea slug has come to plunder his treasure.
 
Thus, a battle of regal sneers, seaworthy stink-eyes, and off-the-hook insults begins. 
Prince and Pirate's hilarious duel for territory will elicit gales of giggles, hearty guffaws, and heartfelt smiles. Just when it seems their struggle might end in a silly stalemate, a little surprise convinces them to find a way to get along—swimmingly.
About the Author
---
Charlotte Gunnufson has never, ever had any trouble sharing. Okay, maybe one time. But that was her big sister's fault. And the other time, her little brother started it. Anyway, Charlotte is author of Halloween Hustle and lots of funny poems for Highlights and Cricket magazines. She lives in Cedar Rapids, Iowa.
 
 
Mike Lowery is the illustrator of The Gingerbread Man Loose on the Firetruck. His work appears in everything from greeting cards to children's books and the Kid's Awesome Activity Calendar. He is a professor of illustration at the Savannah College of Art and Design Atlanta.
Praise For…
---
★ "Prince, an entitled goldfish, and Pirate, a fish of a decidedly naughty nature, are content as can be within their own little bowls. Then along comes the terrible day when they find themselves sharing a single tank . . . Taking a cue from classic movies and sitcoms of yore, they make a line down the tank's center constructed from white pebbles . . . A watery odd couple perfect for potential royals and scurvy curs alike."—Kirkus Reviews, starred review

"When a 'dreadful journey' lands [Prince and Pirate] in a rectangular fish tank, they are terrible at sharing, and they each embark on a quest to outdo the other. Prince's proper, snooty vernacular hilariously contrasts with Pirate's raw, salty language: 'Halt, peasant!' says Prince, and Pirate replies, 'Avast, ye scurvy sea slug!' . . . . At first glance, this is pure silliness, but a tidy lesson about sharing will rise to the surface."—Booklist

"Gunnufson's goofy story about acceptance and sharing . . . gives Pirate and Prince big personalities, and their respectively gruff and highbrow comments will make for peppy readalouds."—Publishers Weekly
Free Media Mail shipping on U.S. orders over $50