We are offering FREE media mail shipping on books. We are open from 10am-7pm Monday through Saturday and 10am-6pm Sunday. Phones may not be answered due to a high volume of calls.
20,000 Leagues Under the Sea (A Stepping Stone Book(TM)) (Paperback)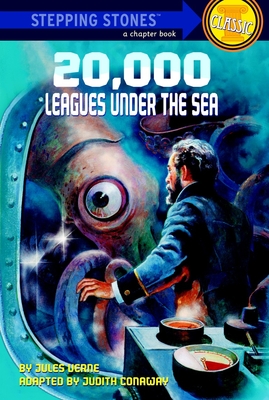 $4.99
Hard to find: allow 24 hours for information
Description
---
In this 1870 science-fiction classic, obsessed Captain Nemo and his prisoners descend beneath the sea in his secret submarine, the Nautilus, for nonstop adventure and suspense.
About the Author
---
Judith Conaway is a writer, designer, and illustrator of children's books and educational materials. She has written activity and puzzle books as well as Stepping Stone books for Random House Books for Young Readers, including Mysteries of Sherlock Holmes by Arthur Conan Doyle and 20,000 Leagues Under the Sea by Jules Verne.

Jules Verne was born in France in 1828 and died in 1905. His collaboration with the publisher Pierre-Jules Hetzel was wildly successful, producing many brilliant novels in the burgeoning genre of science fiction: 20,000 Leagues Under the Sea, Journey to the Center of the Earth, and Around the World in 80 Days, among others. Verne is the second most translated author in the world, after Agatha Christie and before Shakespeare.