FREE Media Mail shipping on eligible items! We are open for browsing by appointment from 10am-7pm M-S and 10am-6pm Sundays. Email books@quailridgebooks.com for a reservation. Phones may not be answered due to high volume of calls.
Rampage: MacArthur, Yamashita, and the Battle of Manila (Paperback)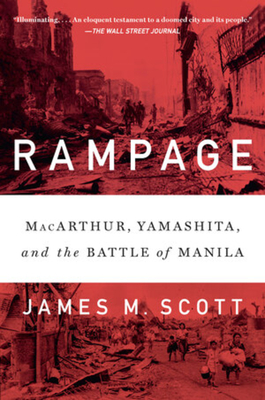 Description
---
"Illuminating.… An eloquent testament to a doomed city and its people." —The Wall Street Journal
In early 1945, General Douglas MacArthur prepared to reclaim Manila, America's Pearl of the Orient, which had been seized by the Japanese in 1942. Convinced the Japanese would abandon the city, he planned a victory parade down Dewey Boulevard—but the enemy had other plans. The Japanese were determined to fight to the death. The battle to liberate Manila resulted in the catastrophic destruction of the city and a rampage by Japanese forces that brutalized the civilian population, resulting in a massacre as horrific as the Rape of Nanking. Drawing from war-crimes testimony, after-action reports, and survivor interviews, Rampage recounts one of the most heartbreaking chapters of Pacific War history.
About the Author
---
James M. Scott is the author of Rampage, Target Tokyo, a finalist for the Pulitzer Prize; The War Below, and The Attack on the Liberty. He lives in Charleston, South Carolina.
Praise For…
---
Powerful narrative history… impossible to put down.
— Bob Drogin

[A] masterful reconstruction.
— Lawrence D. Freedman

A chilling, sometimes horrifying narrative of some of the fiercest urban fighting of World War II.… Scott gives voices to the victims, and that is an important service to history.
— Hal Bernton

An excellent but wrenchingly graphic account of one of the least-commemorated massacres in World War II.
— Richard B. Frank

Heartbreakingly detailed.… [James M.] Scott recreates [what was lost] for us and in so doing gives us a renewed and deeper understanding of the conflict for those who lived it.… This book is not just for war buffs but for anyone seeking to understand the last days of World War II.

An incredibly important story told by a gifted journalist-historian. Within the pages of this book, Scott honors the many victims and heroes of the battle and reminds the reader that true evil does exist in the world—and that it absolutely must be fought.
— Cody K. Carlson

Scott has done history a service in recording for all time this dark chapter in the Pacific War.

Rampage is a horrifyingly unforgettable book.… Reminds us once again that man's inhumanity to man belies the notion of human progress. The massacres in Manila that [Scott] so painstakingly details take their place among the 20th century's most monstrous and lurid crimes.

— Francis P. Sempa

Remarkable.… Establishes [Scott] as one of America's preeminent World War II historians.
— Gregg Jones

A gripping account of one of the most horrific but least-remembered battles of World War II.… Scott has a knack for weaving stories of individuals into an epic fabric.
— Terry Plumb