We are offering FREE media mail shipping on books. We are open from 10am-7pm Monday through Saturday and 10am-6pm Sunday. Phones may not be answered due to a high volume of calls.
The Fifth Risk: Undoing Democracy (Paperback)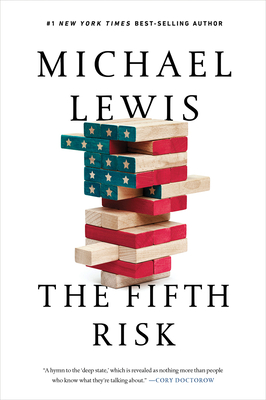 Description
---
The New York Times Bestseller, with a new afterword



"[Michael Lewis's] most ambitious and important book." —Joe Klein, New York Times
Michael Lewis's brilliant narrative of the Trump administration's botched presidential transition takes us into the engine rooms of a government under attack by its leaders through willful ignorance and greed. The government manages a vast array of critical services that keep us safe and underpin our lives from ensuring the safety of our food and drugs and predicting extreme weather events to tracking and locating black market uranium before the terrorists do. The Fifth Risk masterfully and vividly unspools the consequences if the people given control over our government have no idea how it works.
About the Author
---
Michael Lewis is the best-selling author of Liar's Poker, Moneyball, The Blind Side, The Big Short, and The Undoing Project. He lives in Berkeley, California, with his wife and three children.
Praise For…
---
A hymn to the 'deep state,' which is revealed as nothing more than people who know what they're talking about.
— Cory Doctorow

Fascinating—and at times harrowing…Lewis tells an important and timely story, one that all of us who pay for, care about, and want government to work should hear.
— Brian Naylor

Lewis has written a countercultural, almost subversive, book: one that praises the intellectual curiosity, dedication, foresight and sense of mission he finds among America's federal workers.
— Carlos Lozada

[A] spellbinding, alarming analysis of the most serious threats to Americans' safety happening now from inside the U.S. government.
— Don Oldenburg

[The Fifth Risk is] so prescient it's goosepimpling.

— Jennifer Senior