Miss Jane: A Novel (Hardcover)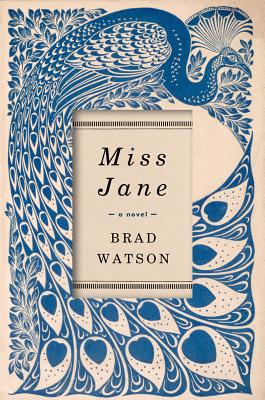 Email or call for price
Hard to find: allow 24 hours for information
Staff Reviews
---
A subtle, yet powerful portrait of an extraordinary character, Miss Jane thrills with some of the most gorgeous prose I have ever encountered. Jane Chisholm is born with a genital defect that, in rural Mississippi in the early 20th century, somewhat limits her prospects for a "normal" life. Populated with lovingly wrought characters, sly humor, and keen observations of the human heart, Watson's novel is a beautiful and rare bird indeed. 
— Tony
July 2016 Indie Next List
---
"At first, I was uncomfortable reading about the life Jane Chisolm has to lead due to a genital birth defect and assumed that I would be sad for her throughout the book, but this is so beautifully written and unsentimental in its depiction of Jane's quiet strength and courageous acceptance of her life that I fell in love with her quite quickly. While all the supporting characters have their own peculiarities, they are tender and endearing to Jane and that helped me to understand how she endured and was loved so fully. Everyone should read this extraordinary book and feel, as I did, the joy of this remarkable woman."
— Nancy Banks (E), City Stacks Books and Coffee, Denver, CO
Description
---
Longlisted for the National Book Award for Fiction: Astonishing prose brings to life a forgotten woman and a lost world in a strange and bittersweet Southern pastoral.
Since his award-winning debut collection of stories, Last Days of the Dog-Men, Brad Watson has been expanding the literary traditions of the South, in work as melancholy, witty, strange, and lovely as any in America.
Now, drawing on the story of his own great-aunt, Watson explores the life of Miss Jane Chisolm, born in rural, early-twentieth-century Mississippi with a genital birth defect that would stand in the way of the central "uses" for a woman in that time and place: sex and marriage. From the highly erotic world of nature around her to the hard tactile labor of farm life, from the country doctor who befriends her to the boy who loved but was forced to leave her, Miss Jane Chisolm and her world are anything but barren.
The potency and implacable cruelty of nature, as well as its beauty, is a trademark of Watson's fiction. In Miss Jane, the author brings to life a hard, unromantic past that is tinged with the sadness of unattainable loves, yet shot through with a transcendent beauty. Jane Chisolm's irrepressible vitality and generous spirit give her the strength to live her life as she pleases in spite of the limitations that others, and her own body, would place on her. Free to satisfy only herself, she mesmerizes those around her, exerting an unearthly fascination that lives beyond her still.
About the Author
---
Brad Watson (1955—2020) taught creative writing at the University of Wyoming, Laramie. His first collection, Last Days of the Dog-Men, won the Sue Kauffman Award for First Fiction from the American Academy of Arts & Letters; his first novel, The Heaven of Mercury, was a finalist for the National Book Award, and his Aliens in the Prime of Their Lives was a finalist for the PEN/Faulkner Award for Fiction.
Praise For…
---
[The] complexity and drama of Watson's gorgeous work here is life's as well: Sometimes physical realities expand us, sometimes trap; sometimes heroism lies in combating our helplessness, sometimes in accepting it. A writer of profound emotional depths, Watson does not lie to his reader, so neither does his Jane. She never stops longing for a wholeness she may never know, but she is determined that her citizenship in the world, however onerous, be dragged into the light and there be lived without apology or perfection or pity.
— Amy Grace Loyd

Watson infuses the story with curiosity, uncertainty, and, not unlike Jeffrey Eugenides's Middlesex, a certain wildness…The book plays on the tongue like an oyster—first salty, then cold—before slipping away to be consumed and digested.

— Aditi Sriram

One of the most spot-on, most poetic renderings of Southern vernacular this side of Charles Portis. In his hands, Miss Jane becomes an epic of a small survivor. As with fellow Mississippian William Faulkner, Watson's humble characters prevail because they endure.

— Ben Steelman

Jane's strange yet beautiful spirit possesses a haunting, anachronistic beauty. Miss Jane is a truly original novel with a character that readers will cherish. Watson has delivered a striking and unforgettable portrait.


A story worth telling even as it breaks your heart.
— Amy Brady

[Jane's] fearless acceptance of what sets her apart is profoundly human, and her lifelong struggle to understand her place in the world reflects the intricate workings of our own mysterious hearts.
— Gina Webb

Watson has done something extraordinary here. This is not grit-lit...But it is Southern literature, nevertheless: fresh, new, without cliché. Watson may be our best.
— Don Noble

An exceptionally well written book. The prose was beautiful and the novel had a gentleness about it...I loved this book for its simplicity and would highly recommend it.
— Meredith Kelly

As Watson arcs through the story of Jane's life in sensitive, beautifully precise prose, we are both absorbed and humbled.

A well-written portrait of a person whose rich inner life outstrips the limits of her body.