Liquid Intelligence: The Art and Science of the Perfect Cocktail (Hardcover)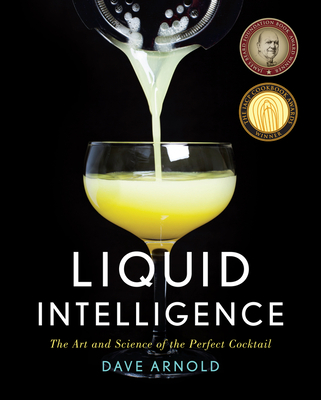 $40.00

Ships from warehouse to store in 3-6 business days
Description
---
Winner of the 2015 James Beard Award for Best Beverage Book and the 2015 IACP Jane Grigson Award.



A revolutionary approach to making better-looking, better-tasting drinks.
In Dave Arnold's world, the shape of an ice cube, the sugars and acids in an apple, and the bubbles in a bottle of champagne are all ingredients to be measured, tested, and tweaked.
With Liquid Intelligence, the creative force at work in Booker & Dax, New York City's high-tech bar, brings readers behind the counter and into the lab. There, Arnold and his collaborators investigate temperature, carbonation, sugar concentration, and acidity in search of ways to enhance classic cocktails and invent new ones that revolutionize your expectations about what a drink can look and taste like.
Years of rigorous experimentation and study—botched attempts and inspired solutions—have yielded the recipes and techniques found in these pages. Featuring more than 120 recipes and nearly 450 color photographs, Liquid Intelligence begins with the simple—how ice forms and how to make crystal-clear cubes in your own freezer—and then progresses into advanced techniques like clarifying cloudy lime juice with enzymes, nitro-muddling fresh basil to prevent browning, and infusing vodka with coffee, orange, or peppercorns.
Practical tips for preparing drinks by the pitcher, making homemade sodas, and building a specialized bar in your own home are exactly what drink enthusiasts need to know. For devotees seeking the cutting edge, chapters on liquid nitrogen, chitosan/gellan washing, and the applications of a centrifuge expand the boundaries of traditional cocktail craft.
Arnold's book is the beginning of a new method of making drinks, a problem-solving approach grounded in attentive observation and creative techniques. Readers will learn how to extract the sweet flavor of peppers without the spice, why bottling certain drinks beforehand beats shaking them at the bar, and why quinine powder and succinic acid lead to the perfect gin and tonic.
Liquid Intelligence is about satisfying your curiosity and refining your technique, from red-hot pokers to the elegance of an old-fashioned. Whether you're in search of astounding drinks or a one-of-a-kind journey into the next generation of cocktail making, Liquid Intelligence is the ultimate standard—one that no bartender or drink enthusiast should be without.
About the Author
---
Dave Arnold is a food science writer, educator, and innovator. He hosts the radio show Cooking Issues and runs the high-tech cocktail bar Booker & Dax in New York's East Village, part of the Momofuku restaurant group. He has taught at the French Culinary Institute and at Harvard University and has appeared on Late Night with Jimmy Fallon and the Today show. In 2004 he founded the Museum of Food and Drink. He lives in New York City with his wife and two sons.
Praise For…
---
A manual to the most deliciously potent science kit ever.
— Publishers Weekly

If you want to know exactly how much ethanol is in your vermouth, how to work with liquid nitrogen and why a red-hot poker is useful behind a bar (it's got nothing to do with unruly patrons), [Dave] Arnold is your best guide. Serious, sure. But there's also a great spirit of play and experimentation here.
— Rosie Schaap - New York Times Magazine

Examines cocktails on the nanoscale… extremely fascinating.
— Wayne Curtis - Wall Street Journal

His observations offer insight to anyone with a cocktail shaker and a few basic ingredients… for amateurs looking to get creative with boutique spirits, Mr. Arnold's data is a blessing.
— Rachel Wharton - Wall Street Journal

Dave Arnold is the smartest person I know in the world of food and drink. He's relentless in his pursuit of understanding, of improved and new techniques, and above all, of deliciousness. Cocktail enthusiasts and professionals alike will find insights and inspiration galore in Liquid Intelligence.

— Harold McGee, author of On Food and Cooking

Like modern cocktails, most books about them are rejiggered rifts on the classics that came before. And then there's Dave Arnold's book: an entertaining treatise of more than ten years' worth of pioneering research he's used to create the game-changing cocktails at his bar, Booker and Dax. Required reading for all of us from now on.
— Jim Meehan, author of The PDT Cocktail Book

Dave Arnold has always been ahead of the curve in the cocktail world, and in this book he brings the rest of us up to speed.
— Wylie Dufresne, chef/owner of wd~50

Probably the most important cocktail book that's been written ever.
— Julian Cox
Free Media Mail shipping on U.S. orders over $75
"Ships from warehouse" books to be shipped: order by Wednesday, 12/6
"Ships from warehouse" books for pickup: order by Tuesday, 12/12