Machines Like Me: A Novel (Hardcover)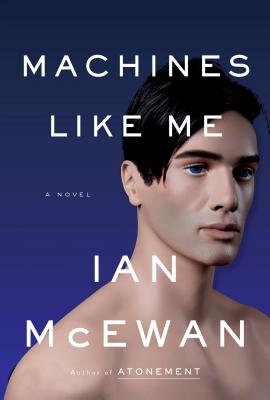 $26.95
Available from warehouse in 1-5 business days
Staff Reviews
---
In a slightly futurized world Charlie, a would-be day trader is barely managing. He isn't successful or particularly motivated, and he has just spent his
inheritance on Adam, an AI companion. Charlie enlists Miranda, his neighbor to help program Adam in an effort to attract her attention.
As Adam's personality emerges he is everything they could want and more. He cooks and cleans; he is a highly successful trader; he is completely ethical; he is very attractive; he writes haiku.
As Adam and Miranda become a couple there is also an attraction between Miranda and Adam. How does a very human man deal with a "perfect" rival? How does a completely ethical machine deal with the imperfections of a human lover or imperfect society? Once Adam has made them rich how can  Charlie and Miranda reject his efforts? The situations are sometimes funny and always thought-provoking.
— Anne
Description
---
New from Ian McEwan, Booker Prize winner and international bestselling author of Atonement and The Children Act

Machines Like Me takes place in an alternative 1980s London. Charlie, drifting through life and dodging full-time employment, is in love with Miranda, a bright student who lives with a terrible secret. When Charlie comes into money, he buys Adam, one of the first synthetic humans and—with Miranda's help—he designs Adam's personality. The near-perfect human that emerges is beautiful, strong, and clever. It isn't long before a love triangle soon forms, and these three beings confront a profound moral dilemma.
     In his subversive new novel, Ian McEwan asks whether a machine can understand the human heart—or whether we are the ones who lack understanding.
About the Author
---
IAN McEWAN is the bestselling author of seventeen books, including the novels Nutshell; The Children Act; Sweet Tooth; Solar, winner of the Bollinger Everyman Wodehouse Prize; On Chesil Beach; Saturday; Atonement, winner of the National Book Critics Circle Award and the W. H. Smith Literary Award; The Comfort of Strangers and Black Dogs, both short-listed for the Booker Prize; Amsterdam, winner of the Booker Prize; and The Child in Time, winner of the Whitbread Award; as well as the story collections First Love, Last Rites, winner of the Somerset Maugham Award, and In Between the Sheets.
Praise For…
---
"A sharply intelligent novel of ideas. McEwan's writing about the creation of a robot's personality allows him to speculate on the nature of personality, and thus humanity, in general . . . Beguiling."
—Dwight Garner, The New York Times

"[A] sharp, unsettling read . . . about love, family, jealousy and deceit. Ultimately, it asks a surprisingly mournful question: If we built a machine that could look into our hearts, could we really expect it to like what it sees?"
—Jeff Giles, The New York Times Book Review

"[McEwan] is not only one of the most elegant writers alive, he is one of the most astute at crafting moral dilemmas within the drama of everyday life. Half a century ago, Philip K. Dick asked, 'Do Androids Dream of Electric Sheep?,' and now McEwan is sure those androids are pulling the wool over our eyes. McEwan's special contribution is not to articulate the challenge of robots but to cleverly embed that challenge in the lives of two people trying to find a way to exist with purpose. That human drama makes Machines Like Me strikingly relevant even though it's set in a world that never happened almost 40 years ago."
—Ron Charles, The Washington Post
 
"Witty and humane . . . a retrofuturist family drama that doubles as a cautionary fable about artificial intelligence, consent, and justice."
—Julian Lucas, The New Yorker

"[A] densely allusive, mind-bending novel of ideas that plays to our acute sense of foreboding about where technology is leading us.  In Machines Like Me, British literary fiction master Ian McEwan posits an alternative history . . . [it has] the feel of an intricate literary machine situated squarely on the fault lines of contemporary debates about technology."
—LA Times

"A thought-provoking, well-oiled literary machine . . . [It] manages to flesh out—literally and grippingly—questions about what constitutes a person, and the troubling future of humans if the smart machines we create can overtake us."
—Heller McAlpin, NPR

"A searching, sharply intelligent, and often deeply discomfiting pass through the Black Mirror looking glass—and all the promise and peril of machine dreams."
—Leah Greenblatt, Entertainment Weekly
 
"A ruminative mix of science fiction, romance and alternate history set in 1980s London….thought-provoking…[A] cautionary tale based on McEwan's sharp observations of our flawed human nature."
—Denver Post

"Enormous fun . . . McEwan has engaged with science before [and] his world of artificial intelligence is chilly, clever and utterly credible. This bold and brilliant novel tells a consistently compelling tale but it also provides regular food for thought regarding who we are, what we feel, what we construct, and what we might become."
–Minneapolis Star Tribune

"Reminds you of [McEwan's] mastery of the underrated craft of storytelling. The narrative is propulsive, thanks to our uncertainties about the characters' motives, the turning points that suddenly reconfigure our understanding of the plot, and the figure of Adam, whose ambiguous energy is both mysteriously human and mysteriously not . . . Morally complex and very disturbing, animated by a spirit of sinister and intelligent mischief that feels unique to its author."
—Marcel Theroux, The Guardian

"Thought provoking . . . consistently surprising . . . an intriguing novel about humans, machines, and what constitutes a self."
—Publishers Weekly

"McEwan brings humor and considerable ethical rumination to a cautionary tale about artificial intelligence."
—Kirkus