The Return of the Prodigal Son: A Story of Homecoming (Paperback)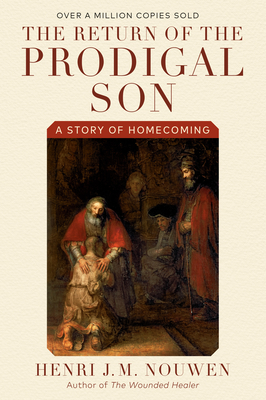 $17.00

Ships from warehouse to store in 3-5 business days
Staff Reviews
---
Rembrandt's painting shown on the cover of this book is so stunningly beautiful and  spiritually vivid,  I had to learn more about it. I've never read anything by Nouwen before, but I was curious to understand how this painting became the impetus for a spiritual awakening in him. In this little book, I gained insights into Rembrandt the man as well as the artistic methods he used to convey his interpretation of the parable of the prodigal son. All of this is explored in the context of a surprisingly candid revelation of Nouwen's personal struggles. Whether you agree with Nouwen's personal interpretation of the painting, this is a fascinating examination of the art and the concepts of regret and forgiveness. 
— Samantha
Description
---
With over a million copies sold, this classic work is essential reading for all who ask, "Where has my struggle led me?"
 
A chance encounter with a reproduction of Rembrandt's The Return of the Prodigal Son catapulted Henri Nouwen on an unforgettable spiritual adventure. Here he shares the deeply personal and resonant meditation that led him to discover the place within where God has chosen to dwell.
 
As Nouwen reflects on Rembrandt's painting in light of his own life journey, he evokes a powerful drama of the classic parable in a rich, captivating way that is sure to reverberate in the hearts of readers. Nouwen probes the several movements of the parable: the younger son's return, the father's restoration of sonship, the elder son's resentfulness, and the father's compassion. The themes of homecoming, affirmation, and reconciliation will be newly discovered by all who have known loneliness, dejection, jealousy, or anger. The challenge to love as God loves, and to be loved as God's beloved, will be seen as the ultimate revelation of the parable known to Christians throughout time, and is here represented with a vigor and power fresh for our times.


About the Author
---
Henri J.M. Nouwen was a Dutch-born Catholic priest, professor, and pastor, who gained international renown as the author of over 30 books on the spiritual life, including such classics as The Wounded Healer, The Inner Voice of Love, and Reaching Out. Nouwen's books have been translated into more than 30 languages and have sold upwards of seven million copies worldwide, resonating with people across the religious, spiritual, cultural, and political spectrum. Since his death in 1996, ever-increasing numbers of readers, writers, teachers, and seekers have been guided by his literary legacy.
Praise For…
---
"The Return of the Prodigal Son is a beautiful book, as beautiful in the simple clarity of its wisdom as in the terrible beauty of the transformation to which it calls us."—New Oxford Review