***We are offering FREE media mail shipping on books. We are open from 10am-7pm Monday through Saturday and 10am-6pm Sunday. Phones may not be answered due to a high volume of calls.***
101 Reasons Why I'm Not Taking a Bath (Hardcover)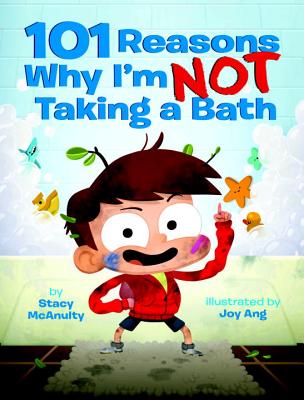 Email or call for price
Hard to find: allow 24 hours for information
Description
---
No one likes baths. What a waste of time! There's so much more important stuff to do! Plus, baths are super dangerous for a number of reasons. You want me to list a few? Most household accidents happen in the bathroom. Scientific fact! A kid in Texas turned into a prune after taking a bath. Scientific fact!
 
If you need more evidence, allow me to point you to an excellent book called 101 Reasons Why I'm Not Taking a Bath. It's full of insightful and logical reasons why you should definitely not be subjected to this useless ritual. Joy Ang and Stacy McAnulty really understand how dumb baths are, and have done a top-notch job of demonstrating why.
About the Author
---
STACY McANULTY grew up outside of Albany, New York, and received her BS in mechanical engineering from the University at Buffalo. A career opportunity brought her to central North Carolina in 1998. She lives in Kernersville, N.C., with her husband, their three children, and two dogs.
 
JOY ANG is a freelance artist who has illustrated children's books and works as a character designer on the TV show Adventure Time. She graduated from the Alberta College of Art and Design with a Bachelor of Design in 2007. Her most recent picture books include Mustache Baby and Mustache Baby Meets His Match.
Praise For…
---
A filth-encrusted gamin ticks off precisely why a trip to the tub is not on the list of priorities. Sporting grimy skin and twiggy hair, a brown-haired, fair-skinned child decides to list the 101 reasons why bathing is not an appealing option. Starting with "I'm not dirty" and proceeding from there, the grubby kid plays every card in the deck. McAnulty manages to keep the action hopping in a narrative that really is just a very long list. There are the expected excuses ("Monsters live in the drain"), the unexpected ("I have a self-cleaning button like the oven"—that would be a bellybutton), and the downright clever ("Most household accidents happen in the bathroom. Scientific fact!"). When confronted with the kicker that only 88 reasons have been listed (a sly twist adults won't see coming), the child responds with an additional 13 repetitions of "I don't want to" (the title of the book isn't 101 Unique Reasons Why I'm NOT Taking a Bath, after all). In the end bathtime is achieved, and the child has a sudden change of heart. Ang provides a peppy visual narrative to pair with the extensive monologue, though, alas, the art never quite reaches the levels of eclectic, original insanity the text leaves openings for. There's really only one reason to read this book: it's a hoot. — Kirkus Reviews (5/27/16)