***We are offering FREE media mail shipping on books. We are open from 10am-7pm Monday through Saturday and 10am-6pm Sunday. Phones may not be answered due to a high volume of calls.***
When the Doves Disappeared: A novel (Hardcover)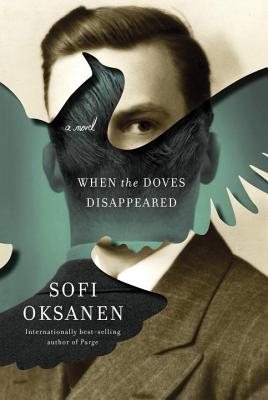 Email or call for price
Hard to find: allow 24 hours for information
Description
---
From the acclaimed author of Purge ("a stirring and humane work of art" —The New Republic) comes a riveting, chillingly relevant new novel of occupation, resistance, and collaboration in Eastern Europe.

1941: In Communist-ruled, war-ravaged Estonia, two men are fleeing from the Red Army—Roland, a fiercely principled freedom fighter, and his slippery cousin Edgar. When the Germans arrive, Roland goes into hiding; Edgar abandons his unhappy wife, Juudit, and takes on a new identity as a loyal supporter of the Nazi regime . . . 1963: Estonia is again under Communist control, independence even further out of reach behind the Iron Curtain. Edgar is now a Soviet apparatchik, desperate to hide the secrets of his past life and stay close to those in power. But his fate remains entangled with Roland's, and with Juudit, who may hold the key to uncovering the truth . . .

Great acts of deception and heroism collide in this masterful story of surveillance, passion, and betrayal, as Sofi Oksanen brings to life the frailty—and the resilience—of humanity under the shadow of tyranny.

 
About the Author
---
SOFI OKSANEN is a Finnish-Estonian novelist and playwright. She has received numerous prizes for her work, including the Swedish Academy Nordic Prize, the Prix Femina, the Budapest Grand Prize, the European Book Prize, and the Nordic Council Literature Prize. She lives in Helsinki.
Praise For…
---
"A chilling story of loss and betrayal . . . The novel is a piercing look at characters striving to retain their humanity amid fear, violence, and secrecy." —The New Yorker

"A brave and important voice . . . Betrayal, secrecy, and memory are the haunting themes of Sofi Oksanen's accomplished new novel . . . Most readers will start the book with only a hazy grasp of the intricacies of Baltic history. But they will be gripped by the dilemmas it created for Estonians, and the ways they are resolved in the book . . . Oksanen's insights and intuition mean she is fast becoming one of the foremost voices in the ex-communist world." —The Economist
 
"Oksanen gives voice to a rarely discussed—or portrayed—Eastern European knowledge: no one survived World War II with her hopes, dreams, and loves intact . . . When the Doves Disappeared gives a devastatingly clear picture of airless space. Everyone in the book is beholden to everyone else: everyone is the keeper of secrets that can destroy a life . . . These are not stories that writers—fiction writers, young writers, or, really, any writers—usually tell . . . When the Doves Disappeared is a fictional challenge to the very idea that Finlandization is a valid strategy, or even an option that ought to be discussed in a moral universe." —Masha Gessen, New York Review of Books
 
"This is a tense, politically relevant novel that asks: what would you do to survive? . . . The prose is fluent and vivid . . . Oksanen's temporal shifts weave an intrigue that builds to moments of shocking revelation." —Paul Gould, Financial Times
 
"Oksanen isn't merely a Finnish writer who has broken through. The author of Purge, which sold over a million copies, is an international publishing sensation, frequently likened to Stieg Larsson . . . Her family reflects Estonia's 20th-century divisions [and] When the Doves Disappeared maps out these bitter intra-family conflicts . . . These scenes are pregnant with a spooky low-level menace." —The Guardian
 
"Superb . . . A fast-paced historical novel . . . [There is] a Graham Greene-like atmosphere . . . Oksanen, a great post-Russian-Empire writer, has helped to return Estonia to the consciousness of the West." —Ian Thomson, Daily Telegraph 

"Oksanen displays a tragically beautiful understanding of human character, motivation, and desire." —Renée Chavez, Weekly Alibi (Albuquerque)
 
"Given recent events in Crimea, many in tiny Estonia are again anxious. Their homeland and its brave, battered heart are well-served by this book . . . Powerfully evocative . . . Has the quick pace and plot twists of a literary thriller . . . Juudit [is] a wonderfully drawn and complex character." —Cleveland Plain Dealer

"The fragmented narrative, adeptly translated by Rogers, switches between the Third Reich and the height of Soviet power, using these two time periods to make ideal use of dramatic irony . . . Oksanen manages to relate these stories without horror or judgment, and reminds the reader that, whatever else people in wartime may do, they are human creatures, and not the one-dimensional monsters that history makes them seem to be." —Publishers Weekly (starred)
 
"Oksanen depicts civilian life in wartime and under communist oppression in rich historical detail, skillfully manipulating chronology and threading clues subtly throughout the narrative as suspense builds. Highly recommended." —Reba Leiding, Library Journal (starred)

"Oksanen captures both the futility of the citizens of a tiny country who yearn for freedom and the dark heart of an opportunist who would sell out his own family in order to survive. This is powerful fiction that stirs history, war crimes, and psychology into a compelling mix." —Joanne Wilkinson, Booklist

Reviews from abroad:

"This book is excellent. The public needs to know what Eastern Europe has experienced in the twentieth century. Three occupations are behind them and despite it Estonia now is one of the leading European nations." —Oleg Gordievsky CMG (former KGB colonel and secret agent for MI6)
 
"With the novel When the Doves Disappeared, Sofi Oksanen demonstrates that she belongs in the premier league of literature . . . Such a powerful and moving story. In many ways it can be said to have a kinship with the great Russian classics . . . At the same time this novel is so modern . . . The story offers a lot of suspense and many surprising twists . . . It is the human cost in the shadow of war and tyranny that is Sofi Oksanen's concern. And in When the Doves Disappeared she demonstrates more clearly and convincingly than ever before what a unique literary talent she possesses." —Dagsavisen (Norway) 
 
"At once a historical novel, a crime story, a psychological novel, a romance, a war novel, When the Doves Disappeared plays with blurring boundaries . . . An explosive text with a dark heart." —Le Monde (France)
 
"What a remarkable writing ability Oksanen possesses . . . Constantly alive and pulsating without for a second losing the perfect pitch." —Allehanda (Sweden)
 
"Oksanen's new novel shows what fiction can be when it is at its very best . . . She could without a doubt write an utterly brilliant whodunit. However, there are innumerable reasons to rejoice in the fact that she has greater ambitions than that. At its best, fiction acts as an alternative historiography, which humanizes and adds nuance to a time and place, and which makes us question given truths. When the Doves Disappeared does just that." —Sydsvenskan (Sweden)
 
"When the Doves Disappeared confirms Sofi Oksanen's talent and brings the destiny of this little-known corner of Europe into world literature . . . Dazzling." —Le Point (France)

"A remarkable book . . . Just as harrowing and chilling a read as Purge." —Jackie McGlone, Herald Scotland
 
"When the Doves Disappeared is an engaging and extraordinarily well-written novel about a dark time . . . That the novel succeeds in rendering the difficulties of historiography in such an unsentimental way, without losing its power as a work of fiction, makes it particularly fascinating." —Svenska Dagbladet (Sweden)
 
"Sofi Oksanen brings together, in this magnificent book, epic grandeur and psychological precision . . . She gives voice to silenced victims." —Télérama (France)
 
"Suspenseful, moving, horrifying, and very skillfully written." —Helsingborgs Dagblad (Sweden)
 
"Edgar [is] an Estonian Iago . . . Sofi Oksanen retraces the dramatic destiny of a nation taken hostage by ideological enemies." —L'Express (France)
 
"A splendid family and political saga, never black-and-white." —Carrefour Savior (France)
 
"A courageous, important and very good book. A book about how history and politics completely occupies people's lives, shapes and destroys them." —Aftonbladet (Sweden)
 
"The intrigue holds the reader like a spy novel in the style of le Carré . . . It's the writing itself that grabs you in the end . . . Oksanen lets some light shine amidst the dark shadows of history." —Le Magazine Littéraire (France)
 
"Poignant . . . Sofi Oksanen lets the reader hear many voices, showing them in all their complexities and internal tensions, in their hungers, their ambitions and desires, their frustrations large and small, their cowardice and nobility. In short, their humanity." —La Vie (France)
 
"Sofi Oksanen writes with an artistically impeccable mix of raw brutality and an emotional wealth of detail . . . The plot creates an atmosphere like that of le Carré." —Östgöta-Correspondenten (Sweden)
 
"A major accomplishment thanks both to its suspense and to its portrait of an era, When the Doves Disappeared will assure Sofi Oksanen another success." —Livres Hebdo (France)
 
"Sofi Oksanen has spoiled me with her smart and sharpened prose, which at its best reaches in under the ribs and with ruthless clarity points out where it hurts the most, in mankind and in society." —Göteborgs-Posten (Sweden)

"The strength of When the Doves Disappeared emerges from how it keeps us guessing who is who among Oksanen's protagonists. As in Ernest Hemingway's For Whom the Bell Tolls, they form a neat triangle . . . [The structure] winds the tension to astonishing levels. No one in these pages is predictable, because survival in this period, Oksanen so beautifully reveals, meant learning to love only from the part of the heart that knows how to betray." —Toronto Star (Canada)
 
"Oksanen has woven a story of betrayal, lies, political deceit, and modern history into a brilliant novel . . . A great historical thriller . . . Sofi Oksanen is a writer to watch." —Globe & Mail (Canada)
 
"Engaging . . . Suspenseful . . . Reading it against a diet of contemporary North American literature, the prose almost feels older, as if it would be more at home shelved with the NYRB classics (meant as a high compliment) . . . Gorgeousness jumps off the page when least expected." —Winnipeg Free Press (Canada)

"These are all expertly drawn characters . . . Oksanen is skilled at making you care . . . Her sense of place is astounding . . . The writing is often gorgeous and the insight into human frailty deep." —Toronto Magazine (Canada)

"When the Doves Disappeared is indeed a thrilling page-turner but it is equally a shattering family drama and an unsparing deconstruction of history . . . Oksanen uses her great gifts for research and storytelling to investigate one of the most complex chapters of 20th-century history . . . Doves turns this tangled history into narrative gold . . . Oksanen is also a playwright and this shows in her tight control of the shifting timelines and viewpoints. No word is out of place . . . The writing is sensual and visceral with great descriptive range, thanks also to the beautiful translation." —The Independent (UK)