We are offering FREE media mail shipping on books. We are open from 10am-7pm Monday through Saturday and 10am-6pm Sunday. Phones may not be answered due to a high volume of calls.
The Homecoming of Samuel Lake: A Novel (Paperback)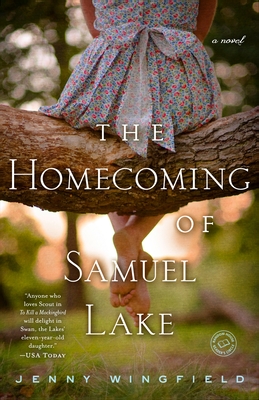 $15.00
Available from warehouse in 1-5 business days
July 2011 Indie Next List
---
"Wingfield has the storyteller's gift, and writes her debut tale of preacher-without-a-church Samuel Lake and his family with the assurance of a seasoned author. After the death of his father-in-law, John, Samuel moves his wife, Willadee, and their three children into his mother-in-law's house in rural Arkansas. John used to run Never Closes -- a bar that stayed open all night -- from the back porch of his house. Calla, his wife, runs Moses -- a convenience store that is open all day -- from the front porch. Inside the house between those two porches, an extraordinary family lives a life complete with love, lust, heartbreak, heroics, and miracles. A perfect book for the many fans of The Help."
— Jill Miner, Saturn Booksellers, Gaylord, MI
Description
---
"Raw, dark, and powerful . . . Southern Gothic at its best. The Homecoming of Samuel Lake puts one in mind of Erskine Caldwell and Flannery O'Connor."—Fannie Flagg
 
Every first Sunday in June, members of the Moses clan gather for an annual reunion at a sprawling hundred-acre farm in Arkansas. And every year, Samuel Lake, a vibrant and committed young preacher, brings his beloved wife, Willadee Moses, and their three children back for the festivities. In the midst of it all, Samuel and Willadee's outspoken eleven-year-old daughter, Swan, is a bright light. Her high spirits and fearlessness have alternately seduced and bedeviled three generations of the family. But just as the reunion is getting under way, tragedy strikes, jolting the family to their core and setting the stage for a summer of crisis and profound change.
 
With the clear-eyed wisdom that illuminates the most tragic—and triumphant—aspects of human nature, Jenny Wingfield has created an enduring work of fiction.
 
"Jenny Wingfield has given us a spectacular novel [that] will make you laugh out loud one minute, hold your breath the next, and weep when you least expect it."—Dorothea Benton Frank, author of Folly Beach
 
"[This novel] touches on many genres—family life, Christian fiction, coming-of-age, and suspense. . . . Readers will love it."—Library Journal (starred review)
 
"Wingfield hooks the reader with her opening sentence. . . . The reader is thoroughly caught up in the family saga."—Abilene Reporter-News
 
"A lovely debut . . . a bittersweet, inspirational tale."—The Dallas Morning News
 
Look for special features inside. Join the Circle for author chats and more.
About the Author
---
Jenny Wingfield lives in Texas with her rescued dogs, cats, and horses. Her screenplay credits include The Man in the Moon and The Outsider. The Homecoming of Samuel Lake is her first novel.
Praise For…
---
"It's all here. Faith. Honesty. Sin. Redemption. . . . Anyone who loves Scout in To Kill a Mockingbird will delight in Swan, the Lakes' eleven-year-old daughter."—USA Today
 
"A deeply personal story, yet it has universal appeal . . . Swan Lake absolutely has the same plucky spirit as Scout Finch. . . . Wingfield also has the same mesmerizingly graceful way with words [as Harper Lee]."—Forth Worth Star-Telegram
 
"Jenny Wingfield has given us a spectacular novel [that] will make you laugh out loud one minute, hold your breath the next, and weep when you least expect it."—Dorothea Benton Frank, author of Folly Beach
 
"[This novel] touches on many genres—family life, Christian fiction, coming-of-age, and suspense. . . . Readers will love it."—Library Journal (starred review)
 
"Wingfield hooks the reader with her opening sentence. . . . The reader is thoroughly caught up in the family saga."—Abilene Reporter-News
 
"A lovely debut . . . a bittersweet, inspirational tale."—The Dallas Morning News