Venomous: How Earth's Deadliest Creatures Mastered Biochemistry (Paperback)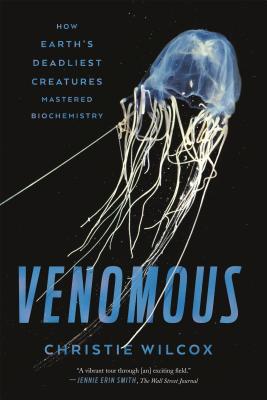 Description
---
A thrilling tale of encounters with nature's masters of biochemistry

"A fitting tribute to one of nature's most sinister creations of all." —Carl Zimmer, author of Parasite Rex

In Venomous, the molecular biologist Christie Wilcox investigates venoms and the animals that use them, revealing how they work, what they do to the human body, and how they can revolutionize biochemistry and medicine today.

Wilcox takes us from the coast of Indonesia to the rain forests of Peru in search of the secrets of these mysterious animals. We encounter jellyfish that release microscopic venom-packed darts known to kill humans in just two minutes, a two-inch caterpillar with toxic bristles that trigger hemorrhaging throughout the body, and a stunning blue-ringed octopus with saliva capable of inducing total paralysis. How could an animal as simple as a jellyfish evolve such an intricate, deadly poison? And how can a snake possess enzymes that tear through tissue yet leave its own body unscathed? Wilcox meets the fearless scientists who often risk their lives studying these lethal beasts to find out, and puts her life on the line to examine these species up close. Drawing on her own research on venom chemistry and evolution, she also shows how venom is helping us untangle the complex mechanisms of some of our most devastating diseases.

Venomous reveals that the animals we fear the most actually hold the keys to a deeper understanding of evolution, adaptation, and immunity. Thrilling and surprising at every turn, Venomous will change the way you think about our natural world.
About the Author
---
Christie Wilcox, PhD, is a scientist and an award-winning science writer. Her writing has appeared in Discover, The New York Times, The Washington Post, Scientific American, Slate, and Popular Science.
Praise For…
---
One of the Best Books About Science of 2016, Smithsonian magazine

One of "12 Engrossing Nonfiction Books from 2016 that Will Expand Your Brain," Ars Technica

"Latest Reads to Pique Your Curiosity," The Toronto Star

"A vibrant tour through [an] exciting field." —Jennie Erin Smith, The Wall Street Journal

"Superbly entertaining popular science." —Nancy Bent, Booklist (starred review)

"Once you dive into biologist Christie Wilcox's book about her scientific adventures among poisonous animals, you'll find that evolution is even more badass than a venomous spider." —Annalee Newitz, Ars Technica

"[Wilcox] paints a vast portrait of poison . . . No stranger to encounters with these poisonous creatures, Wilcox brings years of personal insight to her research and analysis." —Seth Ferranti, Vice

"Wilcox mines reams of research on venomous fauna . . . [and] reminds us that venoms are 'complex molecule libraries' with medical potential—so safeguarding their biodiversity also preserves biochemical riches." —Barbara Kiser, Nature

"A lively tour . . . Whether she's discussing snakes and pufferfish or Komodo dragons and spiders—not to mention octopuses, snails, platypuses, and bees—Wilcox relates technical biochemical and physiological information in a manner that is accessible and enjoyable." —Publishers Weekly

"[Venomous] gives these toxic but necessary creatures their due . . . Wilcox, a biologist and science writer based in Honolulu, takes a deep dive into what makes these dangerous creatures tick." —John Bonazzo, The New York Observer

"Wilcox's book is one of the better science books I've read in some time . . . as a person who has lived for years in the venom-rich rain forest . . . I still found myself learning something new with every page turn." —Greg Laden, ScienceBlogs

"[Venomous] includes a full array of stingy creatures." —Sarah Murdoch, The Toronto Star

"Enthralling . . . Wilcox's enthusiasm and accessible writing style . . . craft a gripping read that offers a remarkably broad and in-depth look into the evolution and impact of Earth's deadliest creatures." —Josh Goller, Spectrum Culture

"Christie Wilcox is the perfect guide to the wild and weird world of venomous creatures—a scientist who knows how to tell a vivid story, a storyteller who understands the elegant science of poisons. As a result, Venomous succeeds both as an insightful study of the natural world and, equally important, as a fascinating read." —Deborah Blum, author of The Poisoner's Handbook

"Even at its most sinister, nature can't help but be fascinating, and in Venomous, Christie Wilcox has created a fitting tribute to one of nature's most sinister creations of all. She not only provides a tour of the venomous world's most frightening specimens, but she also dives into the astonishing biology underlying their deadly success." —Carl Zimmer, author of Parasite Rex

"Having just been stung by a scorpion while camping in the Mexican desert, I have a renewed interest in venomous creatures. But you don't need to have been stung or bitten to be utterly captivated by this important and original book. Christie Wilcox has a natural gift for storytelling, and she gracefully mixes anecdotes and humor with science and spellbindingly gory details about some of the most feared animals on the planet." —Mark Carwardine, zoologist

"Reader be warned: Venomous sinks its fangs into you and won't let go. Christie Wilcox is as remarkable as the hemorrhage-inducing caterpillars and mind-controlling wasps in the pages of her book: a molecular biologist who can write. I'm recommending Venomous to every friend who wonders what venom scientists are so excited about and to every student who asks, 'What is left in nature for me to discover?' " —Leslie V. Boyer, MD, founding director of the VIPER Institute at the University of Arizona

"Readers of Christie Wilcox's blog Science Sushi already know her as a candid, curious guide to the myths and much more interesting realities of ocean and land biology. Venomous, her intoxicating exploration of poisonous beasts and the scientists who celebrate them, should bring her the wider audience she deserves." —Maryn McKenna, TED speaker and author of Superbug and Beating Back the Devil
Free Media Mail shipping on U.S. orders over $75
"Ships from warehouse" books to be shipped: order by Wednesday, 12/6
"Ships from warehouse" books for pickup: order by Tuesday, 12/12