Love, Escargot (Hardcover)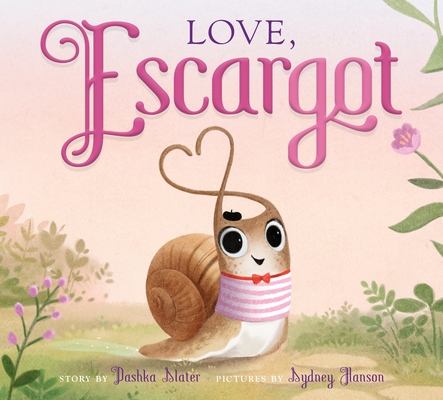 Description
---
Bonjour! Escargot is back, with a magnifique beret and a special invitation.

From New York Times-bestselling author Dashka Slater, with illustrations from Sydney Hanson, Love, Escargot is the third hilarious book in the award-winning Escargot picture book series; perfect for—but not limited to—Valentine's Day!

Today is Snailentine's Day, and Escargot is on his way to a party. Will his Snailentine be there? Maybe he will find another snail who also likes to read books and eat salad with a light vinaigrette.

But when he arrives at the party, Escargot is greeted not by a snail, but by a vole. Mon dieu! This is not a Snailentine's Day party at all. It is a Volentine's Day party! At first, Escargot wants to hide in his shell, but in the end, he finds a surprising new friend.
About the Author
---
Dashka Slater is the New York Times-bestselling author of The 57 Bus, which won the Stonewall Book Award and was a YALSA nonfiction finalist. Her fiction includes The Book of Fatal Errors, the picture book Escargot, which won the Wanda Gag Book Award; Baby Shoes; The Antlered Ship, which was a Junior Library Guild Selection and received four starred reviews; and Dangerously Ever After. She is also an award-winning journalist whose articles have appeared in Newsweek, Salon, The New York Times Magazine, and Mother Jones. She lives in California.
Praise For…
---
School Library Journal 9 Books to Help Young Readers Feel the Love on Valentine's Day
PureWow 25 Valentine's Day Books for Toddlers That Get the Holiday Right

"Breaking right through the fourth wall, the stylish snail encourages readers to embrace their snail selves . . . Sweet art means that when Escargot winsomely tells readers, 'You can kiss me if you like,' it'll be hard for them to pass up the chance . . . Though love and snails rarely go together, it's easy to be won over by this mighty mollusk." —Kirkus Reviews

"Though the narrative could easily ride on the sheer cuteness of its protagonist, Slater elevates it by seamlessly incorporating important themes into the lighthearted text. Escargot models kindness, demonstrates how to cope with daunting circumstances, and even introduces healthy relationship standards in a way that feels just right for a young audience: 'Your snailentine should be somebody who makes you feel magnifique' . . . Blending sweetness with substance, Escargot's third picture book is a surefire hit for Valentine's Day–themed story times." —School Library Journal

"Doesn't disappoint . . . The illustrations in soft-pink hues immerse you in shimmering snail magic. It was love at first sight for this magnifique book." —New York Journal of Books
We will be closing at 8pm on Friday, 9/22 due to severe weather.
Free Media Mail shipping on U.S. orders over $75