Girl: A Novel (Hardcover)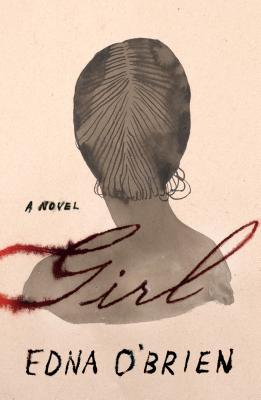 Staff Reviews
---
Based on the true story of the kidnapping of schoolgirls in Nigeria, Girl by Edna O'Brien has some shocking scenes. I felt that O'Brien didn't dwell so much on the horrors that the girls endured though, as so many books about this event do. Instead, she explored the difficult healing and recovery of the narrator, Maryam. Thwarted and abetted by others, Maryam has a long journey to safety that is both heartbreaking and at the same time hopeful. I have admired O'Brien's short stories. Girl has the same gorgeous writing—and shows the author's ability to mine a character's emotion—that I've seen in the shorter works.
— Mamie
Description
---
Girl, Edna O'Brien's hotly anticipated new novel, envisages the lives of the Boko Haram girls in a masterpiece of violence and tenderness.

I was a girl once, but not anymore.

So begins Girl, Edna O'Brien's harrowing portrayal of the young women abducted by Boko Haram. Set in the deep countryside of northeast Nigeria, this is a brutal story of incarceration, horror, and hunger; a hair-raising escape into the manifold terrors of the forest; and a descent into the labyrinthine bureaucracy and hostility awaiting a victim who returns home with a child blighted by enemy blood. From one of the century's greatest living authors, Girl is an unforgettable story of one victim's astonishing survival, and her unflinching faith in the redemption of the human heart.
About the Author
---
Edna O'Brien has written more than twenty-five works of fiction, including The Little Red Chairs and The Light of Evening. She is the recipient of numerous awards, including the PEN/Nabokov Award for Achievement in International Literature, the Irish PEN Lifetime Achievement Award, the National Arts Club Medal of Honor, and the Ulysses Medal. Born and raised in the west of Ireland, she has lived in London for many years.
Praise For…
---
Named a Best Book of 2019 by the BBC, Evening Standard, and The Sunday Times

"Girl is a stunning novel, another remarkable achievement from one of the English language's greatest living writers."—Michael Schaub, NPR

"Hypnotic, lyrical and pulsating with dark energy, Girl is a masterful study of human evil by a writer who, at 88, is still getting better. It will blast you with its searing, savage beauty." —Christina Patterson, The Times (UK)

"The rhythm of Girl is intermittent and fearsomely strong; reading this novel is like riding the rapids … O'Brien's understanding of, and sympathy for, girls in trouble transcends culture." —Terrence Rafferty, The Atlantic

"A masterpiece, a heart-wrenching story of loss and redemption powerfully rendered in O'Brien's singular voice, which is at once fierce and tender, conscientious and visionary." —The Irish Times

"Throughout her long career, Edna O'Brien has proved to be an exceptionally brave writer, resolved to tell the truth, loyal to nothing except her memory, her imagination and her faith in the power and beauty of language . . . It's a tribute to O'Brien's skill as a writer — her ability to inhabit the minds of her characters and to craft virtuosic sentences — that Girl is immensely painful to read." —Francine Pose, The New York Times Book Review

"Girl is [Edna O'Brien's] 19th novel and she has intimated that it may be her last. It may yet prove to be her most powerful." —Sean O'Hagan, The Guardian

"In a feat of empathy and imagination, the Irish writer O'Brien portrays one girl's torments after she is taken by jihadis in Nigeria. . . [GIRL is]. . . a heartbreaking tale and a singular achievement." —Kirkus Reviews

"O'Brien captures the intensity and urgency of Maryam's plight with measured, evocative prose that often reads like poetry. She succeeds in putting a personal face on an international tragedy." —Publishers Weekly

"While the author writes about a culture wholly different from her own, she does so not just with grace and compassion but with Nigerian songs, tales and myths." —Bethanne Patrick, The Washington Post

"O'Brien's portrait of war, powerfully narrated . . . against a rich backdrop of cultural rituals and myths, is downright haunting." —People

"A story of indoctrination and resistance, Girl is told in a prose so butter-smooth and sprueless it seems to have fallen fully-formed from O'Brien's pen. The book's sudden outbursts of stomach-turning violence come like speed bumps in the greater purl, made more jolting and haunting still by the terrible, clear-eyed maturity of the writing. It's a sort of tight-rope act O'Brien seems to be performing, strung between the stream-like nature of her prose and the painful shards of her story."—Bailey Trela, Ploughshares

"The lauded Irish novelist leaps continents in a feat of imagination that transmogrifies headlines into a searing fable of violence and resilience . . . In spare, exacting prose, O'Brien aims her saga, like a divining rod, at 'the best of all knowing and feeling and forgiving.'" —O Magazine

"Burning with rage and anguish, yet woven from glittering prose, Girl is a riveting story of the unbreakable bonds between mothers, daughters, and sisters." —Esquire

"This is Auden's Icarus story, though it happens at eye level, right on planet Earth, while everyone's looking—or could. It's horrific, as the writer intended, though the Girl endures and is finally released from many forms of captivity, into the light. It's never wan, the light of love." —Ann Beattie

"A haunting tale of suffering and innocence defiled. Remarkable in its trajectory from darkness through to a hard-won glimmer of light. Fierce and lyrical by turns. Another magnificent book from a magnificent writer." —Marina Carr

"By an extraordinary act of the imagination we are transported into the inner world of a girl who, after brutal abuse as a slave to Nigerian jihadis, escapes and with dogged persistence begins to rebuild her shattered life. Girl is a courageous book about a courageous spirit." —J. M. Coetzee

"Girl is a novel of profound and ever-renewing empathy and grace—a parable on the complex subject of human redemption. Its verbal funds are clear and transporting and unforgettable; its dramatic resources vast." —Richard Ford

"Edna O'Brien tells this story with such compassion and understanding that the very disturbing events she relates are uplifting—and unforgettable. An utterly unique achievement." —Ian McKellen
Coverage from NPR