Fulfillment: Winning and Losing in One-Click America (Hardcover)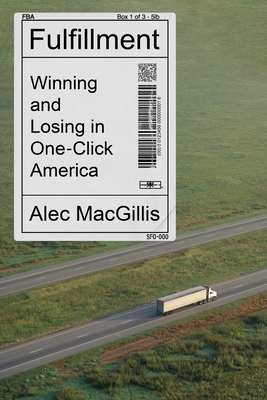 $28.00

Ships from warehouse to store in 3-6 business days
Staff Reviews
---
If you're going to read even one current events book this year, it needs to be this one. Alec MacGillis offers an incisive look into Amazon's effect on the American economy and political landscape, which has been both mind-boggling and catastrophic in scale. A masterwork of investigative journalism, Fulfillment uncovers many of Amazon's lesser-known policies and practices, which range from ethically dubious to morally repugnant. More broadly, MacGillis investigates the mechanisms of inequality that have grown rife in neoliberal America, as political parties beholden to corporate interests continue to fail local communities and the working class, and as unregulated companies use big data to undermine basic rights for profit.
Since its inception, Amazon has been transforming America, usually for the worse. The book confronts a simple question: who is winning in one-click America? The conclusion: it isn't us. 
— Alex
Description
---
A New York Times Book Review Editors' Choice

"A grounded and expansive examination of the American economic divide . . . It takes a skillful journalist to weave data and anecdotes together so effectively." —Carolyn Kellogg, Los Angeles Times

An award-winning journalist investigates Amazon's impact on the wealth and poverty of towns and cities across the United States.

In 1937, the famed writer and activist Upton Sinclair published a novel bearing the subtitle A Story of Ford-America. He blasted the callousness of a company worth "a billion dollars" that underpaid its workers while forcing them to engage in repetitive and sometimes dangerous assembly line labor. Eighty-three years later, the market capitalization of Amazon.com has exceeded one trillion dollars, while the value of the Ford Motor Company hovers around thirty billion. We have, it seems, entered the age of one-click America—and as the coronavirus makes Americans more dependent on online shopping, its sway will only intensify.

Alec MacGillis's Fulfillment is not another inside account or exposé of our most conspicuously dominant company. Rather, it is a literary investigation of the America that falls within that company's growing shadow. As MacGillis shows, Amazon's sprawling network of delivery hubs, data centers, and corporate campuses epitomizes a land where winner and loser cities and regions are drifting steadily apart, the civic fabric is unraveling, and work has become increasingly rudimentary and isolated.

Ranging across the country, MacGillis tells the stories of those who've thrived and struggled to thrive in this rapidly changing environment. In Seattle, high-paid workers in new office towers displace a historic black neighborhood. In suburban Virginia, homeowners try to protect their neighborhood from the environmental impact of a new data center. Meanwhile, in El Paso, small office supply firms seek to weather Amazon's takeover of government procurement, and in Baltimore a warehouse supplants a fabled steel plant. Fulfillment also shows how Amazon has become a force in Washington, D.C., ushering readers through a revolving door for lobbyists and government contractors and into CEO Jeff Bezos's lavish Kalorama mansion.

With empathy and breadth, MacGillis demonstrates the hidden human costs of the other inequality—not the growing gap between rich and poor, but the gap between the country's winning and losing regions. The result is an intimate account of contemporary capitalism: its drive to innovate, its dark, pitiless magic, its remaking of America with every click.
About the Author
---
Alec MacGillis is a senior reporter for ProPublica and the recipient of the George Polk Award, the Robin Toner prize, and other honors. He worked previously at The Washington Post, Baltimore Sun, and The New Republic, and his journalism has appeared in The New York Times Magazine, The New Yorker, The Atlantic, and other publications. His ProPublica reporting on Dayton, Ohio was the basis of a PBS Frontline documentary about the city. He is the author of The Cynic, a 2014 biography of Mitch McConnell. He lives in Baltimore.
Praise For…
---
"A grounded and expansive examination of the American economic divide . . . This is much more than a story of retail. It's about real estate. It's about lobbying, data centers and the CIA . . . It takes a skillful journalist to weave data and anecdotes together so effectively." —Carolyn Kellogg, Los Angeles Times

"In Alec MacGillis's urgent book, Fulfillment: Winning and Losing in One-Click America, true fulfillment is elusive in Amazon's America. Through interviews, careful investigative reporting and vignettes from across the country, MacGillis deftly unravels the strong grip Amazon has on the United States . . . [Through] deeply humanizing portraits of communities impacted by Amazon, MacGillis gives us a picture of contemporary America as mere survival under precarity." —Xiaowei Wang, The New York Times Book Review

"What [Fulfillment] reveals is a country that has been falling apart for quite some time, and a company that has been willing and able to turn a failure of public policy into private power . . . Each chapter of Fulfillment is a beautifully written and sometimes overwhelmingly detailed story . . . The book has something in common with classic works that exposed the plight of the poor to those better off, like George Orwell's The Road to Wigan Pier or Michael Harrington's The Other America." —Sarah Leonard, The New Republic

"A rich sociology of the world that Amazon has made . . . [MacGillis's] central story is about the way that a business that cuts out economic middlemen and shared spaces of commerce and circulation, from brick-and-mortar Main Streets to shopping malls, inherently contributes to our grim geographic polarization . . . His overall story has a bleak and ineluctable momentum." —Ross Douthat, The New York Times

"Alec MacGillis's important contribution, in Fulfillment: Winning and losing in one-click America, is to point out that the key divide is between a sliver of the professional-managerial elite in winner-takes-all cities and everyone else. The book is a must-read for those interested in what drives economic populism." —Joan C. Williams, The Times Literary Supplement

"MacGillis understands the bargain Amazon offers the public and explores the consequences of that bargain with a sharp, humane eye. He succeeds in telling a story about Amazon from the bottom up — the right way to scrutinize a company that projects a progressive image." —Sarah Jones, New York

"In his excellent new book, Fulfillment, the journalist Alec MacGillis examines American inequality and economic desperation through the lens of Amazon's growth and rapid domination. The company almost seems to personify economic imbalances." —Farhad Manjoo, The New York Times

"[Fulfillment's] value at this moment in history is unmistakable. MacGillis has written an illuminating and richly reported portrait, not of a company, but of the country it has helped to reshape. Fulfillment leaves the reader with the sense the pandemic has closed one chapter on this story, and is about to open another." —Sarah O'Connor, Financial Times

"MacGillis has set out to do something different. The Amazon depicted in Fulfillment is both a cause and a metaphor. It's an actual engine behind the regional inequality that has made parts of the United States 'incomprehensible to one another,' he writes, stymieing a sense of national solidarity . . . The result is galloping prosperity for some Americans and unrelenting precarity for others . . . MacGillis suggests that one-click satisfactions distract us from taking in the bigger picture, whose contours can only be discerned with a patient and immersive approach." —Jennifer Szalai, The New York Times

"Fulfillment is a reporter's book, told largely through personal stories . . . Intertwined inequalities, for MacGillis, are the defining feature of the modern US economy . . . And Amazon, as Fulfillment effectively details, is both a key driving force in this story and a malevolent exemplar of its consequences." —Colin Gordon, Jacobin

"Alec MacGillis takes the ubiquity of [Amazon] and blows it up into something on the scale of Homer's Odyssey in his new book . . . MacGillis's story is as emotional as it is analytical — he visits characters and industries affected by Amazon, demonstrating over and over again that the empire is irreparably changing every aspect of American life as we know it . . . Sometimes the things we see every day become invisible. MacGillis asks us to look closer." —Amy Pedulla, The Boston Globe

"Fulfillment is a mind-bogglingly thorough book, a hybrid of urban history, reportage, profile and research on people and places that have been impacted by [Amazon] . . . MacGillis is equally adept in animating the economic picture . . . A compendium of tragedies large and small." —Elizabeth Greenwood, San Francisco Chronicle

"An economic history of the country, shaped by an intimate introduction to people living and working in Amazon's shadow as their home cities and states transform around them . . . [Their] personal stories are sweeping and in-depth . . . MacGillis lays out, with detail gathered through freedom of information requests, exactly how Amazon methodically built its presence." —Alina Selyukh, NPR

"[Amazon] is the campfire we have chosen to commune around, and MacGillis' book takes a wide, expansive look at how this campfire has become a firestorm whose embers incinerate the very workers, consumers, and communities that are drawn to this warm, culture-eating glow . . . MacGillis asks us to truly process what Amazon's pandemic profitability means for the nation . . . The takeaway is quite sobering: 'The fates of the company and the nation had diverged entirely.'" —Patrick McGinty, Pittsburgh Post-Gazette

"A ground-level tour of the United States of Amazon . . . The individual stories in Fulfillment are chilling . . . [This book] is also the story of a political system captivated by the idea that what is good for Amazon is good for America." —James Kwak, The Washington Post

"Calling on a sweeping array of personal vignettes and tracing out lengthy historical through lines, MacGillis chronicles life across Amazonia through the eyes of drivers, pickers, sorters, corrugated-cardboard manufacturers, politicians, lobbyists, activists, artists, and more . . . To understand Amazon is to understand trade policy, deindustrialization, the collapse of unions, the demise of antitrust enforcement, the death of newspapers, campaign finance laws, the history of lobbying, real estate prices, regional inequality, and tax policy. Amazon, of course, is the Everything Store; is it not, too, the Everything Story?" —Alexander Sammon, The American Prospect

"In Fulfillment: Winning and Losing in One–Click America, MacGillis argues that Amazon's dramatic expansion is Exhibit A for America's economic unraveling. Armed with stark statistics and moving anecdotes, MacGillis illustrates how the retail giant pushes regional stores out of business. He shows how the company extracts tax incentives from desperate local governments in exchange for poor-paying warehouse jobs . . . A damning and powerful assessment." —Daniel Block, Washington Monthly

"A wide-ranging, impressionistic tour of a nation whose citizens' existence has become intertwined with a single corporation . . . MacGillis was one of the first journalists to begin documenting the socioeconomic upheaval that helped shift the rural Rust Belt from blue to red . . . [He] describes how, while rich corporations and their top employees have settled in a small number of wealthy coastal cities, the rest of the American landscape has been leached of opportunities." —Vauhini Vara, The Atlantic

"The defining business book of the COVID-19 pandemic . . . A powerful and timely work." —Richard Warnica, Toronto Star

"MacGillis' skills as a journalist . . . are on full display in Fulfillment, which gracefully interweaves the personal histories of people trying to get by in what the writer aptly calls "the landscape of inequality across the country" with an account of the big-picture events and political/market manipulations that sculpted that terrain . . . [full of] sober, clear-eyed analysis and emotionally involving stories." —Ashley Naftule, AV Club

"Alec MacGillis ably catalogs the many ways in which Amazon's breakneck expansion has left social wreckage in its wake . . . MacGillis's lens is wide, capturing images of a country in which many people's living standards are falling and entire regions are left behind." —Marc Levinson, The Wall Street Journal

"A probing, character-driven report on Amazon's impact on the American economy and labor practices . . . This cogent and wide-ranging study sounds the alarm bells." —Publishers Weekly

"Fulfillment is journalism at its very best: a powerful panoramic account of America's skyrocketing inequality across people and places. Drawing on both big-picture economics and his own brilliant reporting, Alec MacGillis tells the gripping story of Amazon's meteoric rise, the economic and political elites who've profited from it, and the ordinary citizens who've too often borne its costs." —Jacob Hacker, professor at Yale University and coauthor of Let Them Eat Tweets

"Martin Luther King, Jr., wrote that all work has dignity if it pays an adequate wage. Alec MacGillis explains why some of America's richest people and largest corporations don't seem to care. He has an uncanny ability to weave together the stories of those whose fortunes are soaring with the stories of those whose lives are falling into hopelessness." —Sherrod Brown, U.S. Senator from Ohio and author of Desk 88

"Alec MacGillis is one of the very best reporters in America. By always going his own way, he finds stories and truths that others avoid. Fulfillment paints a devastating picture of Amazon, but it also gives human voices to the larger story of our unequal economy and society. Fulfillment is an essential book in the literature of America's self-destruction." —George Packer, staff writer at The Atlantic and author of Our Man and the National Book Award–winning The Unwinding

"Fulfillment vividly details the devastating costs of Amazon's dominance and brutal business practices, showcasing an economy that has concentrated in private hands staggering wealth and power while impoverishing workers, crushing independent business, and supplanting public governance with private might. A critical read." —Lina Khan, associate professor at Columbia Law School and author of Amazon's Antitrust Paradox

"Anyone who orders from Amazon needs to read these moving and enraging stories of how one person's life savings, one life's work, one multigenerational tradition, one small business, one town after another, are demolished by one company's seemingly unstoppable machine. They are all the more enraging because Alec MacGillis shows so clearly how things could have been different." —Larissa MacFarquhar, staff writer at The New Yorker and author of Strangers Drowning: Grappling with Impossible Idealism, Drastic Choices, and the Overpowering Urge to Help

"Alec MacGillis practices journalism with ambition, tenacity, and empathy that will command your awe. Like one of the great nineteenth-century novels, Fulfillment studies a social ill with compelling intimacy and panoramic thoroughness. In the process, Jeff Bezos's dominance and its costs are made real—and it becomes impossible to one-click again the same." —Franklin Foer, staff writer at The Atlantic and author of World Without Mind

"For a generation, inequality has been rising relentlessly in the United States—not just inequality of income and wealth, but also inequality of power and geography. In Fulfillment, Alec MacGillis brings this crisis vividly alive by creating a broad tableau of the way one giant company, Amazon, affects the lives of people and places across the country. This book should be read as a call to action against the new economy's continuing assault on working people, small businesses, and left-behind places." —Nicholas Lemann, author of Transaction Man

"Fulfillment addresses the human impact of current technologies and economic inequality with rare power. People in tech don't often think about the ramifications of their work; Alec MacGillis reminds us that it has consequences, and that even if there are no clear solutions, we have a moral imperative to consider its effects." —Craig Newmark, founder of craigslist
Free Media Mail shipping on U.S. orders over $50
Christmas ordering guidelines
"Ships from warehouse" items to be shipped: Order by Monday, 12/5
"Ships from warehouse" items to be picked-up in store: Order by Monday, 12/12
On hand items: We'll pull items in order of orders received, so keep them coming!