The Everybody Ensemble: Donkeys, Essays, and Other Pandemoniums (Hardcover)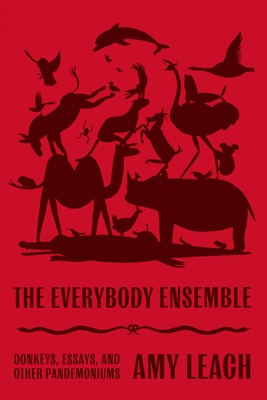 Description
---
In short, gloriously inventive essays, Whiting Award-winning author Amy Leach's The Everybody Ensemble invites us to see and celebrate our oddball, interconnected world

Humans, please turn your guns into kazoos.

Are you feeling dismay, despair, disillusion? Need a break from the ho-hum, the hopeless, and the hurtful? Feel certain that there's a version of our world that doesn't break down into tiny categories of alliance but brings everybody together into one clattering, sometimes discordant but always welcoming chorus of glorious pandemonium?

Amy Leach, the celebrated author of the transcendent Things That Are, invites you into The Everybody Ensemble, an effervescent tonic of a book. These short, wildly inventive essays are filled with praise songs, poetry, ingenious critique, soul-lifting philosophy, music theory, and whimsical but scientific trips into nature. Here, you will meet platypuses, Tycho Brahe and his moose, barnacle goslings, medieval mystics, photosynthetic bacteria, and a wholly fresh representation of the biblical Job.

Equal parts call to reason and to joy, this book is an irrepressible celebration of our oddball, interconnected world. The Everybody Ensemble delivers unexpected wisdom and a wake-up call that sounds from within. For readers of Ross Gay, Eula Biss, Anne Lamott, Annie Dillard, Ralph Waldo Emerson, and even Lewis Carroll, these twenty-four essays will be a perfect match.
About the Author
---
Amy Leach grew up in Texas and earned her MFA from the Nonfiction Writing Program at the University of Iowa. Her work has appeared in The Best American Essays, The Best American Science and Nature Writing, and numerous other publications, including Granta, A Public Space, Orion, Tin House, and the Los Angeles Review of Books. She is a recipient of a Whiting Writers' Award, a Rona Jaffe Foundation Award, and a Pushcart Prize. Her first book was Things That Are. Leach lives in Montana.
Praise For…
---
A Shelf Awareness Best Book of the Year

"If you need to be re-gobsmacked by the un-decodable, undecipherable earth; if you need to be re-flummoxed by this crooked orb's tactile and creaturely miraculous; and if you need the astonished, weird, beautiful yawp of some kin brokeheart but still singing—and I mean singing—well, you've found your book. I know I have."
—Ross Gay, author of The Book of Delights

"Leach's capacious mind is rich with hedgehogs, warty pigs, blueberries, non sequiturs and crazy genius, and her collection of short essays is a ticket into that quirky brain and heart. Leach's wordplay, absurdism, wit, and wisdom inform this ingenious collection."
—The National Book Review

"An expansive, thought-provoking reflection on the natural world . . . Breathtakingly sophisticated in [its] content . . . Playful but gentle, earnest without being naive, reverberant with ontological wonder . . . This collection offers something for everyone on the Existence Boat."
—Dana Dunham, Scientific American

"Amy Leach takes her readers on a playful, rigorous, mind-bending romp through human nature, the natural world, spirituality and more. Her perfectly singular voice sings the most surprising notes in an imaginative blend of silliness and seriousness . . . Leach is smart, effervescent, earnest and funny. Her voice is perfectly unmistakable, her themes expansive; her prose glitters. The Everybody Ensemble is a revelation."
—Julia Kastner, Shelf Awareness

"Blending poetry, criticism and science, [these] humorous essays defend the life of beings from platypuses and linnets to photosynthetic bacteria."
—The New York Times Book Review

"[These] essays are short and amusing, with Leach's lighthearted humor and charming brand of absurdism on full display . . . The strength of Leach's prose is in her turns of phrases, which are plentiful and playful . . . Her profoundly empathetic perspective keeps things grounded."
—Publishers Weekly

"Short, pithy, humor-laden essays . . . Nice work from a wise, welcoming observer of the beauteous nature all around us."
—Kirkus Reviews

"This is a charming series of loopy tales that celebrate the animals of the earth in language so fun and exuberant it seems about to spill off the page. Amy Leach's wordplay echoes the shenanigans of Lewis Carroll and James Joyce himself; multiple entendres run amok and the pun is king. Lovers of language for language's sake, get on board this wild and joyful ark."
—Billy Collins, author of Whale Day

"I love Amy Leach's work for its jinking, swerving, slantwise, scintillating experiment of voice and vision. I'm excited there's a new book from her coming into the world."
—Robert Macfarlane, author of Underland

"Quirky and soulful, funny and humane, The Everybody Ensemble makes being human seem okay, even following the shame we should feel for spoiling the world and imperiling other creatures. This book is a balm, but also a subtle call. It is a book about the fragility and happenstance of life and the colorful creatures who live on these precarious terms, and it is a book about life in all its wonder and joy. Amy Leach offers a brilliant companion to the great naturalists, brimming with intelligence and wit."
—Maurice Manning, author of Railsplitter

"From Amy Leach's savage imagination comes this gift in the form of a wild romp through the natural world and the English language. This is a book you will write in, a book that will have you underlining phrases and muttering to yourself. It will have you questioning seahorses, interrogating wildflowers, and wondering if you can trust a tiger. Leach's essays are like the entries in a reference book you can read only in your dreams, and when you awaken, you remember something about geese and harpsichords and hope you never forget it."
—Amy Stewart, author of The Drunken Botanist

"No essayist working today is more lyrically capable or insistently interesting than Amy Leach. These gorgeous new essays take seriously the profundity of playfulness. Each vivid sentence is a journey into the unknown; each forges new space for thought. A brilliant collection by a staggeringly talented prose artist."
—Kerry Howley, author of Thrown
Free Media Mail shipping on U.S. orders over $50
Christmas ordering guidelines
"Ships from warehouse" items to be shipped: Order by Monday, 12/5
"Ships from warehouse" items to be picked-up in store: Order by Monday, 12/12
On hand items: We'll pull items in order of orders received, so keep them coming!