The Best American Mystery And Suspense 2021 (Paperback)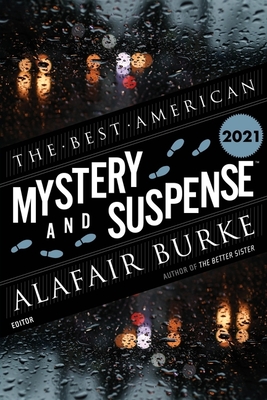 Description
---
Steph Cha, a rising star who brings a fresh perspective as series editor, takes the helm of the new The Best American Mystery and Suspense, with best-selling crime novelist Alafair Burke joining her as the first guest editor.
"Crime writers, forgive the pun, are killing it right now creatively," writes guest editor Alafair Burke in her introduction. "It was difficult—painful even—to narrow this year's Best American Mystery and Suspense to only twenty stories." Spanning from a mediocre spa in Florida, to New York's gritty East Village, to death row in Alabama, this collection reveals boundless suspense in small, quiet moments, offering startling twists in the least likely of places. From a powerful response to hateful bullying, to a fight for health care, to a gripping desperation to vote, these stories are equal parts shocking, devastating, and enthralling, revealing the tension pulsing through our everyday lives and affirming that mystery and suspense writing is better than ever before.
The Best American Mystery and Suspense 2021includes
JENNY BHATT• GAR ANTHONY HAYWOOD• GABINO IGLESIAS• AYA DE LEÓN• LAURA LIPPMAN DELIA C. PITTS• ALEX SEGURA• FAYE SNOWDEN• LISA UNGER and others
About the Author
---
STEPH CHA is the author of the Juniper Song mystery series and Your House Will Pay, which won the Los Angeles Times Book Prize for Best Mystery/Thriller and has been nominated for a Young Lions Fiction Award, a Macavity Award, a Lefty Award, a Barry Award, and a Dagger Award, as well as long-listed for the Aspen Prize. She's an editor and critic whose work has appeared in the Los Angeles Times, USA Today, and the Los Angeles Review of Books, where she edited the noir section for almost five years. A native of the San Fernando Valley, she lives in Los Angeles with her family.
Praise For…
---
"In this selection of tales exploring crime-sparking marginalization and thwarted desires, guest editor Alafair Burke and debut series editor Steph Cha have created a powerful vehicle for processing 2020's volatility...Cha and Burke have curated a magical collection that serves as a master class in suspense writing." —Booklist "To Cha's great credit, along with her guest editor, novelist Alafair Burke, this year's edition...not only features many women and writers of color, but also pairs household names like Alex Segura, Lisa Unger and Laura Lippman...with top up-and-comers to paint a clear picture of the genre in 2021." —USA Today, 3.5/4 stars —
Free Media Mail shipping on U.S. orders over $50
Christmas ordering guidelines
"Ships from warehouse" items to be shipped: Order by Monday, 12/5
"Ships from warehouse" items to be picked-up in store: Order by Monday, 12/12
On hand items: We'll pull items in order of orders received, so keep them coming!