Black AF History: The Un-Whitewashed Story of America (Hardcover)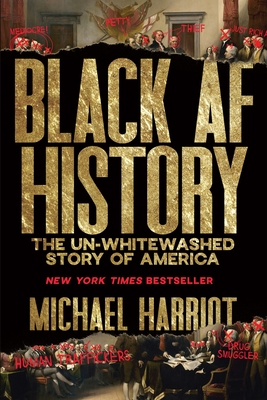 $32.50

Coming soon - PRE-ORDER NOW!
Description
---
From acclaimed columnist and political commentator Michael Harriot, a searingly smart and bitingly hilarious retelling of American history that corrects the record and showcases the perspectives and experiences of Black Americans.
America's backstory is a whitewashed mythology implanted in our collective memory. It is the story of the pilgrims on the Mayflower building a new nation. It is George Washington's cherry tree and Abraham Lincoln's log cabin. It is the fantastic tale of slaves that spontaneously teleported themselves here with nothing but strong backs and negro spirituals. It is a sugarcoated legend based on an almost true story.
It should come as no surprise that the dominant narrative of American history is blighted with errors and oversights—after all, history books were written by white men with their perspectives at the forefront. It could even be said that the devaluation and erasure of the Black experience is as American as apple pie.
In Black AF History, Michael Harriot presents a more accurate version of American history. Combining unapologetically provocative storytelling with meticulous research based on primary sources as well as the work of pioneering Black historians, scholars, and journalists, Harriot removes the white sugarcoating from the American story, placing Black people squarely at the center. With incisive wit, Harriot speaks hilarious truth to oppressive power, subverting conventional historical narratives with little-known stories about the experiences of Black Americans. From the African Americans who arrived before 1619 to the unenslavable bandit who inspired America's first police force, this long overdue corrective provides a revealing look into our past that is as urgent as it is necessary. For too long, we have refused to acknowledge that American history is white history. Not this one. This history is Black AF. 
About the Author
---
MICHAEL HARRIOT is a critically acclaimed poet, journalist, and broadcaster. He's a senior writer for TheRoot.com, and his work is often cited by outlets and individuals from the New York Times and the Washington Post. Harriot holds a degree in mass communications and history from Auburn University and an MA in macroeconomics from Florida State University.
Praise For…
---
"Michael Harriot has done it. Written a book that evokes the full range of human emotions. Laughter. Rage. Sadness. Love (of Black resistance). Hate (of anti-Blackness). More laughter. Constant thinking and connecting and discovering. What an experience. But how can this book be anything less when it is Black AF History." — Ibram X. Kendi, Award-winning author
"This is history as it should be told: straight, no chaser; unvarnished and unembossed. Michael Harriot, the Samuel L. Jackson of the written word, strikes again, weaving fascinating facts, scathing humor and pieces of his own life story to detail the stony road we trod." — Joy Reid, Host of The ReidOut on MSNBC
"The story we've been told about America has always been redacted. With Black AF History, Michael Harriot removes the redacted parts and replaces them with griot-level storytelling. This is what everyone wishes their high school courses were actually like. Halfway through, you realize that this is not even a book about Black history, it's about how American history is Black AF." — Pharrell Williams, Grammy Award-winning producer and musician
"Michael Harriot tells the most shocking (not shocking) stories of Black History I've ever heard. Every story is unbelievable yet, unfortunately, completely believable. Black AF History should be taught in every school across America." — Amber Ruffin, comedian and host of The Amber Ruffin Show
"If I ever won an election for political office, I would have them swear me in on a copy of Black AF History. Michael Harriot is too funny to be this smart. Now, I have to go google how to ship a case of these to Ron DeSantis." — W. Kamau Bell, Award-winning television host and stand-up comedian
We will be open on Memorial Day from 10 AM until 6 PM.
Free Media Mail shipping on U.S. orders over $50