Year of the Reaper (Hardcover)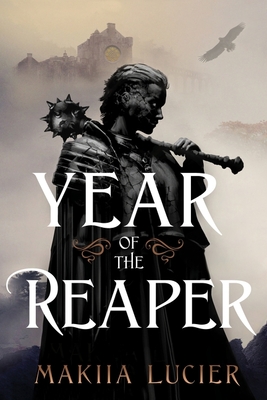 Description
---
"I love the magic Lucier weaves through this dark yet hopeful tale. I devoured it in one sitting!" —Kristin Cashore, author of the New York Times bestselling Graceling Realm books
"A beautifully crafted novel containing everything I love in an epic fantasy: complex characters and relationships, excellent world building, and a compelling story full of twists and turns." —Juliet Marillier, author of the Blackthorn & Grim and Warrior Bards series
A rich and captivating YA standalone fantasy that's perfect for fans of Brigid Kemmerer, Rachel Hartman, and Naomi Novik, from the writer whose stories have been called "brilliant" (Booklist), "masterful" (Horn Book), and "breathtaking" (School Library Journal). In the aftermath of a devastating plague, a young lord is determined to discover the truth behind a mysterious attempt to assassinate the young queen.
A Sickness to kill them. A Princess to save them. And a Reaper who will stop at nothing to reveal the truth. 
Young Lord Cassia was destined for death, kidnapped and imprisoned by the enemy three years ago. Now he has escaped, the sole survivor of a deadly outbreak that has ravaged the kingdoms of Oliveras and Brisa alike. His survival has won him his freedom, at a cost: Cas is now haunted by the souls of those with unfinished business left in the realm.
When Cas finally returns to his home in the mountains, he arrives just in time to celebrate the king and queen's newborn son. But when an assassin interrupts the festivities, Cas finds himself thrust into the dark underpinnings of court life. Nothing is as he remembers, and his only solace is Lena, a royal historian with a penchant for stealing his horse and keeping him anchored to the present...even as the past rises to the surface.
For the more Cas learns about the new queen-a former princess of Brisa, an old enemy-the more he is certain she harbors secrets. Secrets that threaten the one person Cas holds most dear.
Lucky for him, the past never forgets, and the secrets of the dead aren't always buried with them.
About the Author
---
Makiia Lucier grew up on the Pacific Island of Guam and holds degress in journalism and library studies from the University of Oregon and the University of Wisconsin–Milwaukee. She is the author of A Death-Struck Year, Isle of Blood and Stone, and Song of the Abyss.
makiialucier.com
Twitter: @makiialucier
Praise For…
---
"A refreshing stand-alone novel....Full of complex characters and unexpected twists, this moving book explores what it means to rebuild and how much history depends on who is left to tell it."—The New York Times ★ "Cas's soft, slow-building romance with Lena, a clever young historian, is wonderfully authentic and adds depth to Cas's character arc from vengeful prisoner to trusted official. Lucier's a deft hand with layered relationships tangling her characters together in fascinating ways and propeling the story forward, and Cas's succinct narrative voice holding high stakes and hope in equal measure. Expertly plotted with complex characters, the book features well-crafted twists and turns as Cas is thrown headfirst into the mysteries of the royal court....Part political mystery, part dark adventure fantasy, this is a book you'll want to devour in one sitting. Deeply satisfying."—School Library Journal, STARRED review  "Lucier wastes no time in this gripping mystery: Every twist is carefully plotted, and the worldbuilding is intricate yet effortless. Each of Cas' relationships, even those with the spirits he encounters, is distinct, and, like him, readers will find it difficult to judge who is trustworthy....A well-balanced and captivating stand-alone fantasy." —Kirkus "Themes of loss, sorrow, and moral conflict, balanced by a delicate and emotionally mature romance, suffuse Lucier's (the Tower of Winds series) novel set in a time of plague...The gripping narrative glides along via Lucier's spare, deftly employed prose style, while Cas's fiercely affectionate relationship with his brother Ventillas lends the plot particular warmth, deepening its moving and thought-provoking depictions of variously traumatized characters."—Publishers Weekly "A captivating world....Readers who have experienced trauma will likely relate to this exploration of mourning for or reckoning with the person you were, and then finding ways to move forward within new parameters." —The Bulletin of the Center for Children's Books "A fast-paced, fantastical mystery that's rife with courtly intrigue and twisty secrets and rooted in nuanced depictions of personal and societal trauma....quick to enthrall." —BookPage —
Free Media Mail shipping on U.S. orders over $50
Christmas ordering guidelines
"Ships from warehouse" items to be shipped: Order by Monday, 12/5
"Ships from warehouse" items to be picked-up in store: Order by Monday, 12/12
On hand items: We'll pull items in order of orders received, so keep them coming!