The Cherry Robbers (Hardcover)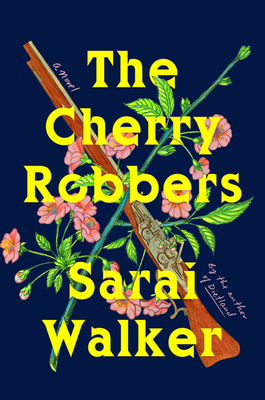 Staff Reviews
---
The Bellflower Village is convinced that the Chapel family is cursed, with their wedding cake shaped house and crazy (or clairvoyant depending who you ask) mother, and a fortune made from death. And then the six daughters start dying off, one by one, buried in their barely-cool wedding dresses. To survive, the remaining daughter has to become someone else entirely and run as far away as she can. But how long can she keep it up? 
A gorgeous 1950s gothic tale with phenomenal storytelling and spooky atmosphere. 
— Emma
Description
---
"Sarai Walker has done it again. With The Cherry Robbers she upends the Gothic ghost story with a fiery feminist zeal." —Maria Semple
The highly anticipated second novel from Sarai Walker, following her "slyly subversive" (EW) cult-hit Dietland—a feminist gothic about the lone survivor of a cursed family of sisters, whose time may finally be up.
IT SHOULD HAVE BEEN THE FIRST DAY OF THE REST OF THEIR LIVES.
INSTEAD IT WAS THE LAST.
Iris Chapel and her five elegant sisters, all of them heiresses to the Chapel firearms fortune, live cloistered in a lavish Victorian mansion. Neglected by both a distant, workaholic father and a mentally troubled mother—who believes their home is haunted by the victims of Chapel weapons—the sisters have grown up with only each other for company. They long to escape the eerie fairy tale of their childhood and move forward into the modern world, but for young women in 1950s Connecticut, the only way out is through marriage.
Yet it soon becomes clear that for the Chapel sisters, marriage equals death. 
When the eldest sister walks down the aisle, tragedy strikes. The bride dies mysteriously the very next day, leaving her family and the town in shock. But this is just the beginning of a chain of disasters that will make each woman wonder whether true love will kill her, too. Only Iris, the second-youngest, finds a way to escape—but can she outrun the family curse forever?
Sarai Walker, the acclaimed author of the cult-hit novel Dietland, building off the Gothic tradition of Shirley Jackson, brings to life this riveting, deliciously twisted feminist tale, a gorgeous and provocative page-turner about the legacy of male power and the cost of female freedom.
About the Author
---
Sarai Walker is the author of the novel Dietland, which has been published in more than a dozen countries and adapted as a television series for AMC. She has lectured on feminism and body image internationally, and has spoken about these topics widely in the media. Her articles and essays have appeared in The New York Times, The Washington Post, The Guardian and elsewhere, and she worked as a writer and editor on an updated version of Our Bodies, Ourselves. She holds an MFA in creative writing from Bennington College and a PhD in English from the University of London. She lives in Philadelphia.
Praise For…
---
A New York Times: "18 New Works of Fiction to Read This Spring" A Vogue: "The Best Books of 2022 So Far" A CrimeReads' "Most Anticipated Crime Fiction of 2022" A BookPage's "Most Anticipated Fiction of 2022"? A Popsugar's "Best New Book Release" An EW.COM's "16 Novels We're Excited For This Summer" —
"Hooray! Sarai Walker has done it again. With The Cherry Robbers she upends the Gothic ghost story with a fiery feminist zeal." — Maria Semple, bestselling author of Where'd You Go, Bernadette and Today Will Be Different  
 "Oh, I love Sarai Walker's The Cherry Robbers! The Chapel sisters, of a fictional gun manufacturing fortune, grow up in a house that looks like a wedding cake. But each of them is fated to die on their wedding night, a multi-generational curse that seems to set free only those women who put art above marriage. A twisted take on the artist's coming-of-age story, The Cherry Robbers tackles deep questions about marriage, sexuality, familial loyalty, guns and the artist's life—a witty, delicious, demented joyride." — Susan Scarf Merrell, author of Shirley, now a major motion picture
"Walker's take on the classic Gothic tale fairly shimmers, titillating with a heady concoction of terror and desire, frothy with fever-pitched emotions, and dark with smothering melancholy and macabre spectres." — Booklist (starred review)
"Walker gives us indelible descriptions of flowers, foods, and fabrics as we coexist with the vivid Chapel sisters, but inside the lush exterior, the novel thrums with violence, oppression, and blood. This fierce feminist tale hit me in the heart and hasn't let me go." — Stacey Swann, author of Olympus, Texas
"Delightfully eerie…This uncanny tale of dark origins shines brightly." — Publishers Weekly
"This gorgeously written and all-consuming gothic explores feminism and sexuality and left me more than a little heartbroken." — Buzzfeed
"Walker's long-anticipated sophomore novel is a spooky departure from the feminist anarchy of 'Dietland,' but a welcome one that speaks to the author's range." — WBUR Boston
"In 2017 New Mexico, famed artist Sylvia Wren lives her life in virtual seclusion, but her true identity is about to be exposed by a determined journalist. So begins Sarai Walker's sharp, gothic tale "The Cherry Robbers." — Popsugar
"The story takes one interesting new turn after another, gathering into a heady mix of gothic fiction and incisive art thriller."  — CrimeReads
"A book one doesn't want to put down." — Sarah Jessica Parker
Free Media Mail shipping on U.S. orders over $50
Christmas ordering guidelines
"Ships from warehouse" items to be shipped: Order by Monday, 12/5
"Ships from warehouse" items to be picked-up in store: Order by Monday, 12/12
On hand items: We'll pull items in order of orders received, so keep them coming!