Becoming Duchess Goldblatt (Hardcover)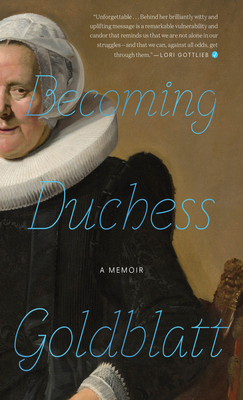 $24.00
Email or call for price.
Staff Reviews
---
"A lot of people go very Martha Graham when dancing on their enemies' graves. Me, I like Flamenco. I want the souls of the dead to feel it." Duchess Goldblatt
If you know the Duchess on social media, then you have already purchased this book (congratulations on your excellent taste. I certainly hope you bought it from an Independent book store). If you don't know the Duchess...then get to know her (and her equally fascinating creator).
(You are very welcome.)
— Abbe
July 2020 Indie Next List
---
"After the collapse of her marriage and her whole life, the anonymous author of Becoming Duchess Goldblatt started a Twitter account, speaking in the voice of an imperious, slightly dotty, always caring 81-year-old writer. The Duchess became the focus of intense adoration and eventually helped her creator to reconnect with the 'real world' even as she kept her identity a secret. Becoming Duchess Goldblatt is a glorious memoir, a truly 21st-century tale of life both online and off."
— David Enyeart, Next Chapter Booksellers, St. Paul, MN
Description
---
One of the New York Times' 20 Books to Read in 2020

"A tonic . . . Splendid . . . A respite . . . A summer cocktail of a book."—Washington Post

"Unforgettable . . . Behind her brilliantly witty and uplifting message is a remarkable vulnerability and candor that reminds us that we are not alone in our struggles—and that we can, against all odds, get through them."—Lori Gottlieb, New York Times best-selling author of Maybe You Should Talk to Someone

Part memoir and part joyful romp through the fields of imagination, the story behind a beloved pseudonymous Twitter account reveals how a writer deep in grief rebuilt a life worth living.

Becoming Duchess Goldblatt is two stories: that of the reclusive real-life writer who created a fictional character out of loneliness and thin air, and that of the magical Duchess Goldblatt herself, a bright light in the darkness of social media. Fans around the world are drawn to Her Grace's voice, her wit, her life-affirming love for all humanity, and the fun and friendship of the community that's sprung up around her.
 
@DuchessGoldblat (81 year-old literary icon, author of An Axe to Grind) brought people together in her name: in bookstores, museums, concerts, and coffee shops, and along the way, brought real friends home—foremost among them, Lyle Lovett.
  
"The only way to be reliably sure that the hero gets the girl at the end of the story is to be both the hero and the girl yourself." — Duchess Goldblatt
About the Author
---
DUCHESS GOLDBLATT, 81, is the inspirational author of An Axe to Grind; Feasting on the Carcasses of My Enemies: A Love Story; and the heartwarming meditation on mothers and daughters Not If I Kill You First. A cultural icon, trophy ex-wife, friend to all humanity, and sponsor of the prestigious Goldblatt Prize in Fiction, she lives in Crooked Path, NY. She's fictional but her love is real.

ANONYMOUS, the real-life person in whose mind Duchess Goldblatt lives and flourishes, has gathered all available truth and beauty for these pages. There's nothing else to give.
Praise For…
---
Praise for Becoming Duchess Goldblatt Named one of the New York Times' "20 Books We're Watching For in 2020" Named a Most Anticipated Book of 2020by Real Simpleand The Millions A Best Book of July in the New York Times, Amazon, the Christian Science Monitor, and Apple An Indie Next Pick A Best Book of the Summer from Marie Claire, Iowa Public Radio and Boston "Deeply satisfying, unexpectedly moving...As lovable as the duchess herself...In Duchess Goldblatt's digital neighborhood, people are not just welcome but completely adored...Duchess and Anonymous subtly, slowly become one person. She no longer feels alone; neither do her subjects. People find solace in this fictional character—and Anonymous does, too." —Julie Klam, New York Times Book Review "There's no recipe for Duchess Goldblatt tweets, but they often amount to one part conventional wisdom and two parts surrealism, with some grandmotherly tenderness or saltiness sprinkled in for good measure...Her feed is one of the few places on the internet devoted to spreading unadulterated joy. It's also a successful example of social media literature, due in part to Duchess's voice, which requires readers to confront the ridiculousness of the entire premise alongside the sincerity of her musings...Becoming Duchess Goldblatt recontextualizes the Twitter account as a therapeutic exercise." —Kate Dwyer, New York Times "Uplifting." —People, "The Best New Books" "A tonic, a gift for our anxious summer...Becoming Duchess Goldblatt is many things, all of them splendid...The best sort of self-help, demonstrating that creativity, generosity and even Twitter...can offer salvation and lift all boats...Anonymity liberates the author to share her story without restraint. The book is enriched by two distinct voices: one frank and vulnerable, the other all-knowing. You believe the details of the author's life because, though Duchess, she's committed to staying generous and true...This sort of anonymity, in a time of too much oversharing on too many platforms, is a respite. We need magic. The book's timing is inspired. It's a summer cocktail of a book. Of Duchess Goldblatt, we would expect nothing less." —Washington Post "The writer goes to great lengths in the book to demarcate herself from the Duchess. Goldblatt is an alter ego, someone onto whom she can project her pain and have it come back in the form of jokes. An obvious model is Dorothy Parker, but in a way the writer's creative nimbleness and insistence on anonymity brings to mind someone more like Lee Israel...Her proclamations sound like pithy lines from a standup special—that is, if the comedian was God and if God was an 81-year-old woman from the 17th century...What's most astonishing is the relationship Duchess has with her community...They find her amusing, comforting, assuring...Originally used as a tool to deal with her own trauma, over time the Duchess has mutated into something more like a movement. Duchess Goldblatt is a kid of way to rewrite the ways we treat ourselves and the people around us. The writer admits to a very famous friend she meets at one point in the book that the Duchess 'whispers' little prayers to each of her followers...It's loving the bizarre and cherishing the weird that Goldblatt does best. And it's why so many people trust her to tell them how to live, how to treat themselves with more compassion, how to treat each other better, too."