Una casa propia: Historias de mi vida (Paperback)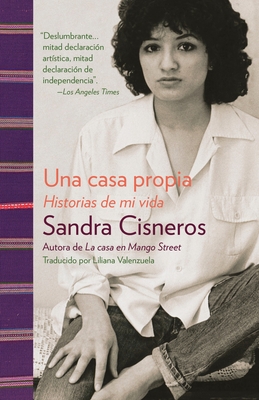 $15.00
Available from warehouse in 1-5 business days
Description
---
Desde Chicago a México, los lugares en los que Sandra Cisneros ha vivido han servido de inspiración para sus trabajos ya clásicos de ficción y poesía. Sin embargo, una casa propia, un lugar en el que realmente pueda echar raíces, la ha eludido. En esta autobiografía rompecabezas, formada de ensayos e imágenes a través de tres décadas (algunas nunca antes publicadas) Cisneros ha llegado por fin a casa.

Escrito con su muy conocido lirismo, la autora de La casa en Mango Street, y ganadora del PEN/Nabokov Award for Achievement in International Literature 2018, comparte los recuerdos que la han transformado y revela sus influencias artísticas e intelectuales. Punzante, honesta y profundamente conmovedora, Una casa propia es una celebración exuberante de una vida vivida al máximo, por una de nuestras escritoras más queridas.
About the Author
---
Sandra Cisneros es una poeta, cuentista, novelista y ensayista cuyo trabajo explora las vidas de la clase obrera. Sus numerosos premios incluyen becas NEA tanto en poesía como en ficción, la Medalla de las Artes de Texas, la beca MacArthur, varios doctorados honorarios y premios nacionales e internacionales como el Fifth Star Award de Chicago, el PEN Center USA Literary Award y la Medalla Nacional de las Artes que el presidente Obama le otorgó en 2016. También obtuvo la beca Art of Change de la Fundación Ford y fue reconocida entre la lista The Frederick Douglass 200. En 2018, recibió el premio de literatura internacional PEN/Nabokov.
 
Su obra clásica, La casa en Mango Street, ha vendido más de seis millones de ejemplares, ha sido traducida a más de veinte idiomas y es lectura obligatoria en escuelas primarias, secundarias y universidades en todo el país.
 
Además de su obra literaria Cisneros ha fomentado las carreras de muchos escritores aspirantes y emergentes a través de sus dos organizaciones sin fines de lucro: la Fundación Macondo y la Fundación Alfredo Cisneros del Moral. También es la organizadora de Los MacArturos, el grupo de becarios latinos de la beca MacArthur que son activistas en sus comunidades. Sus trabajos literarios se conservan en Texas en las Wittliff Collections y en Texas State University.
 
Sandra Cisneros es ciudadana de los Estados Unidos y de México, y vive de su trabajo como escritora. Actualmente vive en San Miguel de Allende, Mexico.

Liliana Valenzuela ha traducido obras de Sandra Cisneros, Julia Alvarez, Denise Chávez, Nina Marie Martínez, Ana Castillo, Dagoberto Gilb, Richard Rodríguez, Rudolfo Anaya, Cristina Gar­cía, Gloria Anzaldúa y muchos otros escritores. En 2006 recibió el premio Alicia Gordon Award for Word Artistry in Translation y ha sido miembro de la mesa directiva del American Translators Association. Poeta, ensayista y periodista, su obra ha aparecido en numerosas publicaciones como The Edinburgh Review, Indiana Review y Huizache. Su poemario bilingüe Codex of Journeys: Bendito camino está disponible de Mouthfeel Press. Originaria de la Ciudad de México, vive en Austin, Texas. Visítala en línea en www.LilianaValenzuela.com y www.ahorasi.com.