Empire of Self: A Life of Gore Vidal (Paperback)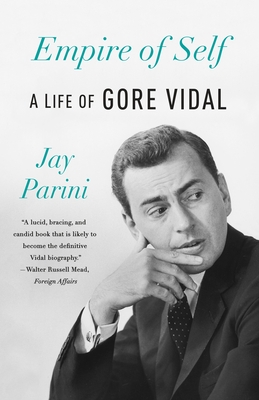 $18.00
Email or call for price.
Description
---
An intimate, authorized yet totally frank biography of Gore Vidal (1925–2012), one of the most accomplished, visible, and controversial American novelists and cultural figures of the past century 


The product of thirty years of friendship and conversation, Jay Parini's Empire of Self digs behind the glittering surface of Gore Vidal's colorful career to reveal the complex emotional and sexual truths underlying his celebrity-strewn life. But there is plenty of glittering surface as well—a virtual Who's Who of the twentieth century, from Eleanor Roosevelt and Amelia Earhart through the Kennedys, Johnny Carson, Leonard Bernstein, and the crème de la crème of Hollywood. Also a generous helping of feuds with the likes of William F. Buckley, Norman Mailer, Truman Capote, and The New York Times, among other adversaries. 
     The life of Gore Vidal teemed with notable incidents, famous people, and lasting achievements that call out for careful evocation and examination. Jay Parini crafts Vidal's life into an accessible, entertaining story that puts the experience of one of the great American figures of the postwar era into context, introduces the author and his works to a generation who may not know him, and looks behind the scenes at the man and his work in ways never possible before his death. Provided with unique access to Vidal's life and his papers, Parini excavates many buried skeletons yet never loses sight of his deep respect for Vidal and his astounding gifts. This is the biography Gore Vidal—novelist, essayist, dramatist, screenwriter, historian, wit, provocateur, and pioneer of gay rights—has long needed.
About the Author
---
JAY PARINI, a poet and novelist as well as biographer, is Axinn Professor of English at Middlebury College. His novels include The Last Station (adapted as an Academy Award-nominated film and translated into more than thirty languages), Benjamin's Crossing, and The Passages of H.M.  His poetry includes The Art of Subtraction: New and Selected Poems, and the forthcoming New and Collected Poems, 1975-2015. He has written biographies of Robert Frost, John Steinbeck, William Faulkner, and Jesus. Among his nonfiction books are Why Poetry Matters and Promised Land: Thirteen Books that Changed America.
Praise For…
---
Praise for Jay Parini's Empire of Self

"A lucid, bracing, and candid book that is likely to become the definitive Vidal biography." —Walter Russell Mead, Foreign Affairs

"A fine biography." —Wall Street Journal

"Wholly readable.  Parini is a veteran biographer, and it shows in the seemingly effortless way he unfolds Vidal's life." —The Boston Globe

"Marvelous. . . . Affectionate and balanced." —The Economist

"A loving portrait of a very difficult man. Jay Parini, himself a gifted novelist, poet and biographer, has gone very deep into the 'black energy' of Gore Vidal's relentless narcissism and megalomania." —Washington Post

"[A] constantly memorable biography that will no doubt be the best Vidal will ever get." —The Buffalo News

"Vidal is the perfect subject for a biography, as Parini proves in this highly readable and informative book. And Parini, who has also written biographies of John Steinbeck, Robert Frost and William Faulkner as well as essays and poetry, is the perfect person to write it." —Dallas Morning News

"A wonderful, moving biography of Gore Vidal." —Christian Science Monitor

"Parini nicely describes the 'lofty intimacy' of Vidal's style, and makes a strong case for Vidal as one of the critics who helped to 'enlarge and redefine' the book-review essay." —The New Yorker

"Parini takes a long view of Vidal's eccentricities, shedding new light on the legacy-building efforts of one of the twentieth century's great public intellectuals." —Boston Review

 "More than anything, Parini reveals, Vidal feared 'becoming a rumor in his own time'—and forgotten when he was dead. 'One feels the Great Eraser always at work,' he said again and again in conversations and letters. Empire of Self may stay the hand of the Great Eraser." —The Philadelphia Inquirer

"An admiring but unblinkingly honest portrait of the self-mythologizing, self-aggrandizing literary titan and TV celebrity." —The Daily Beast

"Parini precedes each chapter with a vignette, a focused memory from his own experiences with Vidal. They range from amusing to deeply moving. . . . A superbly personal biography that pulsates with intelligence, scholarship, and heart." —Kirkus Reviews, starred review

"The outstanding quality—no, just one of the outstanding qualities—of this tour de force of effective biography is the dexterity, the balance with which Parini handles the two acute sides of his subject, Vidal the 'angel' and Vidal the 'monster.'" —Booklist, starred review

"The incomparable wit, the literary genius, the dazzling friends, the staggering output, the politics, the sex, the drink, the dreadful mother and the awful last days—it's all here. This is as good as biography gets." —Dick Cavett