FREE Media Mail shipping on eligible items! We are open for browsing by appointment from 10am-7pm M-S and 10am-6pm Sundays. Email books@quailridgebooks.com for a reservation. Phones may not be answered due to high volume of calls.
Under the Wide and Starry Sky: A Novel (Paperback)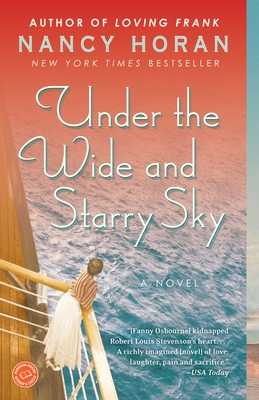 Staff Reviews
---
Once again, Nancy Horan delves into the life of an artist and his muse, this time with Robert Louis Stevenson and his younger, independent, American wife, Fanny Van de Grift Osbourne.  Unlike the book, Loving Frank, Horan writes of a marriage with devotion and love between Robert and Fanny.  While putting her own creativity to the side, Fanny was crucial to Stevenson's writing success though ill health, continuous relocations and lack of funds were a major hinderance.  After reading this, you'll be thankful for antibiotics.
— Sandra
February 2014 Indie Next List
---
"Just as she did in Loving Frank, Horan brings to life the story of a strong woman and a talented man -- in this case Fanny Van de Grift Osbourne and Robert Louis Stevenson. Stevenson was not a strong man physically, which meant the couple spent much of their married life chasing climates and locations in an attempt to give him a chance at life as a writer. Fannie gives up her personal ambitions as an artist and writer to be Stevenson's caregiver, but at what cost? This multifaceted book demonstrates all the twists and turns of life -- love and loyalty, wealth and poverty, privilege and survival, success and disappointment, darkness and joy. Readers will want to revisit the works of Stevenson with new eyes after reading Horan's wonderful book."
— Beverly Baur, Redbery Books, Cable, WI
Description
---
NEW YORK TIMES BESTSELLER • TODAY SHOW BOOK CLUB PICK • NAMED ONE OF THE BEST BOOKS OF THE YEAR BY THE WASHINGTON POST AND ST. LOUIS POST-DISPATCH

From the New York Times bestselling author of Loving Frank comes a much-anticipated second novel, which tells the improbable love story of Scottish writer Robert Louis Stevenson and his tempestuous American wife, Fanny.

At the age of thirty-five, Fanny Van de Grift Osbourne has left her philandering husband in San Francisco to set sail for Belgium—with her three children and nanny in tow—to study art. It is a chance for this adventurous woman to start over, to make a better life for all of them, and to pursue her own desires.  Not long after her arrival, however, tragedy strikes, and Fanny and her children repair to a quiet artists' colony in France where she can recuperate. Emerging from a deep sorrow, she meets a lively Scot, Robert Louis Stevenson, ten years her junior, who falls instantly in love with the earthy, independent, and opinionated "belle Americaine."

Fanny does not immediately take to the slender young lawyer who longs to devote his life to writing—and who would eventually pen such classics as Treasure Island and The Strange Case of Dr. Jekyll and Mr. Hyde. In time, though, she succumbs to Stevenson's charms, and the two begin a fierce love affair—marked by intense joy and harrowing darkness—that spans the decades and the globe. The shared life of these two strong-willed individuals unfolds into an adventure as impassioned and unpredictable as any of Stevenson's own unforgettable tales.

Praise for Under the Wide and Starry Sky

"A richly imagined [novel] of love, laughter, pain and sacrifice . . . Under the Wide and Starry Sky is a dual portrait, with Louis and Fanny sharing the limelight in the best spirit of teamwork—a romantic partnership."—USA Today

"Powerful . . . flawless . . . a perfect example of what a man and a woman will do for love, and what they can accomplish when it's meant to be."—Fort Worth Star-Telegram

"Horan's prose is gorgeous enough to keep a reader transfixed, even if the story itself weren't so compelling. I kept re-reading passages just to savor the exquisite wordplay. . . . Few writers are as masterful as she is at blending carefully researched history with the novelist's art."—The Dallas Morning News

"A classic artistic bildungsroman and a retort to the genre, a novel that shows how love and marriage can simultaneously offer inspiration and encumbrance."—The New York Times Book Review
About the Author
---
Nancy Horan's first novel, Loving Frank, chronicles a little-known chapter in the life of American architect Frank Lloyd Wright. It was translated into sixteen languages, remained on the New York Times bestseller list for more than a year, and in 2009 was awarded the James Fenimore Cooper Prize for Best Historical Fiction, presented by the Society of American Historians. Under the Wide and Starry Sky explores the shared journey of Robert Louis Stevenson and his spirited American wife, Fanny, in a sweeping adventure that unfolds over eighteen years and three continents. Nancy Horan has two sons, and lives with her husband on an island in Puget Sound.
Praise For…
---
"A richly imagined [novel] of love, laughter, pain and sacrifice . . . [Fanny Osbourne] kidnapped Robert Louis Stevenson's heart."—USA Today
 
"Powerful . . . flawless . . . a perfect example of what a man and a woman will do for love, and what they can accomplish when it's meant to be."—Fort Worth Star-Telegram
 
"Spectacular . . . an exhilarating epic about a free-spirited couple who traveled the world yet found home only in one another."—Booklist (starred review)
 
"Horan's prose is gorgeous enough to keep a reader transfixed, even if the story itself weren't so compelling. I kept re-reading passages just to savor the exquisite wordplay. . . . Few writers are as masterful as she is at blending carefully researched history with the novelist's art."—The Dallas Morning News
 
"A classic artistic bildungsroman and a retort to the genre, a novel that shows how love and marriage can simultaneously offer inspiration and encumbrance."—The New York Times Book Review
 
"Operatic, global in its setting . . . [The years in the South Seas are] deliciously reminiscent of the adventure novels Stevenson wrote, and Horan's delightful reimagining is just as entertaining."—The Washington Post
 
"Nancy Horan has done it again, capturing the entwined lives of Fanny Osbourne and Robert Louis Stevenson so uncannily, it reads like truth."—Sarah Blake, author of The Postmistress
 
"Horan has a distinct knack for evoking the rich, complicated lives of long-gone artists and the women who inspired them."—Entertainment Weekly
 
"Fanny and Louis are wild-hearted seekers, and Nancy Horan traces their incredible journey fearlessly, plunging us through decades, far-flung continents, and chilling brushes with death. Ambitious and often breathtaking, this sweeping story spills over with spirited, uncompromising life."—Paula McLain, author of The Paris Wife
 
"A delight from start to finish . . . as stirring as any of R. L. Stevenson's famous tales."—Hudson Valley News
 
"A dazzling love story . . . Horan deftly brings to life a woman shamefully overlooked by history, and celebrates her contributions to the man whom history remembered."—BookPage
 
"Horan's empathy for both Louis and Fanny allows her to capture their life together with all the complexity and nuance of a real-life relationship. . . . This beautifully written novel, neatly balanced between its two protagonists, makes them come alive with grace, humor, and understanding."—Publishers Weekly