The Defector: A Novel (Hardcover)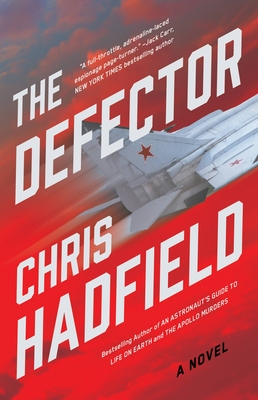 $29.00

Coming soon - PRE-ORDER NOW!
Staff Reviews
---
Some signed copies will be available to pre-order!
— From
Featured Preorders
Description
---
From New York Times bestselling author, astronaut, and fighter pilot Chris Hadfield comes a riveting new thriller perfect for fans of Top Gun and The Hunt for Red October.

THE HUNT BEGINS . . . 
 
Israel, October 1973. As the Yom Kippur War flares into life, a state-of-the-art Soviet MiG fighter plane plummets to an unexpected landing. NASA Flight Controller and former US test pilot Kaz Zemeckis watches from the ground—unaware that its arrival will pull him into a high-stakes game of spies, lies, and secrets that hold the key to Cold War air and space supremacy.

For within that plane is a Soviet pilot pleading to defect, offering a prize beyond value: the workings of the Soviets' mythical "Foxbat" MiG-25, the fastest, highest-flying fighter plane in the world. But trusting him is risky, and Kaz must tread a careful line. As Kaz accompanies the defector into the United States, to the military's most secret test site, he must hope that, with skill and cunning, the game plays out his way. 

Rich with insider detail and political intrigue drawn from real events, The Defector is a propulsive thriller from a growing master of the genre, filled with the nerve-shredding rush of aerial combat as it could only be told by one of the world's best fighter pilots.
 
Praise for The Apollo Murders
 
"A Cold War thriller packed with cosmic action." —New York Times
 
"An exciting journey into an alternate past." —Andy Weir, author of The Martian
 
"Propulsive . . . a space race thrill ride." —Newsweek
 
"Spectacular . . . an intelligent and surprising nail-biter that Tom Clancy fans will relish." —Publishers Weekly (starred review)
About the Author
---
Colonel Chris Hadfield is one of the most seasoned and accomplished astronauts in the world. A multiple New York Times bestselling author, his books An Astronaut's Guide to Life on Earth, You Are Here and The Apollo Murders have sold over a million copies worldwide. 

As well as his time as a Cold War pilot, Chris is a veteran of three spaceflights. He crewed the US Space Shuttle twice, piloted the Russian Soyuz, helped build space station Mir, conducted two space walks, and served as Commander of the International Space Station. He was also NASA's Director of Operations in Russia. 

Chris is the co-creator and host of the BBC series Astronauts: Do You Have What It Takes? and helped create and host, along with actor Will Smith, the National Geographic series One Strange Rock. His zero-gravity version of David Bowie's 'Space Oddity' has received more than 50 million views, and his TED talk on fear over 10 million. 

He advises SpaceX, Virgin Galactic and other space companies, chairs the board of the Open Lunar Foundation, leads the CDL-Space international tech incubator, and teacher a MasterClass on space operations.
Praise For…
---
Praise for The Apollo Murders

"Commander Hadfield takes us on an exciting journey into an alternate past. And who better to write about astronauts than an astronaut himself!"—Andy Weir, New York Times bestselling author of The Martian and Project Hail Mary

"A Cold War thriller packed with cosmic action… Featuring undercover spies, scheming Russians and psychopathic murderers, sometimes all at once, it teems with authoritative details about what it might be like, for instance, to throw up in space or to grapple with a deadly Soviet astronaut who assaults you during a spacewalk."—The New York Times

"A nail-biting Cold War thriller set against the desperate Apollo mission that never really happened … or did it? It's a very rare book that combines so many things I love, from taut suspense and highly realistic action, to the golden age of space exploration. I couldn't put it down."—James Cameron, Academy Award-winning writer and director of Avatar and Titanic

"An explosive thriller by a writer who has actually been to space and back . . . Strap in for the ride!"
 —Gregg Hurwitz, New York Times bestselling author of the Orphan X novels

"Not to be missed. Even in fiction there is authenticity. It is either there... or it is not. With Chris Hadfield it is, because everything he describes he has really seen."—Frederick Forsyth, New York Times bestselling author of The Day of the Jackal and The Fox
We will be open on Memorial Day from 10 AM until 6 PM.
Free Media Mail shipping on U.S. orders over $50