Throne of the Fallen (Hardcover)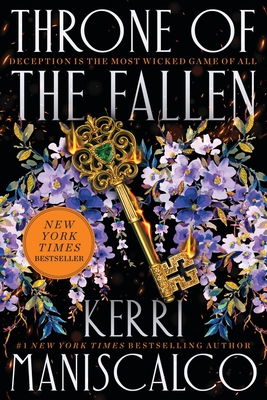 $29.00

Coming soon - PRE-ORDER NOW!
Staff Reviews
---
Some signed copies will be available to pre-order!
— From
Featured Preorders
Description
---
#1 New York Times bestselling author Kerri Maniscalco makes her adult debut with Throne of the Fallen, a fierce new standalone romantic fantasy set in her fan-favorite Kingdom of the Wicked world, about a dark prince battling an impossible curse—and the artist who might be the only one who can set him free.

Sinner. Villain. Wicked.

These are names the Prince of Envy welcomes when he ventures beyond his demon kingdom in the Seven Circles. Each word reminds him what he isn't: a saint. And when a cryptic note arrives, signaling the beginning of a deadly game, he knows he'll be called much worse before it ends. Riddles, hexed objects, anonymous players, nothing will stand in his way. With a powerful artifact and his own future at stake, Envy is determined to win, though none of his meticulous plans prepare him for Waverly Green, or for her, the frustrating artist who ignites his sin—and passion—like no other…
 
Virtuous. Darling. Liar.
 
The trouble with scoundrels and blackguards is that they haven't a modicum of honor, a fact Miss Camilla Antonius learns after one desperate mistake allows Waverly Green's most notorious rake Lord Phillip Vexley to blackmail her. And now it seems Vexley isn't the only scoundrel interested in securing her unique talents as a painter. To avoid Vexley's clutches and a ruinous scandal, Camilla is forced to enter a devil's bargain with society's newest arrival, enigmatic Lord Ashford "Syn" Synton, little expecting his game will awaken her true nature . . .
 
Together, Envy and Camilla must embark on a perilous journey through the underworld—from glittering demon courts to the sultry vampire realm and beyond—while trying to avoid the most dangerous trap of all: falling in love. 
About the Author
---
Kerri Maniscalco grew up in a semi-haunted house outside NYC where her fascination with gothic settings began. In her spare time she reads everything she can get her hands on, cooks all kinds of food with her family and friends, and drinks entirely too much tea while discussing life's finer points with her cats. She is the #1 New York Times and USA Today bestselling author of the Stalking Jack the Ripper series and the Kingdom of the Wicked series.
We will be open on Memorial Day from 10 AM until 6 PM.
Free Media Mail shipping on U.S. orders over $50