The Snow Hare: A Novel (Hardcover)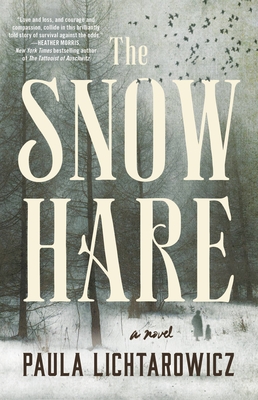 Staff Reviews
---
The Snow Hare by Paula Lichtarowicz takes place in a work camp in Siberia during WWII. The tundra provides a hostile environment for Lena and her family, who were transported there from their home in Poland. Alternating between her life before and after the camp and her time there, the novel provides a deep look into her life, loves, and end-of-life struggle to come to terms with the past.
— Mamie
Description
---
In this "riveting, heartfelt" novel of love and consequences (Heather Morris, New York Times bestselling author of The Tattooist of Auschwitz), a woman dreams of becoming a doctor until World War II leads her instead into an astonishing love—and a fateful choice.

Is it possible to fall in love at the edge of life?

Lena has lived a long, quiet life on her farm in Wales, alongside her husband and child. But as her end approaches, buried memories begin to return. Of her childhood in Poland, and her passion for science. Of the early days of her marriage, reluctant wife to an army officer. Of the birth of her daughter, whose arrival changed everything.

Memories less welcome return, too. Her Polish village, transformed overnight by the Soviets, and the war that doomed her entire family to the frigid work camps of the Siberian tundra. And buried in that blinding snow, amongst the darkness of survival, the most haunting memory of all: that of an extraordinary new love.

Exploring motherhood, marriage, consequences, and our incredible human capacity for hope, The Snow Hare is the story of a woman who dares to love and to dream in the face of impossible odds, and of the peace we each must make with our choices, even long after the years have gone by.
About the Author
---
Paula Lichtarowicz studied English literature at Durham University and has a master's in psychology from the University of East London. She is the author of two previous novels and worked as a documentary maker for twenty years. She currently lives in London with her daughter and dog.
 
Praise For…
---
"Love and loss, and courage and compassion, collide in this brilliantly told story of survival against the odds. Based on the true story of her grandmother, Paula Lichtarowicz's exquisite novel takes readers on a family journey full of passion, longing, regret, and eventual acceptance of choices made a lifetime ago. In these riveting, heartfelt, and brutally honest pages, Lena keeps a lifetime of secrets and dreams from her loved ones, but never allows them to stop her from loving in return."—Heather Morris, New York Times bestselling author of The Tattooist of Auschwitz

"This is historical fiction at its absolute best--epic in scope and intimate in detail. Paula Lichtarowicz reminds us that even in the most brutal of circumstances, hope, love, and forgiveness sustain us."—Lauren Fox, New York Times bestselling author of Send for Me

"Lichtarowicz delivers a dramatic story of a Polish woman's coming-of-age during WWII. . . . The gripping narrative of Lena's wartime experiences contrasts bleak deprivation and suffering with sumptuous scenes of familial affection and the ache of true love. This will transport readers."—Publishers Weekly (starred review)

"The Snow Hare by Paula Lichtarowicz is an extraordinary novel of fate, hope, love and determination. Lichtarowicz' beautifully drawn story, set against a backdrop of real historical events, is every bit as heart-wrenching as it is inspiring. The Snow Hare brings the past to life in a vivid, evocative way--reminding us that history echoes through time, and hope can sustain us even through the most difficult of circumstances. This is one of the finest historical fiction novels I've read in years."—Kelly Rimmer, New York Times bestselling author of The Warsaw Orphan

"Lichtarowicz is a writer of great talent, with the ability to portray hardship and grief shot through with humour and hope. The gorgeous prose, compelling storyline, and emotional depth ensure that The Snow Hare remains in the reader's mind long after the last page. I can't wait to read her other books."—Frances Liardet, New York Times bestselling author of We Must Be Brave

"The Snow Hare is a profound and moving novel of the first order. Lichtarowicz brings a lost world to life with vivid and electric prose, attentive to the richness of her characters and acutely aware of the coming tragedy looming over their shoulders. At the center of all this is Lena—as unforgettable a protagonist as one could imagine in contemporary fiction: driven, brilliant, and haunted. Her story turns in unexpected directions that are so masterfully crafted as to feel like the inevitability of history."—Brian Castleberry, author of Nine Shiny Objects

"There is much to admire in Paula Lichtarowicz's novel The Snow Hare: the crisp and vivid prose, the lively portrayal of family dynamics, the taut pacing and tension, the skilful conveying of historical context. From the very beginning, I knew I was in the hands of an expert storyteller. I especially loved the character of Lena. Spirited and stubborn, fierce and flawed, she carried the story from the villages and mountains of Poland, to the brutal labour camp on the Siberian steppe, to her final days in England. The Snow Hare is an excellent novel, and I relished every page." 
 —Melissa Fu, author of Peach Blossom Spring
Free Media Mail shipping on U.S. orders over $50