The Hexologists (Paperback)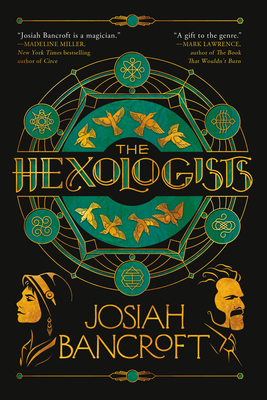 $18.99

Coming soon - PRE-ORDER NOW!
Description
---
The first book in a wildly inventive and mesmerizing new fantasy series from acclaimed author Josiah Bancroft where magical mysteries abound and only one team can solve them: The Hexologists. "Bancroft is a magician." — Madeline Miller, New York Times bestselling author of Circe

The Hexologists, Iz and Warren Wilby, are quite accustomed to helping desperate clients with the bugbears of city life. Aided by hexes and a bag of charmed relics, the Wilbies have recovered children abducted by chimney-wraiths, removed infestations of barb-nosed incubi, and ventured into the Gray Plains of the Unmade to soothe a troubled ghost. Well-acquainted with the weird, they never shy away from a challenging case.
 
But when they are approached by the royal secretary and told the king pleads to be baked into a cake—going so far as to wedge himself inside a lit oven—the Wilbies soon find themselves embroiled in a mystery that could very well see the nation turned on its head. Their effort to expose a royal secret buried under forty years of lies brings them nose to nose with a violent anti-royalist gang, avaricious ghouls, alchemists who draw their power from a hell-like dimension, and a bookish dragon who only occasionally eats people.
 
Armed with a love toughened by adversity and a stick of chalk that can conjure light from the darkness, hope from the hopeless, Iz and Warren Wilby are ready for whatever springs from the alleys, graves, and shadows next.
About the Author
---
Josiah Bancroft is the author of five novels, a collection of short fiction, and numerous poems. His books have been translated into eight languages. Before settling down to write fantasy full-time, he was a college instructor, rock musician, and aspiring comic book artist. When he's not writing, he enjoys strumming a variety of stringed instruments, drawing with a growing cache of imperfect pens, and cooking without a recipe. He lives in Philadelphia with his wife, Sharon, their daughter, Maddie, and their two rabbits, Mabel and Chaplin.
Praise For…
---
"Josiah Bancroft is a magician. His books are that rare alchemy: gracefully written, deliriously imaginative, action-packed, warm, witty, and thought-provoking. I can't wait for more."—Madeline Miller, New York Times bestselling author of Circe

"It's rare to find a modern book that feels like a timeless classic. I'm wildly in love with this book."—Pierce Brown, author of Red Rising on Senlin Ascends

"The Hod King is a compelling and original novel; the "Books of Babel" are something you hope to see perhaps once a decade - future classics, which may be remembered long after the series concludes."—Los Angeles Times on The Hod King

"Senlin Ascends is one of the best reads I've had in ages . . . I was dragged in and didn't escape until I'd finished two or three days later."
—Mark Lawrence, author of Prince of Thorns on Senlin Ascends

"Deeply compelling . . . A classic in the making."—B&N Sci-Fi & Fantasy Blog

"Wonderfully unique and superbly well written. I loved every page."—Nicholas Eames, author of Kings of the Wyld on Senlin Ascends

"Senlin is a man worth rooting for, and his strengthening resolve and character is as marvelous and sprawling as the tower he climbs."—The Washington Post on Senlin Ascends

"What is remarkable about this novel, quite apart from its rich, allusive prose, is Bancroft's portrayal of Senlin, a good man in a desperate situation, and the way he changes in response to his experiences in his ascent."—The Guardian on Senlin Ascends

"Senlin Ascends crosses the everyday strangeness and lyrical prose of Borges and Gogol with all the action and adventure of high fantasy. I loved it, and grabbed the next one as soon as I turned the last page."
—Django Wexler, author of The Thousand Names on Senlin Ascends

"Brilliant debut fantasy . . . This novel goes off like a firework and suggests even greater things in the author's future."
—Publishers Weekly, starred review on Senlin Ascends
We will be open on Memorial Day from 10 AM until 6 PM.
Free Media Mail shipping on U.S. orders over $50