The Once and Future Witches (Hardcover)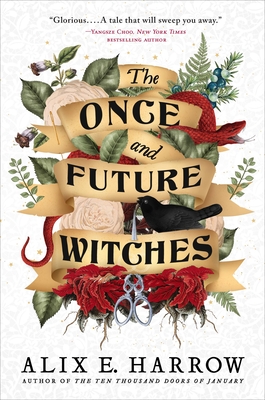 $28.00

Ships from warehouse to store in 3-6 business days
Staff Reviews
---
Alix E. Harrow's latest standalone novel about witchcraft, suffrage, and sisters in the late 19th century has solidified her as an auto-read author for me. If you love beautiful language, clever wordplay, and feminism, this book is the one for you. 
— Amber
November 2020 Indie Next List
---
"Alix Harrow's The Ten Thousand Doors of January was my favorite book last year, so I had incredibly high expectations when I picked up The Once and Future Witches. This book is very different, but I adore it just as much! Set in the late 1800s in a world with a slightly alternate history from ours, women are fighting for the vote and losing. Three wayward sisters decide to challenge the patriarchy by bringing back witchcraft. Told through familiar stories twisted in new ways, this book is incredible. You will not be able to put it down, from the beautifully written introduction to the pulse-pounding ending!"
— Carrie Deming, The Dog Eared Book, Palmyra, NY
Winter 2022 Reading Group Indie Next List
---
"Exhilarating and punchy, blurring the line of fantasy and reality. Great characters, a thoughtful take on history, and the clever use of classic fairy tales and nursery rhymes informing both spell and story."
— Tomoko Bason, BookPeople, Austin, TX
Description
---
"A gorgeous and thrilling paean to the ferocious power of women. The characters live, bleed, and roar. "―Laini Taylor, New York Times bestselling author

A NEW YORK TIMES BESTSELLER • Winner of the British Fantasy Award for Best Fantasy Novel • Named One of the Best Books of the Year by NPR Books • Barnes and Noble • BookPage

In the late 1800s, three sisters use witchcraft to change the course of history in this powerful novel of magic, family, and the suffragette movement. 

In 1893, there's no such thing as witches. There used to be, in the wild, dark days before the burnings began, but now witching is nothing but tidy charms and nursery rhymes. If the modern woman wants any measure of power, she must find it at the ballot box.

But when the Eastwood sisters―James Juniper, Agnes Amaranth, and Beatrice Belladonna―join the suffragists of New Salem, they begin to pursue the forgotten words and ways that might turn the women's movement into the witch's movement. Stalked by shadows and sickness, hunted by forces who will not suffer a witch to vote―and perhaps not even to live―the sisters will need to delve into the oldest magics, draw new alliances, and heal the bond between them if they want to survive.

There's no such thing as witches. But there will be.

An homage to the indomitable power and persistence of women, The Once and Future Witches reimagines stories of revolution, motherhood, and women's suffrage—the lost ways are calling.

Praise for The Once and Future Witches:

"A glorious escape into a world where witchcraft has dwindled to a memory of women's magic, and three wild, sundered sisters hold the key to bring it back...A tale that will sweep you away."―Yangsze Choo, New York Times bestselling author 

"This book is an amazing bit of spellcraft and resistance so needed in our times, and a reminder that secret words and ways can never be truly and properly lost, as long as there are tongues to speak them and ears to listen."―P. Djèlí Clark, author The Black God's Drum

For more from Alix E. Harrow, check out The Ten Thousand Doors of January.
About the Author
---
Alix E. Harrow is an ex-historian with lots of opinions and excessive library fines, currently living in Kentucky with her husband and their semi-feral children. She won a Hugo for her short fiction, and has been nominated for the Nebula, Locus, and World Fantasy awards. Find her at @AlixEHarrow on Twitter.
Praise For…
---
"A gorgeous and thrilling paean to the ferocious power of women. The characters live, bleed, and roar. I adore them, and long for witchcraft to awaken in all of us. Harrow makes it feel possible, and even likely."—Laini Taylor, New York Times bestselling author

"A glorious escape into a world where witchcraft has dwindled to a memory of women's magic, and three wild, sundered sisters hold the key to bring it back....A tale that will sweep you away."—Yangsze Choo, NYT bestselling author of Night Tiger and The Ghost Bride

"This novel cleverly connects the dots between the suffragist movement of the past to the Me Too movement of today. Compelling, exhilarating, and magical, The Once and Future Witches is a must-read."—Booklist (starred review)

"A radiant masterpiece of pure storytelling magic! Meet the Eastwood Sisters and prepare to take the best book vacation you will have in a long time."—Gwendolyn Womack, USA Today bestselling author of The Fortune Teller

"Drawn from folklore and history, ­Harrow's lyrical prose immerses readers in a story of power and secrets that is not easily ­forgotten."—Library Journal (starred review)

"The magical tale of imperfect heroines, fractured sisterhood, and shadowy undying villains you never knew you needed. Alix Harrow crafts a delightfully bewitching story with familiar but ingeniously recrafted histories and deft worldbuilding as rich as the prose that leaps off the page. This book is an amazing bit of spellcraft and resistance so needed in our times, and a reminder that secret words and ways can never be truly and properly lost, as long as there are tongues to speak them and ears to listen."—P. Djèlí Clark, author The Black God's Drum

"A love letter to folklore and the rebellious women of history."—Publishers Weekly

"This is a delightful, satisfying novel, a tale of women's battle for equality, of fairy tales twisted into wonderfully witchy spells, of magics both large and small, and history re-imagined. All of it is told in Alix Harrow's exquisite language and with her vivid characterizations-a great pleasure to read."—Louisa Morgan, author of A Secret History of Witches

"A breathtaking book-brilliant and raw and dark and complicated. It's also, to be blunt, uncannily relevant."—Sarah Gailey, author of Magic for Liars

"A brilliant dazzle of a book. This story of sisters and witches, memory and power cracked open my heart and set down roots there. I devoured it in enormous gulps, and utterly loved it."—Kat Howard, author of An Unkindness of Ghosts

Previous praise for Alix E. Harrow:
"A gorgeous, aching love letter to stories, storytellers and the doors they lead us through...absolutely enchanting." --Christina Henry, national bestselling author of Lost Boys and Alice on The Ten Thousand Doors of January
"One for the favorites shelf... Here is a book to make you happy when you gently close it. Here you will find wonder and questions and an unceasingly gorgeous love of words which compasses even the shape a letter makes against a page." --NPR Books on The Ten Thousand Doors of January
"Harrow has created a gorgeous world of magic that is at once familiar and startlingly new. With lush writing and a sense of wonder, The Ten Thousand Doors of Januaryexamines power, progress, and identity. It is an adventure in the best and grandest sense." --Erika Swyler, author of The Book of Speculation
"A love letter to imagination, adventure, the written word, and the power of many kinds of love." --Kirkus on The Ten Thousand Doors of January
"A magical, spellbinding saga... A fantastical journey of self-discovery that reveals the true power of our imagination." --Women's World on The Ten Thousand Doors of January
"The Ten Thousand Doors of January is both whimsical and smart, using engaging writing and a unique plot to touch on serious topics. Harrow's debut reads like a love letter to the art of storytelling itself, and readers will be eager for more." --Booklist
Free Media Mail shipping on U.S. orders over $75