The Ten Thousand Doors of January (Hardcover)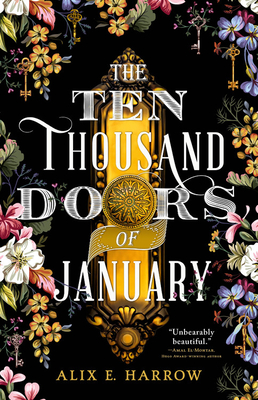 Staff Reviews
---
I am such a sucker for a portal fantasy, so picking up Ten Thousand Doors of January was a no-brainer.
The cover and the premise sucked me in, but it was the beautiful language that kept me reading long into the night, enthralled with January's adventures. A book-within-a-book also takes you on her parents' journey to each other. There are those who wish to forever shut all the Doors in our world, but January must stop them if she wants to find a way to her family. You'll want to follow her into every world she stumbles upon.
— Amber
Oh, I just loved this. It's a beautifully atmospheric novel with a fascinating new take on the portal trope. Every character was written so thoughtfully, even (perhaps especially) its villain. Ultimately, a beautiful exploration of other worlds, the importance of words, and what happens when you challenge power.
— Kaley
September 2019 Indie Next List
---
"This is one of the most beautifully written pieces of magical fiction I've ever read. I was obsessed with the book within the first two pages. Take an unforgettable journey with January Scaller through doors of lost worlds and heart-wrenching love stories. This book shows just how much power a story can hold, especially with the right storyteller at the helm. I could re-read this book countless times and still find new treasures that speak to me!"
— Alexa Butler, Beach Books, Seaside, OR
Description
---
"A gorgeous, aching love letter to stories, storytellers and the doors they lead us through...absolutely enchanting."--Christina Henry, bestselling author of Alice and Lost Boys
In the early 1900s, a young woman embarks on a fantastical journey of self-discovery after finding a mysterious book in this captivating and lyrical debut.
In a sprawling mansion filled with peculiar treasures, January Scaller is a curiosity herself. As the ward of the wealthy Mr. Locke, she feels little different from the artifacts that decorate the halls: carefully maintained, largely ignored, and utterly out of place.
Then she finds a strange book. A book that carries the scent of other worlds, and tells a tale of secret doors, of love, adventure and danger. Each page turn reveals impossible truths about the world and January discovers a story increasingly entwined with her own.
Lush and richly imagined, a tale of impossible journeys, unforgettable love, and the enduring power of stories awaits in Alix E. Harrow's spellbinding debut--step inside and discover its magic.
About the Author
---
Alix E. Harrow is a part-time historian with a full-time desk job, a lot of opinions, and excessive library fines. Her short fiction has appeared in Shimmer, Strange Horizons, Tor.com, Apex, and other venues. She and her husband live in Kentucky under the cheerful tyranny of their kids and pets. Find her at @AlixEHarrow on Twitter
Praise For…
---
"Many worlds, vanishing doors, mind-cracking magic: I clung to each page, searching for answers. This is one of the most unique works of fiction I've ever read!"—Tamora Pierce, New York Times bestselling author

"The Ten Thousand Doors of January begins as a simple adventure, but like its mysteriously transportive doors, leads deeper and deeper the further you read. Each page dazzles with things to be discovered: a mansion of priceless artefacts, a secret journal, a tantalizing quest through strange and beautiful places, and a love story that spans time, worlds, and magic. I couldn't put it down."—Peng Shepherd, critically acclaimed author of The Book of M

"A gorgeous, aching love letter to stories, storytellers and the doors they lead us through...absolutely enchanting."—Christina Henry, national bestselling author of Lost Boys and Alice

"Harrow has created a gorgeous world of magic that is at once familiar and startlingly new. With lush writing and a sense of wonder, The Ten Thousand Doors of January examines power, progress, and identity. It is an adventure in the best and grandest sense."—Erika Swyler, author of The Book of Speculation

"The Ten Thousand Doors of January is devastatingly good, a sharp, delicate nested tale of worlds within worlds, stories within stories, and the realm-cracking power of words."—Melissa Albert, New York Times bestselling author of The Hazel Wood

"The Ten Thousand Doors of January healed hurts I didn't even know I had. An unbearably beautiful story about growing up, and everything we fight to keep along the way."—Amal El-Mohtar, Hugo Award-winning author

"A love letter to imagination, adventure, the written word, and the power of many kinds of love."—Kirkus

"A gorgeously written story of love and longing, of what it means to lose your place in the world, and then have the courage to find it again. This book is a door I'm glad to have opened."—Kat Howard, author of An Unkindness of Magicians

"The Ten Thousand Doors of January is both whimsical and smart, using engaging writing and a unique plot to touch on serious topics. Harrow's debut reads like a love letter to the art of storytelling itself, and readers will be eager for more from her."—Booklist

"The Ten Thousand Doors of January is rich and poignant, angry and beautiful, by turns. Alix Harrow has written a stunning, unforgettable debut."—Gwenda Bond, New York Times bestselling author

"Every page of this smart, heartfelt expedition celebrates an abiding love of stories and slips between genres in wonderful ways. Readers are going to relish every sentence and surprise in this book--I know I did!"—Matthew Sullivan, author of Midnight at the Bright Ideas Bookstore

"A stunning debut novel with inventive worlds, sumptuous language and impeccably crafted details... Readers seeking a fresh fantasy with an enduring love story need look no further, and they'll be left wistfully hoping to stumble upon doors of their own."—BookPage

"To open this book is to open a Door to a brand new world that you'll never want to leave. With the masterful prose of a true Wordworker, Harrow has created a richly imagined, multi-layered narrative full of wonder, sorrow, and strength."—Jordanna Max Brodsky, author of The Wolf in the Whale

'Beautifully written. . . a wonderful, insightful, and imaginative book. I highly recommend it."—Josiah Bancroft, author of Senlin Ascends

"All the magic you once knew but have almost forgotten waits in these pages for you to discover again. With a masterful voice and a spellbinding story, reading The Ten Thousand Doors of January feels like coming back to a beloved childhood classic to find it unexpectedly grew up with you. It's a deeply satisfying pleasure to read, and lingers in your heart afterward. I loved it!"—Melissa Caruso, author of The Tethered Mage