This Will Make It Taste Good: A New Path to Simple Cooking (Hardcover)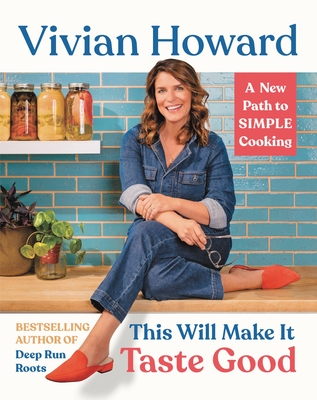 Description
---
An Eater Best Cookbook of Fall 2020

From caramelized onions to fruit preserves, make home cooking quick and easy with ten simple "kitchen heroes" in these 125 recipes from the New York Times bestselling and award-winning author of Deep Run Roots.
 
"I wrote this book to inspire you, and I promise it will change the way you cook, the way you think about what's in your fridge, the way you see yourself in an apron."

Vivian Howard's first cookbook chronicling the food of Eastern North Carolina, Deep Run Roots, was named one of the best of the year by 18 national publications, including the New York Times, USA Today, Bon Appetit, and Eater, and won an unprecedented four IACP awards, including Cookbook of the Year. Now, Vivian returns with an essential work of home-cooking genius that makes simple food exciting and accessible, no matter your skill level in the kitchen.
​
Each chapter of This Will Make It Taste Good is built on a flavor hero—a simple but powerful recipe like her briny green sauce, spiced nuts, fruit preserves, deeply caramelized onions, and spicy pickled tomatoes. Like a belt that lends you a waist when you're feeling baggy, these flavor heroes brighten, deepen, and define your food.

Many of these recipes are kitchen crutches, dead-easy, super-quick meals to lean on when you're limping toward dinner. There are also kitchen projects, adventures to bring some more joy into your life. Vivian's mission is not to protect you from time in your kitchen, but to help you make the most of the time you've got.

Nothing is complicated, and more than half the dishes are vegetarian, gluten-free, or both. These recipes use ingredients that are easy to find, keep around, and cook with—lots of chicken, prepared in a bevy of ways to keep it interesting, and common vegetables like broccoli, kale, squash, and sweet potatoes that look good no matter where you shop. 

And because food is the language Vivian uses to talk about her life, that's what these recipes do, next to stories that offer a glimpse at the people, challenges, and lessons learned that stock the pantry of her life.
About the Author
---
Vivian Howard is the New York Times bestselling author of Deep Run Roots, which was named Cookbook of the Year by the International Association of Culinary Professionals. She co-created and stars in the public television shows Somewhere South and A Chef's Life, for which she has won Peabody, Emmy, and James Beard awards. She runs the restaurants Chef and the Farmer, Benny's Big Time, Lenoir, and Handy & Hot. Vivian lives in Deep Run, North Carolina, with her husband, Ben, and their twins, Theo and Flo. 
Praise For…
---
Reading through Vivian Howard's This Will Make It Taste Good is like reading a cookbook by your real or imagined North Carolinian best friend... Howard's intended audience is the time-crunched kitchen novice, though a more experienced cook will surely find some useful tips, as well. Each section is based around a recipe that can be prepped in advance and then used throughout the week in a multitude of dishes...In any time, This Will Make It Taste Good would be a great help to those of us who prefer recipes that look and taste more complex than they are to prepare. That it happens to arrive at a moment when we're likely all sick of the contents of our fridges and our own culinary limitations is just a bonus.
—
Madeleine Davies
,
Eater
Simple and approachable doesn't mean boring here—there are plenty of colorful infographics for those who need a little coaxing to read a recipe, and it's all fun food: burgers crowned with glossy 'cheese toupees,' mouth-puckering pickle juice popsicles (picksickles, if you will), and four whole pages devoted to the savory umami bomb that is perfectly caramelized onions. And I mean it when I say this is for the no-cook crowd: for proof, just flip to the eggs softly scrambled in a cup in the microwave on page 190.
—
Epicurious
Howard's ability to weave story into her fantastic recipes is part of what makes me so excited for her next book coming out this fall. In "This Will Make It Taste Good," Howard solves everyday cooking dilemmas and provides next-level meal prep ideas (hello, great pantry staples).
—
The Kitchn
North Carolina chef, restaurateur, and PBS host Howard follows 2016's Deep Run Roots with a personal and playful introduction to her fare. Chapter titles and recipe names are upbeat and engaging (Herbdacious, Can-Do Kraut), and explained in a pun-packed, chatty voice. Dishes are introduced with frank confessions, including her struggle to correctly spell "hors d'oeuvre" and various kitchen failures... Howard's enthusiastic exploration of her life in and out of the kitchen shows her at her best and most delightful. 
—
Publishers Weekly
In her newest book, Howard brings that same storyteller sensibility—paired with serious restaurant-honed kitchen chops—to teach home cooks easily achievable building block recipes and techniques that lend an extra level of pleasure to the simplest dishes, while letting the ingredients shine through.
—
Kat Kinsman
,
Food & Wine
Chef Vivian Howard's last cookbook, Deep Run Roots, is an epic love letter to the foodways of Eastern North Carolina, where she grew up and eventually returned to launch several successful restaurants. Her new book, This Will Make It Taste Good, is less regionally focused but just as personal, as it explores home cooking and ways to make everyday dishes better.
—
Southern Living
Vivian dares to change the way people think about home cooking by introducing the concept of "flavor heroes"... That she gives her hero recipes names such as Little Green Dress and R-Rated Onions and her chapters titles like In Pursuit of Decadence and Snacktastic, gives you an idea of the personality in her approach. If you need further evidence, consider that she poses in the cookbook dressed as Rosie the Riveter while bearing a jar of homemade sauerkraut. Yes, you CAN do it!
—
Institute of Culinary Education