Paul McCartney: The Life (Paperback)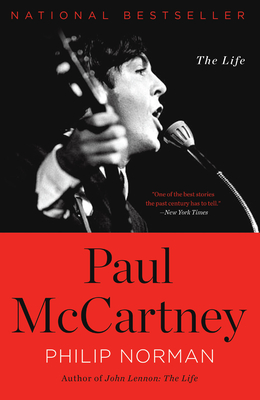 Description
---
The definitive Paul McCartney biography, written with his approval by bestselling biographer Philip Norman.

Since the age of twenty-one, Paul McCartney has lived one of the ultimate rock-n-roll lives played out on the most public of stages. Now, Paul's story is told by rock music's foremost biographer, with McCartney's consent and access to family members and close friends who have never spoken on the record before.

Paul McCartney reveals the complex character behind the favßade and sheds new light on his childhood -- blighted by his mother's death but redeemed by the father who introduced him to music. This is the first definitive account of Paul's often troubled partnership with John Lennon, his personal trauma after the Beatles' breakup, and his subsequent struggle to get back to the top with Wings -- which nearly got him murdered in Africa and brought him nine days in a Tokyo jail. Readers will learn about his marriage to Linda, including their much-criticized musical collaboration, and a moving account of her death. Packed with new information and critical insights, Paul McCartney will be the definitive biography of a musical legend.
About the Author
---
Philip Norman is the bestselling biographer of Buddy Holly, the Rolling Stones, John Lennon, Elton John, and Mick Jagger, and the author of the classic Beatles biography Shout! He is also a novelist and playwright. He lives in London.
Praise For…
---
One of Amazon's Best Books of the MonthA San Francisco Chronicle Holiday Gift Guide Pick

"An enormous and sympathetic book.... It's rich with detail about Mr. McCartney's philanthropy, his knighthood, his taste in country homes, his dabbling as a painter, a poet and a composer of classical music.... The story of its subject's life from his childhood in Liverpool through the breakup of the Beatles in 1970 has lost none of its ability to charm ... One of the best stories the past century has to tell."—Dwight Garner, New York Times

"Norman offers a fully-fleshed out biography . . . What Norman gets so very right are the feelings: the intense relationship between John and Paul with its curves and angles; the normality being a husband and father brought him; the improbability of being one of the most famous men in the world. The shelves are full of books about the Beatles, but fans will want to make room for this one."—Ilene Cooper, Booklist (starred)

"The most thorough and insightful biography of Paul McCartney to date.... Paul McCartney: The Life is loaded with wonderful passages, fascinating stories and cracking humor... A masterful account, the kind of biography fitting McCartney's continued prowess and genius. Or, as McCartney said at the end of one Beatles take, 'Keep that one. Mark it 'FAB.''"—Jeremy Mikula, Chicago Tribune

"Norman's portrait of McCartney is fascinating and exhaustive.... Norman lifts the curtain to show us the real guy."—William McKeen, Boston Globe

"A thorough, objective telling of McCartney's story--in and out of the most famous band ever. But it's also a breezy read, considering the tremendous ground it covers."—Jeff Slate, Esquire

"Norman is an enviably skilled pen-portraitist, with a consummate ability to conjure the presence of [McCartney].... A powerful sense of McCartney the man comes across in this book's evocative high points.... A capably executed biography, brimming with detail."—John Harris, The Guardian

"A compelling narrative about a working-class Liverpudlian whose extraordinary musical gifts made him the most successful songwriter in history... McCartney emerges from [the book] as a textured but decent man."—Graham Boynton, Newsweek

"Norman is thorough... and his book gives us a fuller McCartney than you'll find anywhere else."—Colin Fleming, Washington Post

"Norman shows McCartney in all his colors: artist, songwriter, genius, family man, and businessman... Even those of us with bookshelves full of Beatles books and libraries of bootleg recordings will be surprised by what they read in The Life."—Laurie Ulster, bio.

"The once-for-all-time record of the lad from Liverpool whose song lyrics and boyish good looks broke hearts and whose career after the Beatles was almost as successful as his time with them."—Henry L. Carrigan Jr., BookPage

"Norman's 2008 book John Lennon: The Life became the best single-volume work on its subject. Now, with this book, Norman has done the same for McCartney..."—Bob Ruggiero, Houston Press

"Where [the] book succeeds the most is bringing the reader into Mr. McCartney's private life... The most up-to-date account of Paul's life to yet appear."—The Economist

"Philip Norman's considered biography portrays the 'cute' Beatle in all his creative complexity and breadth."—Neil Spencer, The Guardian

"Norman sheds new light on well-known Beatles stories and then goes further, forging a thoroughly absorbing account of McCartney's life after the group's breakup.... The result is a tantalizing trip down the legend's own long and winding road."—Oprah Magazine

"Where Norman's depth of knowledge comes in handy is in his descriptions of the Beatles, and McCartney in particular, at work... His book conveys a strong enough sense of McCartney's temperament and life priorities to give readers a new understanding of how utterly they're reflected in his art."—Tom Carson, The Barnes & Noble Review

"Norman offers a surprising portrayal of a driven and even haunted artist--his biography reminds us why, more than 50 years after he achieved fame, the world is still singing along with McCartney's story."—Clarke Crutchfield, Richmond Times-Dispatch

"The musician's definitive and authoritative biography."—Publishers Weekly

"Vivid storytelling....In his seventies, Sir Paul is still outpacing those trying to tell his story. Nevertheless, Norman gets as close as anyone has."—Will Hermes, Rolling Stone

"The biography is full of interesting bits of information.... Mr. Norman reminds us that we should be truly grateful that the Magical Mystery Tour guided by Paul McCartney remains a gift that keeps on giving."—Glenn C. Altschuler, Pittsburgh Post-Gazette

"Norman is a good interviewer, and the book is charming when he lets his Liverpool sources speak about the days before The Beatles were inevitable."—Josh Tyrangiel, New York Times Book Review

"The agenda of Paul McCartney: The Life is clear: to give the enduringly popular, almost inconceivably successful former Beatle his due...[and] the book succeeds at that."—David Hajdu, The Nation

"Norman sheds new light on well-known Beatles stories and then goes further, forging a thoroughly absorbing account of McCartney's life after the group's breakup...The result is a tantalizing trip down the legend's own long and winding road."—The Huffington Post

"Mr. Norman has done his research... he has uncovered yet more material, and tells his story with flair."—Christopher Walsh, The East Hampton Star

"Well-researched... The more than 800-page biography covers others areas of McCartney's life including his time with the Beatles and Wings along with his children and wife Linda - and much more. Fans of the Beatles or Paul McCartney will enjoy this book."—Glenn Perrett
Free Media Mail shipping on U.S. orders over $50
Christmas ordering guidelines
"Ships from warehouse" items to be shipped: Order by Monday, 12/5
"Ships from warehouse" items to be picked-up in store: Order by Monday, 12/12
On hand items: We'll pull items in order of orders received, so keep them coming!