Spoils (Hardcover)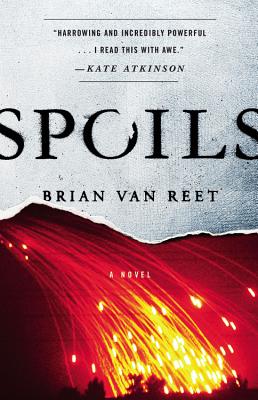 List Price: $28.00
Our Price: $26.00
(Save: $2.00 7%)
Available from warehouse in 1-5 business days
Staff Reviews
---
Brian Van Reet is the latest in a growing wave of authors who have rendered their experiences serving in Iraq and Afghanistan into powerful and important literature.  Told from the perspective of combatants on both sides of the war in Iraq, Van Reet's beautifully written debut novel is a thrilling page-turner as well as a reminder that for many who fought in these wars, there were no winners and losers.  Only losers.
— Tony
Summer 2018 Reading Group Indie Next List
---
"Spoils by Brian Van Reet shows that wars are not black and white but all kinds of shades of grey. This is a war story—dark, violent, morally ambivalent, and utterly captivating. Van Reet has created three very different characters on different sides of the divide but imbued each of them with stories and backgrounds that make sense, even if the war doesn't."
— Laura Cummings, White Birch Books, North Conway, NH
Description
---
"The finest Iraq War novel yet written by an American"-- Wall Street Journal, 10 Best Novels of the Year
"An electrifying debut" (The Economist) that maps the blurred lines between good and evil, soldier and civilian, victor and vanquished.
Longlisted for the Andrew Carnegie Medal for Excellence

It is April 2003. American forces have taken Baghdad and are now charged with winning hearts and minds. But this vital tipping point is barely recognized for what it is, as a series of miscalculations and blunders fuels an already-simmering insurgency intent on making Iraq the next graveyard of empires.

In dazzling and propulsive prose, Brian Van Reet explores the lives on both sides of the battle lines: Cassandra, a nineteen-year-old gunner on an American Humvee who is captured during a deadly firefight and awakens in a prison cell; Abu Al-Hool, a lifelong mujahedeen beset by a simmering crisis of conscience as he struggles against enemies from without and within, including the new wave of far more radicalized jihadists; and Specialist Sleed, a tank crewman who goes along with a "victimless" crime, the consequences of which are more awful than any he could have imagined.

Depicting a war spinning rapidly out of control, destined to become a modern classic, Spoils is an unsparing and morally complex novel that chronicles the achingly human cost of combat.


About the Author
---
Brian Van Reet was born in Houston. Following the September 11th attacks, he left the University of Virginia, where he was an Echols Scholar, and enlisted in the U.S. Army as a tank crewman. He served in Iraq under stop-loss orders, achieved the rank of sergeant, and was awarded a Bronze Star for valor. He has twice won the Texas Institute of Letters short story award. This is his first novel.
Praise For…
---
A Wall Street Journal Top Ten Book of 2017
A Guardian Best Book of the Year
Longlisted for the Center for Fiction First Novel Prize
An Amazon Best Book of the Month
An Indie Next Pick

"Original, deftly plotted and incisively intelligent.... Van Reet occupies these sparring perspectives with impressive balance and dispassion, avoiding the sense of victimhood that often saturates fiction about American soldiers in Iraq. Though the novel offers no pat resolutions, a strange and surprising connection emerges between captive and captors."
—Sam Sacks, Wall Street Journal


"A wondrously nuanced book.... There is something deeply human here--a story concerned first and foremost with the souls of those who find themselves protagonists in history's darkest chapters."
—Omar El Akkad, author of American War


"A book of inescapable vows and unintended consequences.... SPOILS moves into fresh territory.... The sensory depth and description of place is perfect throughout.... This is a raw study in the ruin of men. It's unapologetic and confessional, showing the flaws in humanity just below the skin.... Every character fears failure, isolation and powerlessness, the American occupation creating a kind of universal captivity. Van Reet shows that no one wins a war like this, and, at some point, everyone fighting in it knows."
—Washington Post


"This vivid debut from a former soldier, about the capture of marines from an Islamist militia, captures the valor, horror and absurdity of conflict.... Van Reet's assured debut novel begins with one of the best opening chapters I've read for ages.... The strengths of this excellent book are all on show in these tight 15 pages: the vivid observation, the nuance of its character, the deep familiarity with the processes of waging war.... Spoils feels not only rewarding, but necessary."
—Guardian

"Brian Van Reet's beautiful, intense, and at times disturbing novel Spoils traces the motivations and desires of combatants on both sides of the Iraq War, showing us what happens when increasing violence and chaos start to warp the choices they're able to make."—Phil Klay, author of Redeployment

"Moving immediately into the pantheon of first-rate war novels, Spoils reads like a nightmare within a tragedy, a story that is both touchingly classic and brutally modern. This is a definitive record of the war that marked the end of the American Empire. One of the best novels of our time in the Middle East."—Philipp Meyer, author of The Son and American Rust

"With Spoils Brian Van Reet has given readers an intensely moving novel. That it is also a nearly comprehensive examination of our modern wars is a remarkable demonstration of both the power and relevance of fiction."—Kevin Powers, author of The Yellow Birds

"I read this with awe. Spoils is a harrowing and incredibly powerful debut which shows war in all its complexity and viciousness and which attempts to humanize it through extraordinary and conflicted characters. The female soldier Cassandra Wigheard is superbly drawn and her relationship with the young Jihadist will stay with me for a long time."
—Kate Atkinson, bestselling author of A God in Ruins


"The brilliance of Brian Van Reet's Spoils lies not only in the sheer forward-motion velocity of its plotting, but in the psychological terrain it explores: what a generation of young women and men went looking for in Iraq, what they found, and why that discovery matters so profoundly for the rest of us."
—Anthony Giardina, author of Norumbega Park


"Vivid and fierce, Spoils is an eloquent exploration of humanity. Depicting a world with no obvious villains or heroes, this novel is as important as it is timely. By exploring the nuances of motivation, loyalty, and sacrifice, Van Reet exposes the connections that bind us across even the greatest divides."
—Virginia Reeves, author of Work Like Any Other


"Clear, authentic and beautifully written, Spoils is a book about war for people who don't like books about war. Van Reet gives us a thriller that is not a thriller, but a grave and fierce description of the moral battlefield behind the headlines from Iraq."
—Anne Enright, author of The Green Road and The Gathering


"A superb debut."
—The Guardian


"Van Reet's lean prose accommodates a laconic style suggesting military reports and detail-rich context fed by a keen eye and memory. He embeds the reader with the unwashed troops in a cramped Humvee, in a dark cell where only screams penetrate, and in the mind of a Muslim fighters with two decades of campaigning, a dead son, lost wife, scant wins, and more doubts than faith can ease. A fine piece of writing that should stand in the front ranks of recent war novels."—Kirkus (starred review)

"In straightforward, often powerful prose, Van Reet captures the Iraq War as Tim O'Brien did Vietnam.... Cassandra's captivity is the focus of much of the novel, and Van Reet captures her experience vividly and terrifyingly. Seeing the conflict through a woman's eyes is a compelling approach and deserves attention."—Booklist

"Van Reet's unsettling tale is an authentic portrayal of combat with its chaos, fear, and finality of death. It is also a sobering commentary on war's brutality and the burning intensity of Iraq's jihadist insurgency."—Publishers Weekly

"Spoils is not just the well-described ambiance of the sand, heat, rains and stench of war, with its course soldier talk and extravagant weaponry--it's also a damn fine story.... In every war, heroism is not just for those who win medals. Spoils is the story of those who rise to small acts of valor while no one is looking."
—Shelf Awareness


"In his debut novel, Brian Van Reet sets his characters on a collision course amidst the chaos of the early stages of the Iraq War.... As the story unfolds, flesh and convictions are pitted against each other, drawing blood with every inch surrendered.... At its core, Spoils is a narrative of intertwining struggles, with each character bound and trapped by the Iraq War in one way or another. The storytelling is both intense and surreal.... In time, Van Reet's Spoils may become a classic of the Iraq War."
—Foreign Policy


"Stunning.... It has the ring of absolute authenticity, and Van Reet clearly articulates the violent mechanics of modern warfare. But this is, above all, a human story, a psychological drama between ideologically opposed captor and captive played out in the fog of war. A powerful and compelling narrative."—Mail on Sunday


"With echoes of hit TV shows and movies from Homeland to Hurt Locker, Van Reet's debut works equally well as a geopolitical action-thriller and a literary novel.... But it also carries a philosophical heft and emotional wallop.... Spoils is beautifully written, too: Van Reet has a way of capturing the essential nature of things in just a few words, expressive but tightly wound."—Independent

"Electrifying.... Spoils is a timely novel with striking relevance to the current war in Syria, increasingly shaped and sustained by foreign interests and intervention.... Van Reet paints a harrowing picture of the dangers of propaganda and the true cost of "collateral damage". At a time when political rhetoric is exacerbating divisions worldwide, this is a novel with an urgent message."—Economist