The Memory Book (Paperback)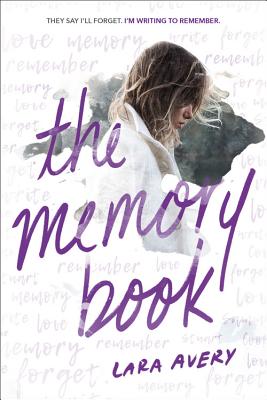 Description
---
Perfect for fans of Everything, Everything and Five Feet Apart, a bittersweet story of love and loss, told one journal entry at a time.

Sammie McCoy is a girl with a plan: graduate at the top of her class and get out of her small town as soon as possible. Nothing will stand in her way-not even the rare genetic disorder the doctors say will slowly steal her memories and then her health.

So the memory book is born: a journal written to Sammie's future self. It's where she'll record every perfect detail of her first date with longtime-crush Stuart, and where she'll admit how much she's missed her childhood friend Cooper. The memory book will ensure Sammie never forgets the most important parts of her life-the people who have broken her heart, and those who have mended it. If Sammie's going to die, she's going to die living.
About the Author
---
Lara Avery is the author of A Million Miles Away and Anything But Ordinary. She lives in Minneapolis, Minnesota, where she is a contributor at Revolver and at work on her next novel.
Praise For…
---
Praise for The Memory Book:
* "Sammie's narrative voice is sardonic, distinctive, wildly intelligent, and sometimes hilarious...Readers will feel her mind and heart shifting with the illness. Indelible." —
Kirkus Reviews (starred review)
* "Sammie's voice is a bright, relatable, and uncompromising one...Strengths abound in Avery's touching novel, and Sammie's relationships, both friendly and romantic, are no exception...Fans of John Green's work and Jennifer Niven's
All the Bright Places
will be reaching for the tissue box at the book's tear-inducing end."—
School Library Journal (starred review)
* "Avery (
Anything but Ordinary
) crafts an emotionally charged story about a young woman who has kept her eyes trained on the future, only to learn that all she has is now...Avery's novel stands out for its strong characters, a heartbreaking narrative that shifts to reflect Sammie's condition, and a love story that will leave many readers in tears."—
Publishers Weekly (starred review)
* "Avery brings an emotional honesty to Sammie's narrative.... Teens will be inspired by Avery's heart-rending story about a special and intelligent young woman coping with a devastating disease--a story buoyed by the strong love of family flowing through Sammie's narrative and by an exquisite love story in which Sammie experiences happiness with Coop."
—
VOYA (starred review)
"Avery (
A Million Miles Away
, 2015) balances humor and devastating sadness perfectly. Sammie's voice is sympathetic but not pitiful as she relates her hopes for the future and thoughts on the past...a story of self discovery that's hard to put down."—
Booklist
"A worthy foray into the smart-dying-teen territory of John Green et al...a story that invites empathy, awareness of a tragic disease, and self-reflection for those who still have memories to make."
—
BCCB
"[A] heartfelt, funny and bittersweet new novel...a memorable read, indeed."
—
BookPage
"Things you will probably experience while reading this wonderful book: gut-wrenching hope, ugly-crying, the joy of finding beautiful moments in the midst of difficult times. Enjoy."
—
Adi Alsaid, author of Let's Get Lost and Never Always Sometimes
"Lara Avery's brilliant novel about a girl who learns that her life might be ending--just when it feels like it's finally getting started--will open your heart and very possibly break it. Fierce Sammie McCoy is an unforgettable heroine, and as soon as I closed this book, I started to miss her. I still do."
—
Emily Raymond, co-author with James Patterson First Love
"In Sammie McCoy, Avery has created a character that completely vibrates with energy. And Sammie's so wicked smart, you almost believe she will overcome everything. But that's not what this book's about. At some point possibility ceases to matter and Avery shows us to love all we already have. Such a moving read."
—
Geoff Herbach, author of Stupid Fast and Fat Boy vs. the Cheerleaders