A Carnival of Snackery: Diaries (2003-2020) (Paperback)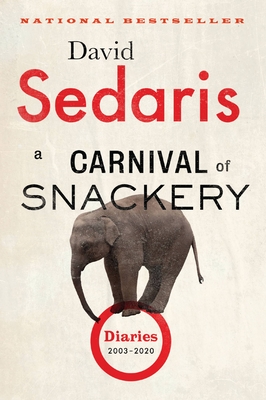 Staff Reviews
---
I always start a new David Sedaris book with a little trepidation: "Can I possibly love this one as much as the last? One day he's bound to disappoint me."  Maybe one day he will, but not this time. A Carnival of Snackery is 578 pages of merciless observation of those David encounters over the last 17 years, but, most mercilessly, himself. Included are many hilarious conversations with his fans at signings (hours of which I've had the privilege to observe) as he asks them questions only he could come up with. If you've ever been to a David Sedaris event you know what I'm talking about. And you might be in this book! What brings it all together is the kindness and love for family, and other humans, that shine through his shrewd depictions. A perfect book to snack on.
— Sarah
Description
---
A New York Times Book Review Editors' Choice: There's no right way to keep a diary, but if there's an entertaining way, David Sedaris seems to have mas­tered it.
 
If it's navel-gazing you're after, you've come to the wrong place; ditto treacly self-examination. Rather, his observations turn outward: a fight between two men on a bus, a fight between two men on the street, pedestrians being whacked over the head or gathering to watch as a man considers leap­ing to his death. There's a dirty joke shared at a book signing, then a dirtier one told at a dinner party—lots of jokes here. Plenty of laughs.
 
These diaries remind you that you once really hated George W. Bush, and that not too long ago, Donald Trump was just a harm­less laughingstock, at least on French TV. Time marches on, and Sedaris, at his desk or on planes, in hotel dining rooms and odd Japanese inns, records it. The entries here reflect an ever-changing background—new administrations, new restrictions on speech and conduct. What you can say at the start of the book, you can't by the end. At its best, A Carnival of Snackery is a sort of sampler: the bitter and the sweet. Some entries are just what you wanted. Others you might want to spit discreetly into a napkin.
About the Author
---
David Sedaris is the author of thirteen books, including Happy-Go-Lucky, A Carnival of Snackery, and The Best of Me. He is a regular contributor to The New Yorker and BBC Radio 4. In 2019, he was inducted into the American Academy of Arts and Letters. He is the recipient of the Thurber Prize for American Humor, the Jonathan Swift International Literature Prize for Satire and Humor, and the Terry Southern Prize for Humor.
Praise For…
---
Praise for A Carnival of Snackery:

"Sedaris is a singularly talented humorist who lands acerbic zingers with the calculating precision of a kamikaze pilot… Throughout the colorful, caustic yarns that fill his best-selling essay and story collections, he's maintained league-of-his-own status by staying light on his feet: Just when you're expecting a wry jab, he clocks you with a poignant gut punch."—Rachel Rosenblit, Washington Post

"Like Sedaris's exquisitely crafted personal essays, his diary entries explore odd hairstyles, blandly aggressive post office interactions, airport bureaucracy and the non sequiturs of small talk: micro-topics he elevates to their own pedestals of meaning and humor."—New York Times Editors' Choice

"Uproarious… a must for Sedaris fans."—Lesley Kennedy, CNN

"Mesmerizing and jolting… Sedaris' shrewdly sketched world travelogue, hilarious anecdotes, and frank reflections on loved ones, and life's myriad absurdities and cruelties major and minor, make for a delectably sardonic, rueful, and provocative chronicle… fans don't want to miss a word."—Donna Seaman, Booklist

"A rich trove for hardcore Sedaris fans."—Kirkus Reviews

Praise for Theft by Finding:

"Sedaris is no ordinary diarist. He's more like a private detective, sneaking around and capturing his subjects in moments when they think no one is looking."—Fiona Maazel, O, The Oprah Magazine

"Finding meaning and humor in life's interstices… is Sedaris's unique genius as a writer… What is fascinating about this book is that narrative coherence is not apparent from one sentence or paragraph to the next but emerges through the sequence of entries over many years."—David Takami, Seattle Times

"Sedaris fans will thrill to this opportunity to poke around in the writer's personal diaries, which he has faithfully kept for four decades and used as raw material for his hilarious nonfiction as well as his performances."—Paul S. Makishima, Boston Globe

"Perhaps his most intimate book… Sedaris has become a reigning master of crystalline social commentary and blisteringly humorous self-reflection."—Lauren Christensen, Los Angeles Times

"Randomly open to any page and you'll find a gem… Sedaris's gift is to make you stop and think one moment and laugh out loud the next."—Rob Merrill, Associated Press
We will be open on Memorial Day from 10 AM until 6 PM.
Free Media Mail shipping on U.S. orders over $50