Never Out of Season: How Having the Food We Want When We Want It Threatens Our Food Supply and Our Future (Hardcover)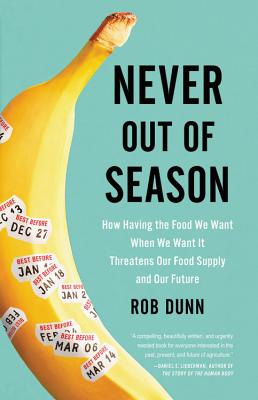 Description
---
The bananas we eat today aren't your parents' bananas: We eat a recognizable, consistent breakfast fruit that was standardized in the 1960s from dozens into one basic banana. But because of that, the banana we love is dangerously susceptible to a pathogen that might wipe them out.

That's the story of our food today: Modern science has brought us produce in perpetual abundance once-rare fruits are seemingly never out of season, and we breed and clone the hardiest, best-tasting varieties of the crops we rely on most. As a result, a smaller proportion of people on earth go hungry today than at any other moment in the last thousand years, and the streamlining of our food supply guarantees that the food we buy, from bananas to coffee to wheat, tastes the same every single time. Our corporate food system has nearly perfected the process of turning sunlight, water and nutrients into food.

But our crops themselves remain susceptible to the nature's fury. And nature always wins. Authoritative, urgent, and filled with fascinating heroes and villains from around the world, Never Out of Season is the story of the crops we depend on most and the scientists racing to preserve the diversity of life, in order to save our food supply, and us.
About the Author
---
Rob Dunn is a professor in the Department of Applied Ecology at North Carolina State University and in the Natural History Museum of Denmark at the University of Copenhagen. He is the author of The Man Who Touched His Own Heart, The Wild Life of Our Bodies, and Every Living Thing, and his magazine work is published widely, including in National Geographic, Natural History, New Scientist, Scientific American, and Smithsonian. He has a PhD from the University of Connecticut and was a Fulbright Fellow. He lives in Raleigh, North Carolina.
Praise For…
---
Praise for Never Out of Season
"Once again Rob Dunn shows how relevant knowledge of natural history and ecology is to the environment and to the details of our personal lives."—
Edward O. Wilson, University Professor Emeritus, Harvard University
"This is a compelling, beautifully written and urgently needed book for everyone interested in the past, present and future of agriculture. By weaving together science, history and biography, Dunn will transform how you think about sustainability in an increasingly complex and precarious world in which we rely on just a few industrial crops to feed more than seven billion people."
—
Daniel E. Lieberman, author of The Story of the Human Body
"Part cautionary tale and part call to arms, Rob Dunn's new book vividly exposes the vulnerability of our most important crops. An alarming and illuminating read."
—
Thor Hanson, author of The Triumph of Seeds
"Rob Dunn is master story-teller with an insatiable curiosity, an old soul, and an absolute love of science and history. In 'Never out of Season' Rob combines these qualities with his deep knowledge of natural history, evolutionary biology and human behavior. The result is a book that is both of profound importance, and impossible to put down."
—
Josh Tewksbury, Future Earth Research Professor, University of Colorado
"
Never Out of Season
is an extraordinary achievement. In it, Dunn tells the story of the most important of all human endeavors from the perspective of an ecologist. He celebrates our successes and draws lessons from our follies with equal parts humor and wit."—
Colin Khoury, International Center for Tropical Agriculture
"Nature is threatened, by our simplification of the Earth. But, as Dunn makes clear in this soon to be classic page turner of a book, this simplification of nature makes us ever more rather than less dependent on nature. This is a lesson we need to heed now at a time in which our bananas, but also our wheat, our cassava and even the rubber in our tires is threatened like never before. Everyone who eats should read
Never Out of Season
."—
Paul R. Ehrlich, author of Human Natures
"Forget about cooking books. This is the most important book you will read about food this year. Every single page has surprising facts and insights. The health of the planet depends on us eating more plants. But the monoculture of our foods that dominates global crops could have disastrous effects if we don't begin to think differently.
Never Out of Season
will change forever the way you look at a potato, a banana, or your chocolate bar."—
Peter C. Kjærgaard, Museum Director and Professor of Evolutionary History, Natural History Museum of Denmark
"Over the last decade, Rob Dunn has emerged as the most refreshing and exciting interpreter of the natural sciences on the planet, bringing nature writing into fresh territory with wonder, humor and verve. In
Never Out of Season
, he suggests that whether or not we embrace or disgrace the diversity and seasonality of foods on this planet can ultimately make or break our food system and our life support system as a whole. He does so not with the rhetorical polemics of a strident foodie, but with a storyteller's sense of what can move our minds, hearts and palates to embrace place-based and seasonally-in-step diets that will enrich our senses without depleting the earth's bounty. Rob's capacity to open our minds and senses to other possibilities makes him my favorite literary naturalist; let him become yours, and you will not regret it."—
Gary P. Nabhan, agricultural ecologist, author, and recipient of the Vavilov Medal
"Engrossing... [Dunn] mediates on the humility with which his colleagues and forebears have preserved the planet's botany... shows how we have been spared catastrophe by legions of unsung heroes and heroines working across a range of crops, from cassava to cocoa to rubber to wheat."
—
Raj Patel, New York Times
"A convincing argument that the agricultural revolution that has made food more readily available around the world contains the seeds of its own destruction.... An alarming account but one suggesting that, armed with knowledge, we can reverse this way of treating the plants that feed us and find a way toward a more sustainable diet."
—
Kirkus
"Dunn... cautions against monoculture in this cogent and optimistic examination of our food system, arguing that having whatever food we want whenever we want isn't necessarily a good thing.... That scientists and researchers continue to play significant roles in the fight for agricultural diversity and sustainability gives Dunn hope."
—
Publishers Weekly
"Thoroughly researched... accessible.... Recommended for anyone interested in agriculture, agricultural history, food science, or general biology."
—
Library Journal
"Thought-provoking.... Well researched historically and scientifically, this admonitory book on the future of our foodways is an interesting read on agricultural sustainability."
—
Booklist
"Dunn weaves together powerful historical and modern examples to show that the safety of our global food supply rests on the edge of a knife."
—
Andrea Gawrylewski, Scientific American
"Fascinating -- if chilling -- look at how monoculture threatens our food supply."
—
Richard A. Marini, San Antonio Express-News
"NEVER OUT OF SEASON outlines how streamlining our crops-breeding the hardiest, best tasting varieties to be seemingly never out of season-has left our food supply without diversity and dangerously susceptible to nature's pathogens."
—
Food Tank
"[Dunn's] message is clear and timely: scientists, governments and consumers must work together to preserve and improve a diverse, resilient food supply in a rapidly changing world."
—
Shelf AwarenessPraise for The Man Who Touched His Own Heart
"These true stories about the heart pulsate with information and intrigue."—
Tony Miksanek, Booklist (starred review)
"This delightful book is a page-turner, whose pulse never slows. In Dunn's hands, the evolution and history of the human heart is as engrossing, surprising, and vital as the heart itself."
—
Dan Lieberman, Professor of Human Evolutionary Biology at Harvard University and author of The Story of the Human Body
"Dunn's books are always lively, informative, and full of fascinations, but
The Man Who Touched His Own Heart
is especially so, because he goes straight to the little-known history, medicine, and heart of our most symbolic organ."—
Diane Ackerman, author of The Human Age
"A perfect mix of science, history and biology,
The Man Who Touched His Own Heart
is a delightful page-turner that reminds us of all that we have learned by standing on the shoulders of giants. Dunn recognizes the importance of historical and comparative perspectives -- historical in terms of our intellectual ancestors, and more broadly in terms of our evolutionary history."—
Charles Nunn, Professor of Evolutionary Anthropology and Global Health at Duke University and author of The Evolution of Sleep
"Dunn reminds us that the heart remains a fascinating, far-from-understood organ with an incredible biologic and cultural history.... A clear, engaging account of the heart's long and gruesome history.... Dunn is an impressive storyteller."
—
Bret Stetka, Slate
"In this story of one of the body parts I worry about most, Rob Dunn brings the skills of a great writer and the knowledge of a fine evolutionary biologist together in the form of a gripping drama that gallops across thousands of years and from graveyard to surgical theatre to modern doctor's office. In the process Dunn sheds light not just on our own hearts but also those of all of the other animals with which we share Earth."
—
Paul R. Ehrlich, co-author of The Population Bomb and Hope on Earth
"The writing in this book is clear and understandable.... An extensive collection of medical anecdotes and fascinating history.... I would recommend it to anyone who is interested in the heart, in medical history, or in dramatic and improbable stories from the field of medicine."
—
Yevgeniya Nusinovich, Science
A "fascinating book on the mysteries of the human heart.... Rob Dunn's
The Man Who Touched His Own Heart
shows that the organ's complexities extend beyond the science."—
Sam Kean, Wall Street Journal