FREE Media Mail shipping on eligible items! We are open for browsing by appointment from 10am-7pm M-S and 10am-6pm Sundays. Email books@quailridgebooks.com for a reservation. Phones may not be answered due to high volume of calls.
Picnic in Provence: A Memoir with Recipes (Paperback)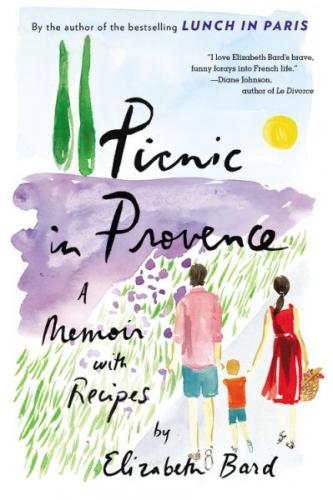 Staff Reviews
---
What a delicious memoir of a New Yorker, now married to a Frenchman and living in the south of France! The couple impulsively buys a quirky old house that belonged to famous poet. They become parents, Gwendal leaves his job, and they open a specialty ice cream shop. This fascinating combination of history, cultures, cuisine (wonderful recipes included) and small town life is at once funny, touching, honest, and totally engaging. I loved it.
— Carol
While on vacation in Provence, the author, an American, and her French husband fell in love with an old house. On a whim, they decided to buy it and move into it.  From charming detail to big picture, Bard recounts the challenges and joys of redefining home in a small village and making a living there. A journalist and a cook, Bard ends chapters with recipes using local foods, and spices it all with plenty of humor and liveliness. 
— Carol
Description
---
The bestselling author of Lunch in Paris takes us on another delicious journey, this time to the heart of Provence.

Ten years ago, New Yorker Elizabeth Bard followed a handsome Frenchman up a spiral staircase to a love nest in the heart of Paris. Now, with a baby on the way and the world's flakiest croissant around the corner, Elizabeth is sure she's found her "forever place." But life has other plans.

On a last romantic jaunt before the baby arrives, the couple take a trip to the tiny Provencal village of Céreste. A chance encounter leads them to the wartime home of a famous poet, a tale of a buried manuscript and a garden full of heirloom roses. Under the spell of the house and its unique history, in less time than it takes to flip a crepe, Elizabeth and Gwendal decide to move-lock, stock and Le Creuset-to the French countryside.

When the couple and their newborn son arrive in Provence, they discover a land of blue skies, lavender fields and peaches that taste like sunshine. Seduced by the local ingredients, they begin a new adventure as culinary entrepreneurs, starting their own artisanal ice cream shop and experimenting with flavors like saffron, sheep's milk yogurt and fruity olive oil.

Filled with enticing recipes for stuffed zucchini flowers, fig tart and honey and thyme ice cream, Picnic in Provence is the story of everything that happens after the happily ever after: an American learning the tricks of French motherhood, a family finding a new professional passion, and a cook's initiation into classic Provencal cuisine. With wit, humor and scoop of wild strawberry sorbet, Bard reminds us that life-in and out of the kitchen-is a rendez-vous with the unexpected.
About the Author
---
Elizabeth Bard is an American journalist and author based in Provence, France, where her second book, Picnic in Provence: A Memoir With Recipes, took place. Her first book, Lunch in Paris: A Love Story with Recipes has been a New York Times and international bestseller, a Barnes & Noble "Discover Great New Writers" pick, and the recipient of the 2010 Gourmand World Cookbook Award for Best First Cookbook (USA).
Praise For…
---
Praise for PICNIC IN PROVENCE

"This charming follow-up to the author's bestselling Lunch in Paris....bring[s] the tastes of Provence off the page and onto your table." --Woman's Day

"Like the Provençal food and lifestyle it celebrates, Bard's book is one to be savored slowly and with care. Delectable reading." --Kirkus Reviews

"Funny, sassy, and bittersweet: a heart-warming story with a delightful foodie twist. After all, who wouldn't want to run away, marry a Frenchman, and open an 'adventurous ice cream' store in a medieval Provençal village?" --Karen Le Billon, author of French Kids Eat Everything

"I was entranced by PICNIC IN PROVENCE from Elizabeth Bard's very first encounter with spring asparagus in the French countryside. Her tale of delicious adventure left me drooling-and her sensitive thoughts on marriage and motherhood were like a heartfelt conversation with a true friend. A delightful book, filled with humor, heart, and the heady scent of lavender." --Ann Mah, author of Mastering the Art of French Eating

"I love Elizabeth's brave funny forays into French life." --Diane Johnson, author of Le Divorce

"A delicious journey through La Belle France...funny, insightful, wicked and wise, and the cherry on top is the delicious recipes." --Jamie Cat Callan, author of French Women Don't Sleep Alone

"Talk about the sweet life: Elizabeth Bard's new chapter is filled with love, parenthood and her very own ice cream shop, and she graciously shares the journey with a salty swirl of intelligence and humor." --Amy Thomas, author of Paris, My Sweet

"Once again, Elizabeth Bard welcomes us into a fantasy-this time, family life in a charming old house in the south of France. With its sharing of stories and recipes, PICNIC IN PROVENCE is a friendship that deepens with every page." --Suzan Colón, author of Cherries in Winter

"With funny, sharp, and insightful writing, not to mention a collection of delectable recipes, Bard reminds us what is important and that nothing's perfect." --Michelle Gable, author of A Paris Apartment

"A journey to the true heart and soul of living 'la vie française.' Warm, thoughtful, and beautiful--a memoir to be savored one delicious chapter (and recipe) at a time. From truffle hunting to harvesting saffron, readers will discover that there is way more to France than just Paris. The simple things in life-love and cooking with love-make every struggle and adjustment worth it. Bon app!" --Samantha Vérant, author of Seven Letters from Paris

"This book takes delightful twists and turns. Not unlike the winding roads of Provence. Magnifique!" --Janice MacLeod, author of Paris Letters