The Secret Rescue: An Untold Story of American Nurses and Medics Behind Nazi Lines (Paperback)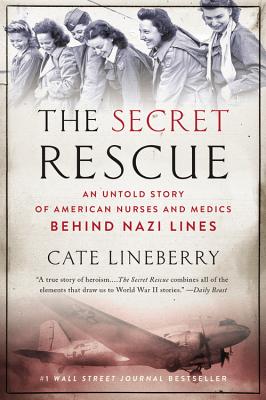 Staff Reviews
---
It was known that a transport plane with nurses and medics had crashed in Nazi-held Albania and that they had been rescued.  It was not known what happened in between.  The details of that journey were kept secret until the 1990s when Communism crumbled in Albania and the brave people, who risked their lives to help the Americans, were no longer at risk.  This is a heartpounding story of courage under harrowing circumstances and one that no will forget.
— Rene
Description
---
The compelling untold story of a group of stranded U.S. Army nurses and medics fighting to escape Nazi-occupied Europe.

When 26 Army nurses and medics-part of the 807th Medical Air Evacuation Transport Squadron-boarded a cargo plane for transport in November 1943, they never anticipated the crash landing in Nazi-occupied Albania that would lead to their months-long struggle for survival. A drama that captured the attention of the American public, the group and its flight crew dodged bullets and battled blinding winter storms as they climbed mountains and fought to survive, aided by courageous villagers who risked death at Nazi hands to help them.

A mesmerizing tale of the courage and heroism of ordinary people, The Secret Rescue tells not only a new story of struggle and endurance, but also one of the daring rescue attempts by clandestine American and British organizations amid the tumultuous landscape of the war.
About the Author
---
Cate Lineberry is a former staff writer and Europe editor for National Geographicandthe web editor of Smithsonian, and her work has appeared in the New York Times. She lives in the greater Washington, DC, area.
Praise For…
---
Finalist for the 2014 Edgar Award: Best Fact Crime

Finalist for Anthony Award for Best Critical or Non-Fiction Work

"Meticulously recounted by Lineberry. Survivalists and history buffs will relish the daily escapades of this heroic American contingent." -- Publishers Weekly

"American nurses and medics, trapped behind enemy lines, hungry and haggard, dodging Nazis, hope dimming as winter gains strength. In Cate Lineberry's gifted hands, the true story of The Secret Rescue is a gripping and suspenseful tale, alive with rich details that carry readers along every step of this remarkable journey." -- Mitchell Zuckoff, author of Lost in Shangri-La and Frozen in Time

"Cate Lineberry has written a touching, thrilling, completely engrossing story of great courage under harrowing circumstances. This is a World War II story that few people have ever heard, but, after reading this book, no one will forget." -- Candice Millard, author of The River of Doubt and Destiny of the Republic

"Cate Lineberry has unearthed a little-known episode of World War II that has all the elements of a classic escape adventure. Carefully researched and compellingly told, The Secret Rescue is a suspenseful story of courage, audacity, and endurance behind enemy lines. I couldn't stop reading it." -- Gary Krist, author of City of Scoundrels

"The book combines all of the elements that draw us to WWII stories: the daring of The Guns of Navarone, the suspense of The Great Escape, and the bravery reminiscent of Ill Met by Moonlight. It's the inclusion of so many women, though, that makes this story unique." -- The Daily Beast

"A page turner." -- Medford Mail Tribune

"An impressive feat of history." -- Johns Hopkins Magazine

"The author crisply recounts the harrowing escape of 26 Army medics and nurses who crash-land in Nazi-occupied Albania in 1943 and struggle to survive a brutal winter." -- AARP The Magazine

"Drawing on recent interviews with the sole surviving member of the group, previously classified information, archives, and published and unpublished memoirs, Lineberry deftly describes the Americans' struggles yet doesn't stoop to unnecessary drama or emotion. She shows the group's bravery but also their frustrations, despair, and debilitating lack of understanding of Albanian culture." -- Library Journal

"The Secret Rescue is a well-written and exciting book about heroism and endurance and the complexity of partisan operations during World War II." -- The Bowling Green Daily News

"Lineberry has done us all a great service in rescuing this story... The exciting and grueling story is unique, among other things, for the women who took part in it... This is a welcome documentation, exciting and detailed, of a small but forgotten victory within the larger one." -- The Commercial Dispatch

"A thrilling wartime story...The story of the nurses and how they shared hardships with their male counterparts adds a special dimension to this World War II account." -- History News Network

"The Secret Rescue is narrative history at its best. Cate Lineberry uncovers a fascinating, long-forgotten drama that captured the world's attention during the darkest days of World War II and transforms it into a gripping story of courage under fire." -- Daniel Stashower, author of The Hour of Peril: The Secret Plot to Murder Lincoln Before the Civil War

"Cate Lineberry's The Secret Rescue is the kind of great story that makes you wonder, 'How come I didn't know about this?' A thrilling story of courage behind enemy lines." -- Christopher S. Stewart, author of Jungleland: A Mysterious Lost City, a WWII Spy, and a True Story of Deadly Adventure

"Lineberry takes us into a part of World War II often neglected in war histories - the vantage point of nurses and medics. The medical air evacuations were as dangerous as they were heroic, and after this group of men and women crash lands in Nazi-held Albania, they face daunting physical and cultural challenges. Their story is a courageous journey across not only a foreign landscape, but the topography of the human spirit as well." -- Molly Caldwell Crosby, author of The Great Pearl Heist and The American Plague

"The Secret Rescue by Cate Lineberry is a true, adventure-packed, World War II escape saga, impeccably researched and beautifully written. It is a Five-Star must read." -- Major Jon Naar, Special Operations Executive, responsible for coordinating intelligence gathering and dissemination during the rescue operations.

"The Secret Rescue is an intriguing and spellbinding story. Cate Lineberry has created an amazing piece of work and research that highlights the critical role played by the British clandestine Special Operations Executive (SOE) and the American Office of Strategic Services (OSS) in these dramatic events." -- Art Reinhardt, OSS Veteran (China) and OSS Society, Treasurer
Free Media Mail shipping on U.S. orders over $50