Eleven on Top (Stephanie Plum Novels #11) (Mass Market)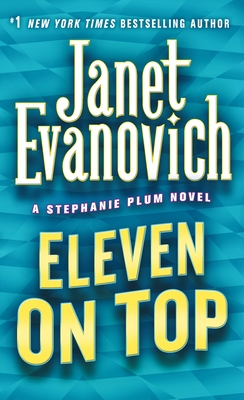 List Price: $10.99
Our Price: $8.99
(Save: $2.00 18%)
Ships from warehouse to store in 3-6 business days
Other Books in Series
This is book number 11 in the Stephanie Plum Novels series.
Description
---
#1 New York Times

#1 Wall Street Journal

#1 Los Angeles Times

#1 Entertainment Weekly

#1 Publishers Weekly

Stephanie Plum is thinking her career as a fugitive apprehension agent has run its course. She's been shot at, spat at, cussed at, fire-bombed, mooned, and attacked by dogs. Time for a change, Stephanie thinks. Time to find the kind of job her mother can tell her friends about without making the sign of the cross.

So Stephanie Plum quits. Resigns. No looking back. No changing her mind. She wants something safe and normal. As it turns out, jobs that are safe and normal for most people aren't necessarily safe and normal for Stephanie Plum. Trouble follows her, and the kind of trouble she had at the bail bonds office can't compare to the kind of trouble she finds herself facing now. Her past has come back to haunt her. She's stalked by a maniac returned from the grave for the sole purpose of putting her into a burial plot of her own. He's killed before, and he'll kill again if given the chance. Caught between staying far away from the bounty hunter business and staying alive, Stephanie reexamines her life and the possibility that being a bounty hunter is the solution rather than the problem. After disturbingly brief careers at the button factory, Kan Klean Dry Cleaners, and Cluck-in-a-Bucket, Stephanie takes an office position in security, working for Ranger, the sexiest, baddest bounty hunter and businessman on two continents. It might not be the job she'll keep for the rest of her life, but for now it gives her the technical access she needs to find her stalker. Tempers and temperatures rise as competition ratchets up between the two men in her life---her on-again, off-again boyfriend, tough Trenton cop Joe Morelli, and her bad-ass boss, Ranger. Can Stephanie Plum take the heat? Can you?

Between the adventure and the adversity there's attitude, and Stephanie Plum's got plenty in her newest misadventure from Janet Evanovich, Eleven on Top.
About the Author
---
Janet Evanovich is the author of the Stephanie Plum books, including One for the Money and Sizzling Sixteen, and the Diesel & Tucker series, including Wicked Appetite. Janet studied painting at Douglass College, but that art form never quite fit, and she soon moved on to writing stories. She didn't have instant success: she collected a big box of rejection letters. As she puts it, "When the box was full I burned the whole damn thing, crammed myself into pantyhose and went to work for a temp agency." But after a few months of secretarial work, she managed to sell her first novel for $2,000. She immediately quit her job and started working full-time as a writer. After a dozen romance novels, she switched to mystery, and created Stephanie Plum. The rest is history. Janet's favorite exercise is shopping, and her drug of choice is Cheeze Doodles.
Praise For…
---
"The jokes, comic bits, and funny scenes come fast and furious." —Kirkus Reviews

"A highly entertaining story that should delight readers of Evanovich's earlier Plum novels and win even more fans." —Associated Press

"If you haven't discovered this very funny series, go out and get the first book, One for the Money--and then be prepared to gobble the next 10." —Salt Lake Tribune

"The outrageous and uproarious humor in the Plum books never wavers, and the fun is nonstop. " —RT BOOKclub Magazine

"This series will provide slapstick comedy for your head that will make you laugh until your ribs ache." —Kingston Observer

"As always, Evanovich writes a hilarious book…with lots of scary moments and an exciting climax…first rate." —Record Courier (Kent, OH)

"The fun in Eleven on Top is extended to all phases of Stephanie's life…finding out what is most important to this sexy woman, will lead you down a path filled with tongue-in-cheek humor, that may have you laughing out loud. The surprise ending will amaze you…an unmistakable writing style that is sure to please once again." —Shelf Life
We will be open on Memorial Day from 10 AM until 6 PM.
Free Media Mail shipping on U.S. orders over $50