Two for the Dough (Stephanie Plum Novels #2) (Mass Market)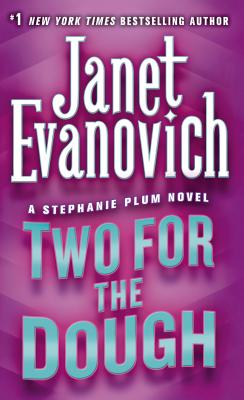 Other Books in Series
This is book number 2 in the Stephanie Plum Novels series.
Description
---
Bestselling author Janet Evanovich's wildly entertaining Stephanie Plum series is top of the charts!
#1 New York Times * #1 Wall Street Journal
#1 Los Angeles Times * #1 Entertainment Weekly
#1 Publishers Weekly * #1 Dallas Morning News
#1 USA Today * #1 Booksense
THIS ONE'S DOUBLE THE FUN
Bounty hunter Stephanie Plum is still learning the ropes at her cousin Vinnie's bail bond office, so when she sets out on the trail of Kenny Mancuso—a suspiciously wealthy, working-class Trenton boy who has just shot his best friend—the stakes are higher than ever. That Mancuso is distantly related to vice cop Joe Morelli—who is trying to beat Stephanie to the punch—only makes the hunt more thrilling. . . .
Taking pointers from her bounty hunter pal, Ranger, and using her pistol-packing Grandma Mazur as a decoy, Stephanie is soon closing in on her mark. But Morelli and his libido are worthy foes. And a more sinister kind of enemy has made his first move . . . and his next move might be Stephanie's last ... in Two for the Dough.
About the Author
---
Janet Evanovich is the author of the Stephanie Plum books, including One for the Money and Sizzling Sixteen, and the Diesel & Tucker series, including Wicked Appetite. Janet studied painting at Douglass College, but that art form never quite fit, and she soon moved on to writing stories. She didn't have instant success: she collected a big box of rejection letters. As she puts it, "When the box was full I burned the whole damn thing, crammed myself into pantyhose and went to work for a temp agency." But after a few months of secretarial work, she managed to sell her first novel for $2,000. She immediately quit her job and started working full-time as a writer. After a dozen romance novels, she switched to mystery, and created Stephanie Plum. The rest is history. Janet's favorite exercise is shopping, and her drug of choice is Cheeze Doodles.
Praise For…
---
"Stephanie Plum is a Jersey girl with Bette Midler's mouth and Cher's fashion sense.... With her pepper spray, stun gun, up-to-here hair, and out-to-there attitude…who could resist this doll?" —The New York Times Book Review
"Stephanie's mouth is as smart as her wits…One for the Money was great fun; so's Two for the Dough." —The Orlando Sentinel (FL)
"If an epidemic of sore ribs sweeps across the country, the Centers for Disease Control will be able to trace it back to Janet Evanovich and Two for the Dough…. Get the book; read; enjoy. And watch out for the ribs." —The Washington Times
"While Evanovich's wry humor and quirky characters are reminiscent of Elmore Leonard, she puts a feminine spin on this inventive and fast-paced thriller, which places it in a class by itself." —The San Diego Union Tribune
"A winning adventure." —Library Journal
"[In] Two for the Dough…a truly gritty, ethnic, very complex Trenton, New Jersey, comes across beautifully." —Boston Sunday Globe
"Who could resist the USA original in Evanovich's sassy…Stephanie Plum? The less-than-perfect lady stirs up action and plenty of amusement with her wit and colorful circle of family and friends. Two for the Dough [is] a delight from the laugh-out-loud heavy-armor beauty parlor scene to the family dinner table and back onto the mean streets." —Mystery Lovers Bookshop
"The sharp repartee and Stephanie's slightly cynical but still fond relationship with her family and the burg hold a treasury of urban-style charms." —Publishers Weekly
Free Media Mail shipping on U.S. orders over $75